Saturday, February 10, 2018
Murray, Massachusetts Shut Out UMass Lowell, 3-0
Freshman goaltender Matt Murray earns third shutout with 30 saves for Minutemen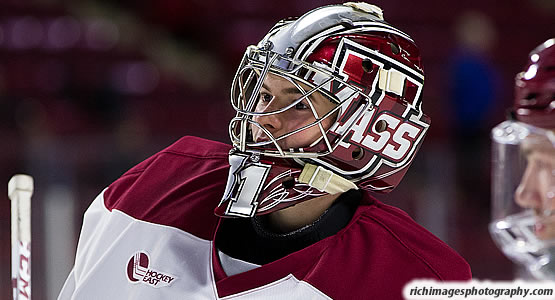 Freshman goaltender Matt Murray made 30 saves for the Minutemen
| | | | | | | |
| --- | --- | --- | --- | --- | --- | --- |
| Prd | Time | Team | Score | Type | Scored By | Assists |
| 1st | 6:49 | UMA | 1-0 | EV GW | Niko Hildenbrand (7) | Jake McLaughlin/8, Griff Jeszka/1 |
| 3rd | 17:08 | UMA | 2-0 | EV EN | Philip Lagunov (2) | Josh Couturier/11 |
| 3rd | 19:16 | UMA | 3-0 | EV EN | Niko Hildenbrand (8) | John Leonard/12, Cale Makar/13 |
| | | | | |
| --- | --- | --- | --- | --- |
| Scoring | 1st | 2nd | 3rd | Final |
| UMass Lowell | 0 | 0 | 0 | 0 |
| Massachusetts | 1 | 0 | 2 | 3 |
| | | | | |
| --- | --- | --- | --- | --- |
| Shots on Goal | 1st | 2nd | 3rd | SOG |
| UMass Lowell | 8 | 12 | 10 | 30 |
| Massachusetts | 10 | 7 | 8 | 25 |
| | | | |
| --- | --- | --- | --- |
| Team Stats and Records | PP | PIM | SHGF |
| UMass Lowell (16-14-0) | 0/3 | 3/6 | 0 |
| Massachusetts (13-16-2) | 0/3 | 3/6 | 0 |
| | | | | | | |
| --- | --- | --- | --- | --- | --- | --- |
| UMass Lowell Goaltending | MIN | GA | 1 | 2 | 3 | Saves |
| Christoffer Hernberg (L, 13-7-0) | 58:37 | 1 | 9 | 7 | 6 | 22 |
| Empty Net | 1:23 | 2 | | | | |
| | | | | | | |
| --- | --- | --- | --- | --- | --- | --- |
| Massachusetts Goaltending | MIN | GA | 1 | 2 | 3 | Saves |
| Matt Murray (W, 6-10-2) | 59:39 | 0 | 8 | 12 | 10 | 30 |
| Empty Net | 0:21 | 0 | | | | |
AMHERST, Mass. - A two-goal night for sophomore Niko Rufo and a 30-save shutout for freshman Matt Murray carried University of Massachusetts hockey to a 3-0 victory over UMass Lowell on Saturday at the Mullins Center. With the win, UMass' first shutout over the River Hawks (16-14-0, 10-9-0 HEA) since Nov. 24, 1970, the Minutemen improve to 13-16-2 overall and 7-12-2 in league play.
"Before the weekend I told the group, I think we're ready to take a step forward," said UMass head coach Greg Carvel. "That meant trying to find a way to win on the road against a good team. We found a way to get a point last night. And then to beat UMass Lowell. It was a big step forward for us, a real solid 60 minutes for our group. I thought in the first period we were very good, scored the goal, I didn't think it would be the only goal of the game, but we played really solid for 60 minutes. I don't think either team had a ton of momentum at any time. We checked well, played heavy and competed well."
UMass opened the scoring 6:49 into the first period. After sophomore Jake McLaughlin's initial shot from the point was stopped, classmate Niko Hildenbrand knocked in a loose puck in the crease for his seventh of the season. Sophomore Griff Jeszka, who sent a pass up the wall to McLaughlin out of the corner, earned his first assist of the year.
With 3:26 remaining in regulation, UMass Lowell pulled Christoffer Hernberg for an extra skater and had several chances at an equalizer before freshman Philip Lagunov received the puck from redshirt sophomore Josh Couturier in the defensive zone and sent it the length of the ice into the empty net at the 17:08 mark.
The Minutemen tacked on another with the net empty 19:16 into the third. Hildenbrand connected from the neutral zone for his second of the night and second multi-goal game of the season. Freshman John Leonard collected an assist on the play for his team-leading 21st point of the year.
The River Hawks finished with a 30-25 advantage in shots and both teams went 0-for-3 on the power play in the contest. The shutout marked Murray's third of the year, equaling the UMass record for shutouts in a season previously set by Jonathan Quick (2006-07) and Markus Helanen (2000-01).
UMass will be back in action on Thursday, Feb. 15, when the Minutemen will play host to No. 18 Boston College at 7 p.m. in the Mullins Center.