Saturday, December 30, 2017
UMass Lowell Shut Out By St. Lawrence, 3-0, At Catamount Cup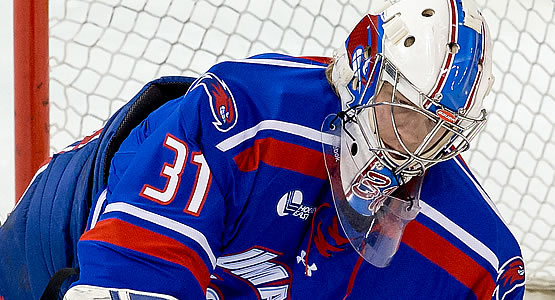 Junior goaltender Christoffer Hernberg made 25 saves for the River Hawks
| | | | | | | |
| --- | --- | --- | --- | --- | --- | --- |
| Prd | Time | Team | Score | Type | Scored By | Assists |
| 1st | 9:43 | STL | 1-0 | SH GW | Joe Sullivan (7) | Mike Marnell/5 |
| 2nd | 17:07 | STL | 2-0 | PP | Mike Marnell (3) | Nolan Gluchowski/9, Michael Ederer/1 |
| 2nd | 18:45 | STL | 3-0 | EV | Philip Alftberg (2) | Keenan Suthers/2, Alex Gilmour/1 |
| | | | | |
| --- | --- | --- | --- | --- |
| Scoring | 1st | 2nd | 3rd | Final |
| St. Lawrence | 1 | 2 | 0 | 3 |
| UMass Lowell | 0 | 0 | 0 | 0 |
| | | | | |
| --- | --- | --- | --- | --- |
| Shots on Goal | 1st | 2nd | 3rd | SOG |
| St. Lawrence | 10 | 10 | 8 | 28 |
| UMass Lowell | 9 | 14 | 12 | 35 |
| | | | |
| --- | --- | --- | --- |
| Team Stats and Records | PP | PIM | SHGF |
| St. Lawrence (3-14-1) | 1/4 | 8/27 | 1 |
| UMass Lowell (10-9-0) | 0/7 | 4/8 | 0 |
| | | | | | | |
| --- | --- | --- | --- | --- | --- | --- |
| St. Lawrence Goaltending | MIN | GA | 1 | 2 | 3 | Saves |
| Daniel Mannella (W, 2-2-0) | 60:00 | 0 | 9 | 14 | 12 | 35 |
| | | | | | | |
| --- | --- | --- | --- | --- | --- | --- |
| UMass Lowell Goaltending | MIN | GA | 1 | 2 | 3 | Saves |
| Christoffer Hernberg (L, 10-3-0) | 57:54 | 3 | 9 | 8 | 8 | 25 |
| Empty Net | 2:06 | 0 | | | | |
BURLINGTON, Vt. - The UMass Lowell Hockey team fell to ECAC foe St. Lawrence, 3-0 in the Catamount Cup Championship Game on Saturday afternoon at Gutterson Fieldhouse on the campus of the University of Vermont.
With the loss, the River Hawks fall to 10-9-0 overall, while the Saints improve to 3-14-1 overall with the victory.
St. Lawrence scored two goals in the second frame to give the Saints a 3-0 lead at the end of the middle stanza. Mike Marnell (17:07) scored on the power play with his third of the season and Philip Alftberg added a goal just over a minute later. The teams skated to a scoreless third period.
Joe Sullivan got the Saints on the board first in the game with a shorthanded tally at 9:43 of the opening frame.
Junior goaltender Christoffer Hernberg (Espoo, Finland) amassed 25 saves in his 13th start of the season, while St. Lawrence's Daniel Mannella totaled 35 stops in his second victory of the season.
Senior defenseman Chris Forney (Thief River Falls, Minn.) notched a career-high and game-high seven shots on goal in the losing effort.
UMass Lowell outshot St. Lawrence, 26-18 in the final two periods of play.
UMass Lowell returns to action on Friday, January 5th against Vermont in Hockey East play. Game time from the Tsongas Center is 7:15 p.m.