Saturday, December 30, 2017
Providence Edges Robert Morris, 2-1, To Win Three Rivers Classic
Sophomore forward Kasper Björkqvist scores game-winning goal for Friars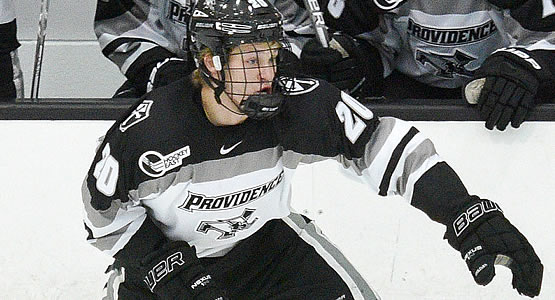 Sophomore forward Kasper Björkqvist scored the game-winning goal for the Friars
| | | | | | | |
| --- | --- | --- | --- | --- | --- | --- |
| Prd | Time | Team | Score | Type | Scored By | Assists |
| 1st | 13:23 | PRV | 1-0 | EV | Scott Conway (5) | Greg Printz/2, Brandon Duhaime/8 |
| 2nd | 3:52 | RMU | 1-1 | EV | Ryley Risling (3) | Nick Jenny/2, Brady Ferguson/16 |
| 2nd | 17:51 | PRV | 2-1 | PP GW | Kasper Björkqvist (7) | Brian Pinho/9, Jacob Bryson/14 |
| | | | | |
| --- | --- | --- | --- | --- |
| Scoring | 1st | 2nd | 3rd | Final |
| Providence | 1 | 1 | 0 | 2 |
| Robert Morris | 0 | 1 | 0 | 1 |
| | | | | |
| --- | --- | --- | --- | --- |
| Shots on Goal | 1st | 2nd | 3rd | SOG |
| Providence | 18 | 8 | 4 | 30 |
| Robert Morris | 6 | 11 | 9 | 26 |
| | | | |
| --- | --- | --- | --- |
| Team Stats and Records | PP | PIM | SHGF |
| Providence (12-7-1) | 1/2 | 6/12 | 0 |
| Robert Morris (8-12-1) | 0/6 | 2/4 | 0 |
| | | | | | | |
| --- | --- | --- | --- | --- | --- | --- |
| Providence Goaltending | MIN | GA | 1 | 2 | 3 | Saves |
| Hayden Hawkey (W, 12-7-0) | 60:00 | 1 | 6 | 10 | 9 | 25 |
| | | | | | | |
| --- | --- | --- | --- | --- | --- | --- |
| Robert Morris Goaltending | MIN | GA | 1 | 2 | 3 | Saves |
| Francis Marotte (L, 8-8-1) | 58:25 | 2 | 17 | 7 | 4 | 28 |
| Empty Net | 1:35 | 0 | | | | |
PITTSBURGH, Pa. - Pittsburgh Penguins prospect Kasper Björkqvist scored what proved to be the game-winning power play goal late in the second period as the No. 11 Providence College men's hockey team defeated Robert Morris, 2-1, to capture the Three Rivers Classic on Saturday night.
SCORE
No. 11 Providence - 2 | Robert Morris - 1
RECORDS
Providence - 12-7-1 (6-4-1 HEA) | Robert Morris - 8-12-1 (7-7-1 AHC)
VENUE
PPG Paints Arena - Pittsburgh, Pa.
GOALIES
Hayden Hawkey (PC) - 25 saves
Francis Marotte (RMU) - 28 saves
NOTES
- The Friars put forth another strong opening period this weekend, out-shooting the Colonials 18-6 in the first 20 minutes of action.
- Scott Conway and Greg Printz had point-blank bids out front that were turned away to keep the game scoreless early on.
- Conway wouldn't be denied at 13:23 as he roofed a loose puck from the top of the crease for his fifth goal of the season to put the Friars up 1-0. Printz and Brandon Duhaime assisted on Conway's second strike of the tournament.
- Ryley Risling tied things up for the Colonials early in the second period after the Robert Morris power play expired. The goal was review but it was determined that there was no goaltender interference.
- Providence cashed in on their second power play of the night to take a 2-1 lead after 40 minutes. Kasper Björkqvist tallied his first goal since Dec. 1 and seventh overall this season to give the Friars a one-goal advantage. Brian Pinho and Jacob Bryson earned the assists on the play.
- The Friars kept the Colonials at bay in the third period on the back of Hayden Hawkey, who made 20 saves over the final 40 minutes
- With a 6-for-6 effort on the penalty kill, Providence ranks fourth nationally at 88.3% and have killed off 14 consecutive shorthanded opportunities.
- Captain Brian Pinho was named the Three Rivers Classic Most Valuable Player and to the All-Tournament Team, while teammates Scott Conway and Jacob Bryson also made the All-Tournament Team.
- Pinho now sits at 99 career points after an assist on Saturday.
- Blocked shots: Robert Morris 17, Providence 120.
HOW THEY SCORED
1-0 (PC) - 13:23/1st - EV - Scott Conway (Printz, Duhaime) - Backhand shot by Duhaime that was re-directed by Printz and Conway collects the loose puck and puts it past Marotte.
1-1 (RMU) - 3:52/2nd - Ryley Risling (Jenny, Ferguson) - One-timer off a centering feed from behind the net.
2-1 (PC) - 17:51/2nd - Kasper Björkqvist (Pinho, Bryson) - One-timer from Pinho at the left circle and Björkqvist slams the rebound through the five-hole of Marotte.
PC GAME HIGHS
Goals: Björkqvist, Conway (1)
Assists: Bryson, Duhaime, Pinho, Printz (1)
Points: Björkqvist, Bryson, Conway, Duhaime, Pinho, Printz (1)
Shots: Pinho (4)
POWER PLAYS
Providence - 1/2
Robert Morris - 0/6
SHOTS
Providence - 30
Robert Morris - 26
UP NEXT
The Friars will battle cross-town rival Brown on Wednesday (Jan. 3) in the 32nd installment of the Mayor's Cup. Puck drop is slated for 7 p.m. at Schneider Arena.