Saturday, February 24, 2018
Northeastern Blanks New Hampshire, 4-0, To Sweep Weekend Series
Freshman goaltender Cayden Primeau makes 26 saves for Huskies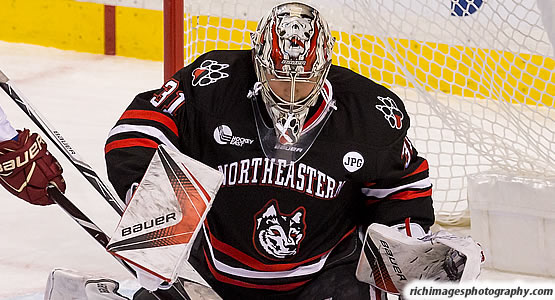 Freshman goaltender Cayden Primeau made 26 saves for the Huskies
| | | | | | | |
| --- | --- | --- | --- | --- | --- | --- |
| Prd | Time | Team | Score | Type | Scored By | Assists |
| 1st | 13:36 | NOE | 1-0 | EV GW | Nolan Stevens (21) | Adam Gaudette/27 |
| 1st | 14:30 | NOE | 2-0 | EV | Jeremy Davies (5) | Lincoln Griffin/4 |
| 2nd | 0:46 | NOE | 3-0 | EV | Adam Gaudette (29) | Garrett Cecere/8, Nolan Stevens/17 |
| 3rd | 19:24 | NOE | 4-0 | EV EN | Brandon Hawkins (4) | Grant Jozefek/9 |
| | | | | |
| --- | --- | --- | --- | --- |
| Scoring | 1st | 2nd | 3rd | Final |
| Northeastern | 2 | 1 | 1 | 4 |
| New Hampshire | 0 | 0 | 0 | 0 |
| | | | | |
| --- | --- | --- | --- | --- |
| Shots on Goal | 1st | 2nd | 3rd | SOG |
| Northeastern | 12 | 7 | 6 | 25 |
| New Hampshire | 10 | 8 | 16 | 34 |
| | | | |
| --- | --- | --- | --- |
| Team Stats and Records | PP | PIM | SHGF |
| Northeastern (21-8-5) | 0/5 | 5/10 | 0 |
| New Hampshire (10-18-6) | 0/3 | 7/14 | 0 |
| | | | | | | |
| --- | --- | --- | --- | --- | --- | --- |
| Northeastern Goaltending | MIN | GA | 1 | 2 | 3 | Saves |
| Cayden Primeau (W, 17-6-5) | 59:55 | 0 | 10 | 8 | 16 | 34 |
| Empty Net | 0:05 | 0 | | | | |
| | | | | | | |
| --- | --- | --- | --- | --- | --- | --- |
| New Hampshire Goaltending | MIN | GA | 1 | 2 | 3 | Saves |
| Daniel Tirone (L, 10-15-6) | 20:46 | 3 | 10 | 2 | 0 | 12 |
| Mike Robinson | 39:03 | 0 | 0 | 4 | 5 | 9 |
| Empty Net | 0:11 | 1 | | | | |
DURHAM, N.H. - Cayden Primeau held the Wildcats scoreless with 34 saves as the University of New Hampshire men's hockey team fell to the #11 Northeastern Huskies, 4-0, on Senior Night in the last regular season game for both teams on Saturday in Durham.
The Wildcats will return to action on March 2-4 when they play at Maine next weekend in a best two-out-of-three opening-round series of the Hockey East Tournament. The last time these two teams met in the Hockey East Tournament was a 3-1 UNH win in the 2002 championship game on March 16.
Score: Northeastern 4, New Hampshire 0
Records: UNH (10-18-6, 5-14-5 HEA); Northeastern (21-8-5, 15-6-3 HEA)
Location: Durham, N.H. (Whittemore Center)
Date: Saturday, Feb. 24, 2018
Time: 7:00 p.m.
Attendance: 5,108
HOW IT HAPPENED:
- The Huskies opened the scoring at 13:36 into the first period as Adam Gaudette stole the puck in the UNH zone and fired it towards the net. Senior goalie Danny Tirone (Trumbull, Conn.) made the save but Nolan Stevens knocked in the rebound right outside the crease to put the Huskies on the board 1-0.
- Just 54 seconds later, Jeremy Davies scored close-range on the glove-side to give Northeastern a 2-0 lead.
- Tirone and Cayden Primeau each recorded 10 saves in the first period as the Huskies outshot the Wildcats 12-10.
- Just 46 seconds into the second period, Garrett Cecere fired a wrist shot and the rebound went to Gaudette just outside the crease as he sent the puck to the back of the net, extending the Huskies' lead to 3-0.
- The Wildcats outshot the Huskies 8-7 in the second period, while UNH went 0-2 on the power play and Northeastern went 0-3.
- Hawkins buried an empty-netter from the blue-line at 19:24 to finish the scoring for the night, making the final score 4-0.
- Primeau held strong in the back for Northeastern in the third period as the Wildcats outshot the Huskies 16-6.
INSIDE THE NUMBERS:
- The Wildcats outshot the Huskies 34-25.
- Tirone recorded 12 saves, while freshman Mike Robinson (Bedford, N.H.) had nine. Primeau posted 34 saves to earn the victory.
- Both teams were scoreless on the power play as UNH went 0-3 and Northeastern went 0-5 for the game.
SENIOR NIGHT:
- The senior class of Adam Clark (Sherwood Park, Alberta), Shane Eiserman (Newburyport, Mass.), Cameron Marks (North Vancouver, British Columbia), Michael McNicholas (Manhattan Beach, Calif.), Jason Salvaggio (Hanson, Mass.) assistant captain Danny Tirone (Trumbull, Conn.) and captain Dylan Chanter (Armstrong, British Columbia) were honored before the game for their dedication to the program on and off the ice.