Friday, February 23, 2018
Northeastern Shuts Out New Hampshire, 8-0
Senior forward Dylan Sikura posts two goals and assist for Huskies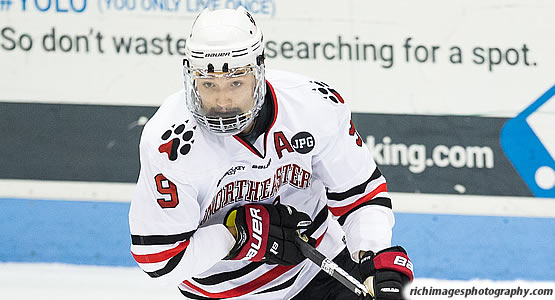 Senior forward Dylan Sikura had two goals and assist for the Huskies
| | | | | | | |
| --- | --- | --- | --- | --- | --- | --- |
| Prd | Time | Team | Score | Type | Scored By | Assists |
| 1st | 9:35 | NOE | 1-0 | EV GW | Brandon Schultz (2) | Biagio Lerario/6, Brandon Hawkins/9 |
| 1st | 14:54 | NOE | 2-0 | EV | Patrick Schule (2) | Austin Goldstein/3, John Picking/4 |
| 2nd | 11:04 | NOE | 3-0 | EV | Patrick Schule (3) | Austin Goldstein/4, Ryan Shea/13 |
| 2nd | 18:52 | NOE | 4-0 | EV | Adam Gaudette (28) | Dylan Sikura/31, Nolan Stevens/15 |
| 3rd | 7:38 | NOE | 5-0 | PP | Dylan Sikura (16) | Nolan Stevens/16, Adam Gaudette/25 |
| 3rd | 8:47 | NOE | 6-0 | PP | Dylan Sikura (17) | Zach Solow/17, Adam Gaudette/26 |
| 3rd | 9:41 | NOE | 7-0 | EV | Lincoln Griffin (6) | Grant Jozefek/8, Zach Solow/18 |
| 3rd | 11:51 | NOE | 8-0 | EV | Biagio Lerario (3) | Brandon Hawkins/10 |
| | | | | |
| --- | --- | --- | --- | --- |
| Scoring | 1st | 2nd | 3rd | Final |
| New Hampshire | 0 | 0 | 0 | 0 |
| Northeastern | 2 | 2 | 4 | 8 |
| | | | | |
| --- | --- | --- | --- | --- |
| Shots on Goal | 1st | 2nd | 3rd | SOG |
| New Hampshire | 8 | 10 | 11 | 29 |
| Northeastern | 11 | 12 | 13 | 36 |
| | | | |
| --- | --- | --- | --- |
| Team Stats and Records | PP | PIM | SHGF |
| New Hampshire (10-17-6) | 0/1 | 6/20 | 0 |
| Northeastern (20-8-5) | 2/5 | 1/2 | 0 |
| | | | | | | |
| --- | --- | --- | --- | --- | --- | --- |
| New Hampshire Goaltending | MIN | GA | 1 | 2 | 3 | Saves |
| Daniel Tirone (L, 10-14-6) | 31:04 | 3 | 9 | 6 | 0 | 15 |
| Mike Robinson | 20:47 | 5 | 0 | 4 | 5 | 9 |
| Joe Lazzaro | 8:09 | 0 | 0 | 0 | 4 | 4 |
| | | | | | | |
| --- | --- | --- | --- | --- | --- | --- |
| Northeastern Goaltending | MIN | GA | 1 | 2 | 3 | Saves |
| Cayden Primeau (W, 16-6-5) | 51:48 | 0 | 8 | 10 | 11 | 29 |
| Jake Theut | 8:09 | 0 | 0 | 0 | 0 | 0 |
| Empty Net | 0:03 | 0 | | | | |
BOSTON -- Six different goal scorers and 29 saves from Cayden Primeau sparked the Northeastern men's hockey team (20-8-5, 14-6-3) to an 8-0 victory on senior night over New Hampshire (10-17-6, 5-13-5) on Friday night at Matthews Arena.
Northeastern currently sits one point ahead of Providence in the Hockey East standings and can lock down the No. 2 seed with a victory at UNH tomorrow night. It would mark NU's highest finish in the conference since 2008-09.
Senior Dylan Sikura (two goals, one assist) and junior Adam Gaudette (one goal, two assists) led the scoring charge for the Huskies with three points each. Junior Patrick Schule posted his first career two-goal game as he scored NU's second and third goals of the contest.
Freshman Austin Goldstein (two assists) and sophomore Biagio Lerario (one goal, one assist) each scored two points for the first time in their NU careers. Brandon Hawkins, Nolan Stevens and Zach Solow all collected two assists in the game.
NU's power play went 2-for-5 on the evening with Sikura potting each goal on the man advantage. He now has a team-high 12 power play goals this season.
Primeau stopped all 29 shots that came his way before being relieved for senior Jake Theut in the third period.
The victory marks the final regular season home win for seniors Sikura, Stevens, Theut, Patrick Jordan, Garrett Cecereand Trevor Owens and gives them the most wins by a class in program history (76).
Northeastern closes the regular season tomorrow night at New Hampshire at 7 p.m.