Saturday, November 11, 2017
Panico's Three Points Lead UMass Lowell Past Northeastern, 4-2
Senior defenseman Tommy Panico scores two goals and assist for River Hawks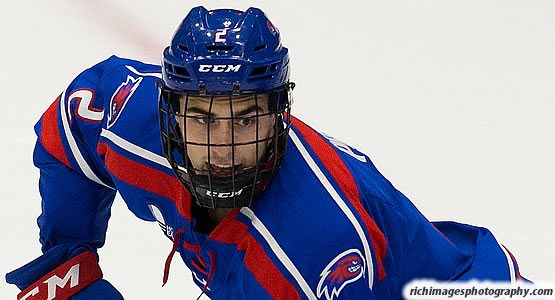 Senior defenseman Tommy Panico had two goals and an assist for the River Hawks
| | | | | | | |
| --- | --- | --- | --- | --- | --- | --- |
| Prd | Time | Team | Score | Type | Scored By | Assists |
| 1st | 10:23 | NOE | 1-0 | PP | Jeremy Davies (1) | Nolan Stevens/4, Adam Gaudette/8 |
| 1st | 17:44 | UML | 1-1 | PP | Ryan Lohin (5) | Kenny Hausinger/6, Chris Forney/5 |
| 2nd | 16:46 | NOE | 2-1 | PP | Nolan Stevens (7) | Adam Gaudette/9, Zach Solow/10 |
| 3rd | 2:31 | UML | 2-2 | EV | Tommy Panico (2) | Charlie Levesque/2, Ryan Dmowski/4 |
| 3rd | 5:09 | UML | 3-2 | EV GW | Nick Master (1) | Tommy Panico/3, Anthony Baxter/4 |
| 3rd | 19:11 | UML | 4-2 | EV EN | Tommy Panico (3) | Charlie Levesque/3, Nick Master/5 |
| | | | | |
| --- | --- | --- | --- | --- |
| Scoring | 1st | 2nd | 3rd | Final |
| Northeastern | 1 | 1 | 0 | 2 |
| UMass Lowell | 1 | 0 | 3 | 4 |
| | | | | |
| --- | --- | --- | --- | --- |
| Shots on Goal | 1st | 2nd | 3rd | SOG |
| Northeastern | 6 | 21 | 8 | 35 |
| UMass Lowell | 12 | 5 | 13 | 30 |
| | | | |
| --- | --- | --- | --- |
| Team Stats and Records | PP | PIM | SHGF |
| Northeastern (6-3-1) | 2/4 | 4/8 | 0 |
| UMass Lowell (6-6-0) | 1/4 | 4/19 | 0 |
| | | | | | | |
| --- | --- | --- | --- | --- | --- | --- |
| Northeastern Goaltending | MIN | GA | 1 | 2 | 3 | Saves |
| Cayden Primeau (L, 2-2-1) | 59:46 | 3 | 11 | 5 | 10 | 26 |
| Empty Net | 0:14 | 1 | | | | |
| | | | | | | |
| --- | --- | --- | --- | --- | --- | --- |
| UMass Lowell Goaltending | MIN | GA | 1 | 2 | 3 | Saves |
| Christoffer Hernberg (W, 6-1-0) | 60:00 | 2 | 5 | 20 | 8 | 33 |
LOWELL, Mass. - The UMass Lowell Hockey team defeated No. 13 Northeastern, 4-2 on Saturday night in Hockey East play in front of 5,247 fans at the Tsongas Center.
With the victory, the River Hawks improve to 6-6-0 (3-5-0 HEA) with the victory. Northeastern drops to 6-3-1 overall (4-1-0 HEA) with the loss.
Junior forward Nick Master (Broomall, Pa.) scored the decisive goal with just 5:09 into the third to make it a 3-2 game in favor of the River Hawks. Master's goal was the first of the season. Panico, who posted a career-high three points and two goals, added an empty netter with 49 left to play to seal the win for UMass Lowell. He finished the night with a team-high five shots on goal.
Nolan Stevens added a power play goal for his seventh tally of the season to make it a 2-1 game at 16:46 of the second period to give Northeastern a 2-1 advantage. Senior defenseman Tommy Panico (Wall, N.J.) evened the game at 2-2 just 2:31 into the third frame.
Jeremy Davies' power play goal opened the scoring in the game at the 10:23 mark of the first period for Northeastern, but UMass Lowell sophomore forward Ryan Lohin (Chadds Ford, Pa.) scored his third goal in the last two games a little more than seven minutes later on the man advantage to tie the game at 1-1.
Junior goaltender Christoffer Hernberg (Espoo, Finland) amassed season-high 33 stops in his sixth win of the season for the River Hawks, which included 20 saves in the second period. Northeastern's Cayden Primeau recorded 26 saves in the losing effort for the Huskies.
The River Hawks return to action on Friday, November 17th against UConn in Hockey East play. Game time from the Tsongas Center is 7:15 p.m.