New Hampshire And Maine Skate To 2-2 Tie
Freshman forward Eric MacAdams scores game-tying goal in third period for Wildcats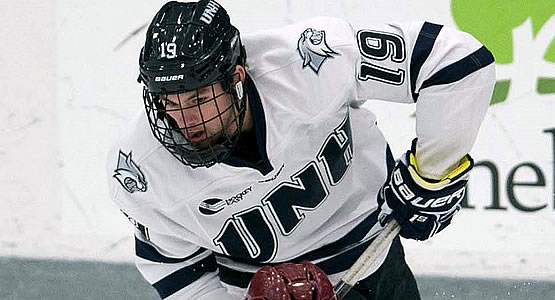 Freshman forward Eric MacAdams scored the game-tying goal for the Wildcats
| | | | | | | |
| --- | --- | --- | --- | --- | --- | --- |
| Prd | Time | Team | Score | Type | Scored By | Assists |
| 1st | 3:25 | MNE | 1-0 | EV | Patrick Holway (6) | - |
| 2nd | 17:33 | MNE | 2-0 | EV | Daniel Perez (2) | Cédric Lacroix/5, Patrick Shea/8 |
| 2nd | 19:56 | UNH | 1-2 | EV | Jason Salvaggio (7) | Marcus Vela/4, Max Gildon/10 |
| 3rd | 1:08 | UNH | 2-2 | EV GT | Eric MacAdams (6) | Jason Salvaggio/7, Max Gildon/11 |
| | | | | | |
| --- | --- | --- | --- | --- | --- |
| Scoring | 1st | 2nd | 3rd | OT | Final |
| New Hampshire | 0 | 1 | 1 | 0 | 2 |
| Maine | 1 | 1 | 0 | 0 | 2 |
| | | | | | |
| --- | --- | --- | --- | --- | --- |
| Shots on Goal | 1st | 2nd | 3rd | OT | SOG |
| New Hampshire | 9 | 8 | 9 | 7 | 33 |
| Maine | 8 | 15 | 11 | 1 | 35 |
| | | | |
| --- | --- | --- | --- |
| Team Stats and Records | PP | PIM | SHGF |
| New Hampshire (9-11-3) | 0/5 | 5/10 | 0 |
| Maine (12-9-3) | 0/4 | 6/12 | 0 |
| | | | | | | | |
| --- | --- | --- | --- | --- | --- | --- | --- |
| New Hampshire Goaltending | MIN | GA | 1 | 2 | 3 | OT | Saves |
| Daniel Tirone (T, 9-10-3) | 65:00 | 2 | 7 | 14 | 11 | 1 | 33 |
| | | | | | | | |
| --- | --- | --- | --- | --- | --- | --- | --- |
| Maine Goaltending | MIN | GA | 1 | 2 | 3 | OT | Saves |
| Jeremy Swayman (T, 9-5-2) | 65:00 | 2 | 9 | 7 | 8 | 7 | 31 |
ORONO, Maine - The University of Maine men's hockey team jumped out to a 2-0 lead on Friday night but the visiting New Hampshire Wildcats found the net twice to force overtime at Alfond Arena, and the game ended in a 2-2 tie. Patrick Holway and Daniel Perez scored the goals for the Black Bears while Jeremy Swayman was strong between the pipes with 31 saves.
With the tie, Maine now sits at 12-9-3 overall and 6-6-2 in Hockey East play while UNH bumps to 9-11-3 overall and 4-7-2 in conference play.
It was Holway that opened the scoring, tallying an unassisted goal just 3:25 into the first period. The defenseman picked off an attempted UNH breakout pass up the left boards, stepped towards the goal and wristed the puck between Danny Tirone's glove and the right post.
Maine's 1-0 lead would hold up into the first intermission, and then the Black Bears continued to fire away in search of another goal - outshooting the Wildcats 15-8 in the second period. With under three minutes to go in the middle frame, Maine's persistence paid off with Perez's second goal of the year. After Cedric Lacroix took a pass from Patrick Shea over the blue-line, the senior fired a shot from the high slot. Tirone made the initial save but the rebound popped out to the top of the crease where a crashing Perez banged it home.
The Black Bears continued to hustle end-to-end, with Brady Keeper's diving clearance to stop a UNH breakaway bringing the crowd to its feet.
With just 3.3 seconds to go in the second, though, the Wildcats were able to cut the deficit in half when Jason Salvaggio tipped a point shot past Swayman. UNH's game-tying goal just over a minute into the third period again involved Salvaggio, with his centering pass from the left wing deflecting off of Eric MacAdams' stick and in.
Swayman's performance in goal helped the Black Bears preserve the valuable Hockey East point. The freshman had multiple point-blank saves in the second period and in the third period, he made four stops while the Black Bears were a man-down.
Tirone finished with 33 saves for UNH to Swayman's 31 while Maine held the final edge in shots on goal at 35-33.
Maine and UNH will return to the Alfond Arena ice tomorrow night at 7:30 p.m. to close out the weekend series.