Friday, December 29, 2017
Vesey's Three Points Lead Maine Past Rensselaer, 3-2
Senior forward Nolan Vesey has two goals and assist for Black Bears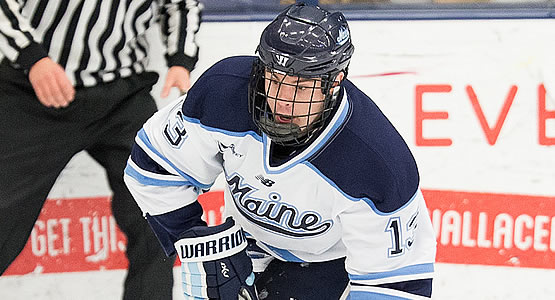 Senior forward Nolan Vesey had two goals and an assist for the Black Bears
| | | | | | | |
| --- | --- | --- | --- | --- | --- | --- |
| Prd | Time | Team | Score | Type | Scored By | Assists |
| 1st | 1:02 | MNE | 1-0 | EV | Nolan Vesey (6) | Patrick Shea/5 |
| 1st | 3:13 | MNE | 2-0 | EV | Nolan Vesey (7) | Patrick Shea/6, Tim Doherty/7 |
| 1st | 12:51 | REN | 1-2 | EV | Billy Jerry (5) | Patrick Polino/5, Jesper Öhrvall/2 |
| 2nd | 8:01 | MNE | 3-1 | EV GW | Tim Doherty (7) | Nolan Vesey/3, Patrick Holway/9 |
| 3rd | 14:51 | REN | 2-3 | PP | Evan Tironese (6) | Jared Wilson/4, Patrick Polino/6 |
| | | | | |
| --- | --- | --- | --- | --- |
| Scoring | 1st | 2nd | 3rd | Final |
| Maine | 2 | 1 | 0 | 3 |
| Rensselaer | 1 | 0 | 1 | 2 |
| | | | | |
| --- | --- | --- | --- | --- |
| Shots on Goal | 1st | 2nd | 3rd | SOG |
| Maine | 9 | 13 | 13 | 35 |
| Rensselaer | 15 | 5 | 9 | 29 |
| | | | |
| --- | --- | --- | --- |
| Team Stats and Records | PP | PIM | SHGF |
| Maine (9-7-1) | 0/1 | 1/2 | 0 |
| Rensselaer (3-12-3) | 1/1 | 1/2 | 0 |
| | | | | | | |
| --- | --- | --- | --- | --- | --- | --- |
| Maine Goaltending | MIN | GA | 1 | 2 | 3 | Saves |
| Rob McGovern (W, 2-4-0) | 60:00 | 2 | 14 | 5 | 8 | 27 |
| | | | | | | |
| --- | --- | --- | --- | --- | --- | --- |
| Rensselaer Goaltending | MIN | GA | 1 | 2 | 3 | Saves |
| Linden Marshall (L, 2-7-1) | 58:48 | 3 | 7 | 12 | 13 | 32 |
| Empty Net | 1:12 | 0 | | | | |
TROY, N.Y. - Nolan Vesey scored twice in the opening four minutes and the University of Maine men's hockey team held off a late rally from Rensselaer Polytechnic Institute for a 3-2 victory on Friday at Houston Field House.
Vesey and Tim Doherty scored for Maine (9-7-1) while Rob McGovern made 27 saves. Billy Jerry and Evan Tironese scored for RPI (3-12-3) and Linden Marshall finished with 32 stops.
Despite it being the first game action in two weeks, the Black Bears came out flying and seized a 2-0 lead less than four minutes into first period thanks to Vesey.
After Vesey intercepted a RPI passing attempt in the neutral zone, he and Patrick Shea broke in on a two-on-one against Marshall. Shea eventually dished the puck back to Vesey just across the blue line and the senior wristed a shot from the top of the left circle past Marshall's shoulder just 1:02 into the opening frame.
Vesey's second goal - scored just minutes later - came about as a result of Doherty repossessing the puck near the Maine blue-line and then finding Shea who tipped a pass into the offensive zone. Vesey surged past the RPI defensemen and then beat Marshall high, blocker-side.
The Engineers were able to make it a 2-1 game after Billy Jerry's tip in traffic trickled inside the left post but McGovern was strong in the opening stanza for Maine, making 14 saves. Twice the junior used his blocker to stop tough point-shots in traffic.
Maine got its third goal of the game - and Vesey his third point of the night - near the midway point of the second period. After Vesey delayed at the top of the right circle, he turned and found Doherty in the high slot where he was able to cut to the center and finish high.
McGovern again carried the Black Bears into the break with a lead after he stood tall and gloved away a dangerous shot in the low slot from Jesper Ohrvall with under two minutes to go in the frame.
McGovern's stop on a shot from distance and then his sliding, right-pad save on the rebound attempt near the midway point of the third period preserved the two-goal lead for the Black Bears. With five minutes to go in the final frame, RPI cut the deficit to one with a one-timer, power-play tally from Tironese and kept trying to find the equalizer. But, with Marshall on the bench for an extra attacker, a strong pad save from McGovern in the final second preserved the 3-2 win.
Vesey tied a career-high in points with his three on two goals and one assist while Shea finished with two points on two assists
The Black Bears and Engineers will do battle once again tomorrow afternoon, with puck drop set for 4 p.m. at Houston Field House.