Friday, November 24, 2017
Providence Downs Maine, 3-0, On Day One Of Friendship Four Tournament
Junior goaltender Hayden Hawkey records second shutout of season with 24 saves for Friars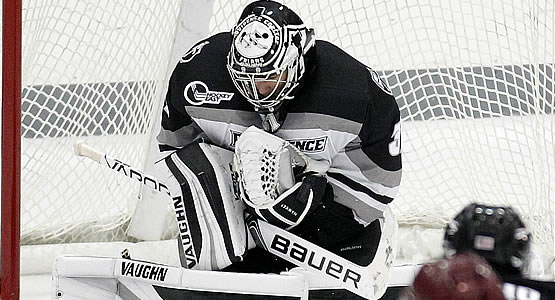 Junior goaltender Hayden Hawkey made 24 saves for the Friars
| | | | | | | |
| --- | --- | --- | --- | --- | --- | --- |
| Prd | Time | Team | Score | Type | Scored By | Assists |
| 2nd | 15:12 | PRV | 1-0 | EV GW | Ryan Tait (2) | Bryan Lemos/1, Jason O'Neill/4 |
| 3rd | 8:39 | PRV | 2-0 | PP | Brian Pinho (4) | Erik Foley/7, Josh Wilkins/7 |
| 3rd | 17:55 | PRV | 3-0 | PP EN | Ryan Tait (3) | Jacob Bryson/9, Jason O'Neill/5 |
| | | | | |
| --- | --- | --- | --- | --- |
| Scoring | 1st | 2nd | 3rd | Final |
| Maine | 0 | 0 | 0 | 0 |
| Providence | 0 | 1 | 2 | 3 |
| | | | | |
| --- | --- | --- | --- | --- |
| Shots on Goal | 1st | 2nd | 3rd | SOG |
| Maine | 7 | 9 | 8 | 24 |
| Providence | 10 | 12 | 15 | 37 |
| | | | |
| --- | --- | --- | --- |
| Team Stats and Records | PP | PIM | SHGF |
| Maine (4-7-0) | 0/4 | 6/15 | 0 |
| Providence (8-4-1) | 2/7 | 4/8 | 0 |
| | | | | | | |
| --- | --- | --- | --- | --- | --- | --- |
| Maine Goaltending | MIN | GA | 1 | 2 | 3 | Saves |
| Jeremy Swayman (L, 3-3-0) | 59:52 | 2 | 10 | 11 | 13 | 34 |
| Empty Net | 0:08 | 1 | | | | |
| | | | | | | |
| --- | --- | --- | --- | --- | --- | --- |
| Providence Goaltending | MIN | GA | 1 | 2 | 3 | Saves |
| Hayden Hawkey (W, 8-4-0) | 60:00 | 0 | 7 | 9 | 8 | 24 |
BELFAST, Northern Ireland - Ryan Tait scored two goals and Hayden Hawkey recorded his sixth career shutout as the No. 10/11 Providence College men's hockey team blanked Maine, 3-0, on Friday night in the semifinals of the 2017 Friendship Four in Belfast, Northern Ireland. The Friars advance to the championship game against No. 5 Clarkson tomorrow at 2 p.m. EST.
SCORE
No. 10/11 Providence - 3 | Maine - 0
RECORDS
Providence - 8-4-1 (5-3-1 HEA) | Maine - 4-7-0 (3-4-0 HEA)
VENUE
SSE Arena - Belfast, Northern Ireland
GOALIES
Hawkey (PC) - 24 saves
Swayman (ME) - 34 saves
NOTES
- Providence held a 10-7 edge in shots in the opening period but had nothing to show for it despite some early pressure. Erik Foley had the best opportunity of the period after exiting the penalty box, he broke in all alone on Swayman but sent a backhander just wide past the post.
- The teams were scoreless through over 35 minutes of action before the Friars broke through for the game's only three goals.
- Ryan Tait notched his second goal of the season to give the Friars a 1-0 lead at the 15:12 mark of the second period after great work along the boards by Bryan Lemos, who recorded his first point of the season on the play.
- Providence grabbed an insurance marker 8:39 into the third period on Brian Pinho's fourth goal of the season, a power play goal, to put the Friars up 2-0.
- With the Maine net empty and Providence on the power play, Tait added his second of the night and third of the season.
- The Friars are now 14-0-1 in their last 15 games against the Black Bears and have won 11-consecutive games overall in the series.
- The power play unit is now 10-for-26 (385) with the extra man over the past four games.
- Foley now rides a five-game point streak (4-5-9), while Pinho is currently on a four-stretch with at least a point (3-3-6).
- Sophomore defenseman Jacob Bryson holds the team-lead with nine assists this season.
- Hayden Hawkey earned his second shutout of the season and sixth of his career, which ranks him third all-time at Providence in career shutouts and just one behind Tyler Sims for second on that career list.
HOW THEY SCORED
1-0 (PC) - 15:12/2nd - EV - Ryan Tait (Lemos, O'Neill) - Wrap-around from Lemos that Tait finished into a wide open net.
2-0 (PC) - 8:39/3rd - PP - Brian Pinho (Foley, Wilkins) - Centering feed from Foley to Pinho at the top of the circles and he fired a wrist shot under the blocker of Swayman.
3-0 (PC) - 17:55/3rd - PP - Ryan Tait (Bryson, O'Neill) - Aerial pass from Bryson to the attacking zone that Tait raced to gather and finish into an empty net.
PC GAME HIGHS
Goals: Tait (2)
Assists: O'Neill (2)
Points: O'Neill, Tait (2)
Shots: Pinho, Tait (6)
POWER PLAYS
Providence - 2/7
Maine - 0/4
SHOTS
Providence - 37
Maine - 24
UP NEXT
Providence will play in the championship game tomorrow at 2 p.m. against No. 5 Clarkson. Tomorrow's game can be seen live on NESN Plus.