Providence College Notches 3-1 Win At Miami
Junior forward Ryan Tait posts goal and assist for Friars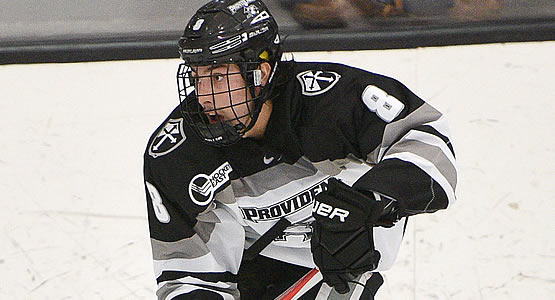 Junior forward Ryan Tait had a goal and an assist for the Friars
| | | | | | | |
| --- | --- | --- | --- | --- | --- | --- |
| Prd | Time | Team | Score | Type | Scored By | Assists |
| 1st | 7:57 | PRV | 1-0 | EV | Ryan Tait (1) | Brandon Duhaime/1 |
| 1st | 17:17 | MIA | 1-1 | EV | Austin Alger (1) | Phil Knies/1, Casey Gilling/1 |
| 2nd | 18:54 | PRV | 2-1 | EV GW | Greg Printz (1) | Ryan Tait/1 |
| 3rd | 0:50 | PRV | 3-1 | EV | Josh Wilkins (1) | Erik Foley/1 |
| | | | | |
| --- | --- | --- | --- | --- |
| Scoring | 1st | 2nd | 3rd | Final |
| Providence | 1 | 1 | 1 | 3 |
| Miami | 1 | 0 | 0 | 1 |
| | | | | |
| --- | --- | --- | --- | --- |
| Shots on Goal | 1st | 2nd | 3rd | SOG |
| Providence | 10 | 14 | 6 | 30 |
| Miami | 11 | 7 | 14 | 32 |
| | | | |
| --- | --- | --- | --- |
| Team Stats and Records | PP | PIM | SHGF |
| Providence (1-0-0) | 0/3 | 10/20 | 0 |
| Miami (0-1-0) | 0/9 | 4/8 | 0 |
| | | | | | | |
| --- | --- | --- | --- | --- | --- | --- |
| Providence Goaltending | MIN | GA | 1 | 2 | 3 | Saves |
| Hayden Hawkey (W, 1-0-0) | 60:00 | 1 | 10 | 7 | 14 | 31 |
| | | | | | | |
| --- | --- | --- | --- | --- | --- | --- |
| Miami Goaltending | MIN | GA | 1 | 2 | 3 | Saves |
| Ryan Larkin (L, 0-1-0) | 58:12 | 3 | 9 | 13 | 5 | 27 |
| Empty Net | 1:48 | 0 | | | | |
OXFORD, Ohio - The No. 11/5 Providence College men's hockey team kicked off the 2017-18 campaign with a strong 3-1 effort on the road at Miami University on Friday night in Oxford, Ohio.
SCORE
No. 11/5 Providence - 3 | Miami - 1
RECORDS
Providence - 1-0-0 | Miami - 0-1-0
VENUE
Steve "Coach" Cady Arena - Oxford, Ohio
GOALIES
Hawkey (PC) - 31 saves
Larkin (MU) - 27 saves
NOTES
- Ryan Tait (Santa Clarita, Calif.) notched his first goal of the season at the 7:57 mark to put Providence up 1-0. Brandon Duhaime was credited with the assist after a strong forecheck forced a turnover in the Miami zone.
- The Friars held a 10-2 advantage in shots prior to back-to-back power play chances for the RedHawks in the final five minutes of the period.
- Providence caught a break midway through the second period when Gordie Green broke in all alone but his shot rang off the crossbar and stayed out.
- Kasper Björkqvist (Espoo, Finland) and Scott Conway (Basingstoke, England) led the Friar power play with a few glorious chances, including Conway's shot that rang the post to the right of Larkin.
- Providence outshot the RedHawks by a 14-0 margin to close out the second period.
- Tait notched his second point of the night as he sent in freshman Greg Printz on a breakaway and he converted with his first collegiate goal to give the Friars a 2-1 lead after 40 minutes.
- Josh Wilkins (Raleigh, N.C.) gave Providence a two-goal cushion just 50 seconds into the third period as he wired a wrist shot over the shoulder of Larkin for the sophomore's first tally of the season.
- Seconds later, Miami appeared to cut the deficit back to one goal on a net drive by Kiefer Sherwood, but the officials waived the goal off due to goaltender interference.
- The Friars killed off four Miami power play chances in the final 20 minutes.
- Head Coach Nate Leaman's teams are now 6-1-0 in season-openers.
- Newcomers Tommy Davis (Ho-Ho-Kus, N.J.), Jeff Baum (Colleyville, Texas), Ben Mirageas (Newburyport, Mass.), Greg Printz (Fairfax, Va.), Jason O'Neill (Odenton, Md.), and Bailey Conger (Boise, Idaho) all made their Friar debuts.
- Providence is now 5-1-2 in their last eight meetings against the RedHawks.
- Hayden Hawkey (Parker, Colo.) earned his 25th career victory in goal for the Friars.
HOW THEY SCORED
1-0 (PC) - 7:57/1st - EV - Ryan Tait (Duhaime) - Quick snap shot from the bottom of the circle that beat Larkin short-side.
1-1 (MU) - 17:17/1st - EV - Austin Alger (Knies, Gilling) - Wrist shot from the top of the slot through a screen.
2-1 (PC) - 18:54/2nd - EV - Greg Printz (Tait) - Breakaway finished on the backhand.
3-1 (PC) - :50/3rd - EV - Josh Wilkins - Wrist shot under the crossbar from the top of the circles.
PC GAME HIGHS
Goals: Tait, Printz, Wilkins (1)
Assists: Tait, Duhaime (1)
Points: Tait (2)
Shots: Foley (5)
POWER PLAYS
Providence - 0/3
Miami - 0/9
SHOTS (blocked)
Providence - 30 (12)
Miami - 32 (8)
UP NEXT
Providence concludes its two-game series at Miami on Saturday night. Faceoff is slated for 8 p.m. from Steve "Coach" Cady Arena.