Saturday, February 24, 2018
UMass Lowell Skates Past Merrimack College, 5-0
Junior forward Ryan Dmowski has two goals and assist for River Hawks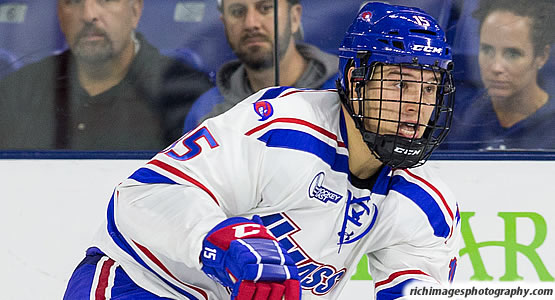 Junior forward Ryan Dmowski had two goals and an assist for the River Hawks
| | | | | | | |
| --- | --- | --- | --- | --- | --- | --- |
| Prd | Time | Team | Score | Type | Scored By | Assists |
| 2nd | 1:14 | UML | 1-0 | EV GW | Tommy Panico (8) | Chris Forney/13, John Edwardh/11 |
| 2nd | 5:15 | UML | 2-0 | PP | Ryan Dmowski (10) | Mattias Göransson/8, Tyler Mueller/12 |
| 2nd | 6:31 | UML | 3-0 | EV | Connor Sodergren (4) | Ryan Dmowski/11 |
| 3rd | 6:57 | UML | 4-0 | EV | Chris Forney (7) | Connor Wilson/7 |
| 3rd | 10:49 | UML | 5-0 | PP | Ryan Dmowski (11) | Connor Wilson/8, Mattias Göransson/9 |
| | | | | |
| --- | --- | --- | --- | --- |
| Scoring | 1st | 2nd | 3rd | Final |
| Merrimack | 0 | 0 | 0 | 0 |
| UMass Lowell | 0 | 3 | 2 | 5 |
| | | | | |
| --- | --- | --- | --- | --- |
| Shots on Goal | 1st | 2nd | 3rd | SOG |
| Merrimack | 4 | 9 | 8 | 21 |
| UMass Lowell | 11 | 13 | 6 | 30 |
| | | | |
| --- | --- | --- | --- |
| Team Stats and Records | PP | PIM | SHGF |
| Merrimack (10-19-4) | 0/3 | 8/16 | 0 |
| UMass Lowell (17-17-0) | 2/6 | 6/12 | 0 |
| | | | | | | |
| --- | --- | --- | --- | --- | --- | --- |
| Merrimack Goaltending | MIN | GA | 1 | 2 | 3 | Saves |
| Craig Pantano (L, 9-12-2) | 26:31 | 3 | 11 | 4 | 0 | 15 |
| Logan Halladay | 33:29 | 2 | 0 | 6 | 4 | 10 |
| | | | | | | |
| --- | --- | --- | --- | --- | --- | --- |
| UMass Lowell Goaltending | MIN | GA | 1 | 2 | 3 | Saves |
| Christoffer Hernberg (W, 14-8-0) | 60:00 | 0 | 4 | 9 | 8 | 21 |
LOWELL, Mass. - Junior forward Ryan Dmowski (East Lyme, Conn.) notched three points (2g,1a) and junior goaltender Christoffer Hernberg (Espoo, Finland) earned his fifth career shutout to pace the UMass Lowell Hockey team to a 5-0 victory against Merrimack on Saturday night at the Tsongas Center in front of 5,839 fans on Senior Night.
UMass Lowell improves to 17-17-0 overall (11-13-0 HEA) in the victory, while Merrimack falls to 10-19-4 overall (7-15-2 HEA) after the loss. The two teams will face each other in the Hockey East first round in a best of three series at the Tsongas Center beginning on Friday, March 2nd (7:15pm).
"It's a big win for us to get us out of this funk, obviously we played a great opponent," said UMass Lowell Head Coach Norm Bazin. "Now it comes to the second season and we are looking forward to next weekend."
Senior Chris Forney (Thief River Falls, Minn.) and Dmowski scored goals in the third to seal the win for the River Hawks. Dmowski posted a game-high five shots on goal in the victory.
Freshman forward Connor Sodergren (Tewksbury, Mass.) made it 3-0 UMass Lowell with his fourth of the year just 1:15 after Dmowski's first tally.
Senior defenseman Tommy Panico (Wall, N.J.) got the River Hawks on the board first with a slapshot from the right point just 1:14 into the second frame. Dmowski added a power play marker for his 10th tally of the year just four minutes later to make it 2-0 in favor of the home team.
The two teams skated to a scoreless first period with UMass Lowell owning a 11-4 shot advantage.
The River Hawks went 2-for-6 on the power play in the game and were also a perfect 3-for-3 on the penalty kill.
Hernberg amassed 21 saves on the night for this 14th win of the season, which included nine saves in the second period. Craig Pantano got the start for the Warriors, making 15 saves in the first 26:21 of play. Logan Halladay recorded 10 saves in the final 33:29 in a relief effort.
To purchase individual game tickets visit www.TsongasCenter.com. To save with a group of 10 or more, contact Jonathan Healy at Jonathan_Healy@uml.edu or by phone at (978) 934-6280.