Friday, February 23, 2018
Seney Scores Twice As Merrimack Upends UMass Lowell, 4-1
Senior forward Brett Seney scores two goals for Warriors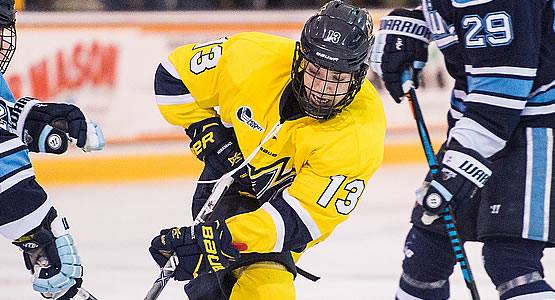 Senior forward Brett Seney scored two goals for the Warriors
| | | | | | | |
| --- | --- | --- | --- | --- | --- | --- |
| Prd | Time | Team | Score | Type | Scored By | Assists |
| 1st | 16:18 | MER | 1-0 | EV | Brett Seney (12) | Jared Kolquist/18, Mathieu Tibbet/1 |
| 2nd | 11:02 | MER | 2-0 | EV GW | Tyler Irvine (4) | Logan Coomes/6, Alfred Larsson/6 |
| 3rd | 7:16 | UML | 1-2 | EV | Ryan Dmowski (9) | Nick Marin/5 |
| 3rd | 8:49 | MER | 3-1 | EV | Brett Seney (13) | Johnathan Kovacevic/14, Jared Kolquist/19 |
| 3rd | 13:37 | MER | 4-1 | EV | Logan Coomes (3) | Alfred Larsson/7, Tyler Irvine/2 |
| | | | | |
| --- | --- | --- | --- | --- |
| Scoring | 1st | 2nd | 3rd | Final |
| UMass Lowell | 0 | 0 | 1 | 1 |
| Merrimack | 1 | 1 | 2 | 4 |
| | | | | |
| --- | --- | --- | --- | --- |
| Shots on Goal | 1st | 2nd | 3rd | SOG |
| UMass Lowell | 5 | 9 | 15 | 29 |
| Merrimack | 12 | 10 | 8 | 30 |
| | | | |
| --- | --- | --- | --- |
| Team Stats and Records | PP | PIM | SHGF |
| UMass Lowell (16-17-0) | 0/5 | 3/6 | 0 |
| Merrimack (10-18-4) | 0/3 | 5/10 | 0 |
| | | | | | | |
| --- | --- | --- | --- | --- | --- | --- |
| UMass Lowell Goaltending | MIN | GA | 1 | 2 | 3 | Saves |
| Tyler Wall (L, 3-9-0) | 60:00 | 4 | 11 | 9 | 6 | 26 |
| | | | | | | |
| --- | --- | --- | --- | --- | --- | --- |
| Merrimack Goaltending | MIN | GA | 1 | 2 | 3 | Saves |
| Craig Pantano (W, 9-11-2) | 60:00 | 1 | 5 | 9 | 14 | 28 |
NORTH ANDOVER, Mass. - Senior Brett Seney potted two goals, appropriately enough on Senior Night, in a game that the Merrimack College men's ice hockey team never trailed in, as the Warriors made their final home game at Lawler Rink this season a memorable one in a 4-1 victory over rival UMass Lowell. Merrimack closes out the regular season in Lowell tomorrow night before the postseason starts next weekend at a to-be-determined opponent.
The Basics
Score: Merrimack 4, UMass Lowell 1
Records: Merrimack (10-18-4, 7-14-2 HEA) | UMass Lowell (16-17-0, 10-13-0 HEA)
Location: Lawler Rink | North Andover, Mass.
Attendance: 2398
Game Duration: 2:27
Hockey East Playoff Picture
All teams qualify; seeds 1-5 receive byes in the opening round; seeds 6-8 host opening round playoff series; winners advance to quarterfinals.
Opening round and quarterfinals are best-of-three series.
Conference records/points shown below (as of Feb. 17).
1. Boston College (17-6-0, 34 points)
2. Northeastern (14-6-3, 31 points)
3. Providence (13-6-4, 30 points)
4. Boston U. (12-8-3, 27 points)
T5. Maine (10-10-3, 23 points)
T5. Connecticut (11-12-1, 23 points)
7. UMass Lowell (10-13-0, 20 points)
8. Massachusetts (8-13-2, 18 points)
9. Vermont (6-12-5, 17 points)
10. Merrimack (7-14-2, 16 points)
11. New Hampshire (5-13-5, 15 points)
Rapid Recap
- After honoring its seven seniors prior to puck drop, Merrimack controlled the bulk of the action in the first period, outshooting the River Hawks by a 12-5 margin while having two power plays. The Warriors eventually broke through on a goal from senior Brett Seney late in the period to take a 1-0 edge into the break.
- The middle stanza was tighter in terms of scoring chances, but the Warriors would get an important second goal halfway through the period off a gritty play from sophomore Tyler Irvine, whose fourth goal of the year send the home side into the second intermission up 2-0.
- The River Hawks came out firing in the third, firing the first eight shots on net in the period before ultimately cutting their deficit to one at the 7:16 mark. Seney, however, assured Senior Night would not be spoiled, as answered with a huge goal just over 90 seconds later and sophomore Logan Coomes added insurance at 13:37 to power the Warriors to their first win over UMass Lowell since January of 2015.
Scoring Summaries
Goal #1 (MC, 1-0): Merrimack used an all-senior combination, appropriately enough, to take the lead in the first period, as senior Brett Seney netted his 12th of the year at the 16:18 mark. Classmate Mathieu Tibbet started the play with a feed from behind the net out to fellow senior Jared Kolquist, who blasted a shot from the near circle that was stopped. Seney collected the puck at the back post, spun and sent a backhander into the net.
Goal #2 (MC, 2-0): Sophomore Tyler Irvine doubled the lead for the hosts at 11:02 of the second, potting his fourth of the year in the process. Senior Alfred Larsson won a draw at the far circle and kicked the puck into a scrum. Sophomore Logan Coomes initially came away with the puck and squeezed a shot off, but Irvine followed up and tucked it home glove side to round out a gritty scoring play.
Goal #3 (UML, 2-1): Ryan Dmowski made it a one-goal game at 7:16 of the third. Nick Marin hopped on a turnover behind the Merrimack net and fed Dmowski for a one-timer from the edge of the far circle that found the twine.
Goal #4 (MC, 3-1): Seney's second of the game and 13th of the year restored the Warriors' multi-goal lead at 8:49, just over 90 seconds after UMass Lowell's marker. Kolquist initially tried to sneak in a tough-angle shot from the goal line but the puck trickled into the slot and out to sophomore Johnathan Kovacevic, who fired wide of the net but found Seney at the far circle, who found the upper-left corner from another sharp angle.
Goal #5 (MC, 4-1): Coomes gave Merrimack its largest lead of the game at 13:37 of the third, recording his third goal of the year in the process. Irvine connected with Larsson just inside the blue line at the far point, and Larsson returned the feed to Coomes through the slot and to the back post, where the latter beat UML goaltender Tyler Wall over the blocker.
Notes and Notables
- Seney appropriately enough had two goals in his final game ever at Lawler Rink, pushing his team-leading total to 13 goals and 29 points on the year. It was also his team-leading 29th career multi-point game and eighth career two-goal night.
- Coomes tied his career high with his second-ever two-point night, including his first-ever two-goal performance; Larsson, meanwhile, registered the first two-point night of his career.
- Merrimack topped Lowell for the first time in six games; the last victory was a 2-1 win at Lawler Rink on Jan. 30, 2015. The Warriors will be looking to snap a seven-game winless stretch (0-5-2) in Lowell tomorrow night; their last win at the Tsongas Center since Nov. 19, 2010
- Merrimack finished the year 6-7-2 at Lawler Rink.
- Merrimack also improved to 5-5-4 when scoring first and is now 10-2-2 when scoring three-plus goals compared to 0-16-2 when being held to fewer than three goals.
- Goaltenders: Craig Pantano (28 saves, 9-11-2) // Christoffer Henberg (26 saves, 3-9-0)
- Power Plays: Merrimack (0-3) | UMass Lowell (0-5)
- Shots on Goal (MC-UML): 12-5 // 10-9 // 8-15 - 30-29
Merrimack Lineup
Forwards
Hennig | Seney | Tibbet
Petti | L. Larsson | Tavernier
Coomes | A. Larsson | Irvine
Kramer | Drevitch | Babcock
Defense
Kolquist | Titcomb
Biega | Cook
Kovacevic | Lööf
Goaltenders
Pantano | Vogler | Halladay
Up Next
Merrimack and UMass Lowell conclude the regular season tomorrow night at the Tsongas Center, with puck drop set for 7 p.m.