Merrimack College Clipped By Colgate, 2-1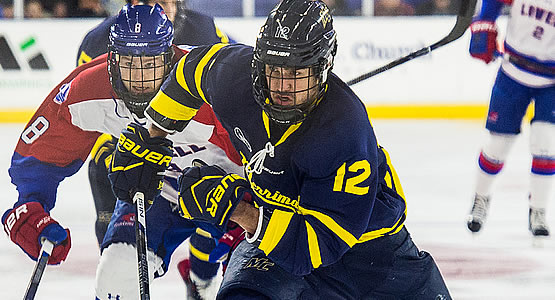 Junior forward Ludvig Larsson scored a goal for the Warriors
| | | | | | | |
| --- | --- | --- | --- | --- | --- | --- |
| Prd | Time | Team | Score | Type | Scored By | Assists |
| 1st | 7:05 | CLG | 1-0 | EV | Mike Panowyk (1) | Evan Peterson/1, Ken Citron/1 |
| 1st | 14:43 | CLG | 2-0 | EV GW | Jared Cockrell (3) | Willie Brooks/3, Josh McKechney/2 |
| 3rd | 11:57 | MER | 1-2 | EV | Ludvig Larsson (1) | Aaron Titcomb/1, Jace Hennig/1 |
| | | | | |
| --- | --- | --- | --- | --- |
| Scoring | 1st | 2nd | 3rd | Final |
| Merrimack | 0 | 0 | 1 | 1 |
| Colgate | 2 | 0 | 0 | 2 |
| | | | | |
| --- | --- | --- | --- | --- |
| Shots on Goal | 1st | 2nd | 3rd | SOG |
| Merrimack | 17 | 12 | 10 | 39 |
| Colgate | 11 | 6 | 2 | 19 |
| | | | |
| --- | --- | --- | --- |
| Team Stats and Records | PP | PIM | SHGF |
| Merrimack (0-1-0) | 0/5 | 3/6 | 0 |
| Colgate (2-0-0) | 0/3 | 5/10 | 0 |
| | | | | | | |
| --- | --- | --- | --- | --- | --- | --- |
| Merrimack Goaltending | MIN | GA | 1 | 2 | 3 | Saves |
| Drew Vogler (L, 0-1-0) | 58:27 | 2 | 9 | 6 | 2 | 17 |
| Empty Net | 1:33 | 0 | | | | |
| | | | | | | |
| --- | --- | --- | --- | --- | --- | --- |
| Colgate Goaltending | MIN | GA | 1 | 2 | 3 | Saves |
| Colton Point (W, 2-0-0) | 60:00 | 1 | 17 | 12 | 9 | 38 |
HAMILTON, N.Y. - The Merrimack College men's ice hockey team piled up nearly 40 shots on goal in its season opener and got to within one late in regulation, but host Colgate held on to hand the Warriors a 2-1 defeat on Friday night at Class of 1965 Arena.
The Basics
Score: Colgate 2, Merrimack 1
Records: Merrimack (0-1-0, 0-0-0 HEA) | Colgate (2-0-0, 0-0-0 ECAC)
Location: Class of 1965 Arena | Hamilton, N.Y.
Game Duration: 2:43
Rapid Recap
- Early in the first, Merrimack nearly poked in a loose puck but could not get it go; Colgate then capitalized on its next rush, taking advantage of a turnover to grab a 1-0 lead seven minutes into the game. The Raiders added another goal in the first to double their lead and leaned on their goaltender, Colton Point, who had nearly 30 saves through two periods to keep that 2-0 advantage intact.
- Merrimack got on the board with just over eight minutes left, but that was the closest the visitors would get despite racking up 39 shots on net.
Scoring Summaries
- Colgate opened the scoring 7:05 into the game moments after Mike Panowyk buried a behind-the-net pass at the far post. Evan Peterson and Ken Citron helped set up the scoring sequence.
- With Merrimack looking to clear the zone, Colgate kept the play alive at the right point, and that led to the Raiders' second goal. Willie Brooks threw the puck toward the net from the blue line and watched it knock off a Merrimack defenseman and right to Jared Cockrell, who found himself alone in front and scored at 14:43 to double the lead.
- Merrimack broke through on its 36th shot of the game at the 11:57 mark of the third, as junior Ludvig Larsson (Malmo, Sweden) tipped in an offering from senior Aaron Titcomb (Charlestown, Mass.) to beat Colgate goaltender Colton Point. Senior Jace Hennig (Port Moody, British Columbia) also picked up an assist on the play.
Notes & Notables
- Merrimack had the most shots on goal in a season opener in 14 years; the last time the Warriors piled up more shots in their first game of the regular season was a 4-2 win against Sacred Heart on Oct. 10, 2003 (44 shots).
- Friday's loss snapped a five-game unbeaten streak against Colgate (3-0-2) dating back nearly 20 years; the Raiders' last win in the series was on Nov. 27, 1999, in an in-season tournament hosted by Syracuse.
- Merrimack has dropped its last two season openers and is 5-5-1 in its last 11 season openers.
- Merrimack totaled over 30 shots on goal in its first game; last year, the Warriors did not surpass the 30-shot threshold until their fifth game of the season.
- Friday's game marked the collegiate debuts of sophomore Cole McBride (Kindersley, Saskatchewan) and freshman Laine McKay (Thunder Bay, Ontario), who both were among the forward corps. The duo combined for three shots on net.
Merrimack Lineup
Babcock | A. Larsson | Tibbet
Hennig | L. Larsson | McBride
Seney | Petti | Tavernier
Coomes | McKay | Irvine
Biega | Carle
Kolquist | Kovacevic
Cook | Titcomb
Vogler
Pantano
Halladay
Up Next
The Warriors and Raiders round out their weekend series on Saturday night back at the Class of 1965 Arena at 7:30 p.m. Next weekend, Merrimack welcomes the University of Wisconsin to campus for the first time in school history when it hosts the Badgers as part of Homecoming Weekend on Saturday (Oct. 21) night. Puck drop from Lawler Rink is set for 7 p.m.