Boston College Defeated By Wisconsin, 5-2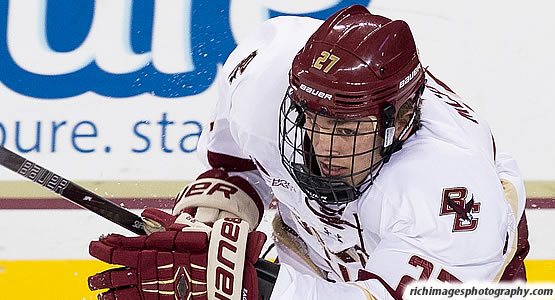 Sophomore forward Graham McPhee scored a goal for the Eagles
| | | | | | | |
| --- | --- | --- | --- | --- | --- | --- |
| Prd | Time | Team | Score | Type | Scored By | Assists |
| 1st | 17:17 | WIS | 1-0 | EV | Trent Frederic (2) | Linus Weissbach/2 |
| 1st | 18:51 | BC | 1-1 | PP | Graham McPhee (1) | Julius Mattila/1, Luke McInnis/1 |
| 2nd | 1:13 | WIS | 2-1 | EV | Tim Davison (1) | Tarek Baker/1 |
| 2nd | 12:04 | WIS | 3-1 | EV GW | Seamus Malone (1) | Will Johnson/2, Tyler Inamoto/1 |
| 3rd | 5:12 | WIS | 4-1 | EV | Matthew Freytag (1) | Peter Tischke/2 |
| 3rd | 10:59 | BC | 2-4 | EV | Christopher Grando (1) | Logan Hutsko/1 |
| 3rd | 19:10 | WIS | 5-2 | EV EN | Tarek Baker (3) | Ryan Wagner/2 |
| | | | | |
| --- | --- | --- | --- | --- |
| Scoring | 1st | 2nd | 3rd | Final |
| Wisconsin | 1 | 2 | 2 | 5 |
| Boston College | 1 | 0 | 1 | 2 |
| | | | | |
| --- | --- | --- | --- | --- |
| Shots on Goal | 1st | 2nd | 3rd | SOG |
| Wisconsin | 5 | 11 | 6 | 22 |
| Boston College | 8 | 12 | 11 | 31 |
| | | | |
| --- | --- | --- | --- |
| Team Stats and Records | PP | PIM | SHGF |
| Wisconsin (3-1-0) | 0/5 | 4/8 | 0 |
| Boston College (0-1-1) | 1/1 | 8/16 | 0 |
| | | | | | | |
| --- | --- | --- | --- | --- | --- | --- |
| Wisconsin Goaltending | MIN | GA | 1 | 2 | 3 | Saves |
| Kyle Hayton (W, 3-1-0) | 60:00 | 2 | 7 | 12 | 10 | 29 |
| | | | | | | |
| --- | --- | --- | --- | --- | --- | --- |
| Boston College Goaltending | MIN | GA | 1 | 2 | 3 | Saves |
| Joseph Woll (L, 0-1-1) | 59:29 | 4 | 4 | 9 | 4 | 17 |
| Empty Net | 0:31 | 1 | | | | |
CHESTNUT HILL, Mass. - Wisconsin scored three unanswered goals to earn a 5-2 win over the Boston College men's hockey team on Friday night at Kelley Rink.
The Badgers' Trent Frederic put Wisconsin up 1-0 at 17:17 of the first, but BC's Graham McPhee responded just under two minutes later at 18:51 with a power-play strike.
Wisconsin added two goals in the second period and another at the beginning of the third to stretch the lead to 4-1, before Chris Grando pulled the Eagles within two goals at 10:59. The Badgers added an empty-net goal at 19:10 to cap the night's scoring.
Joseph Woll made 17 saves in the loss, while Wisconsin's Kyle Hayton stopped 29 BC attempts.
SCORE
No. 9 Wisconsin - 5 / No. 13 Boston College - 2
LOCATION
Kelley Rink at Conte Forum / Chestnut Hill, Mass.
RECORDS
Wisconsin (3-1-0 | 1-1-0 B1G) / No. 13 Boston College (0-1-1 | 0-0-0 HEA)
BC HIGHLIGHTS & GAME NOTES
- Sophomore forward Graham McPhee tallied his first-career power play goal and third overall with 69 seconds left in the first period to tie things against the Badgers, 1-1.
- Freshman Christopher Grando scored his first career goal midway through the third period to pull the Eagles within two goals
- BC was 1-for-1 on the power play and stopped all five of Wisconsin's opportunities
GOAL DESCRIPTIONS
FIRST GOAL (1-0 - Wisconsin) FIRST PERIOD - Trent Frederic - 17:17 - EVEN STRENGTH
• Wisconsin capitalized off of an Eagle turnover deep in BC's zone and the Badgers drew first blood at 17:17 of the first period. Linus Weissbach stripped the puck on a Boston College clear and shifted up to Trent Frederic in between the circles. Frederic took two strides and ripped it past Joseph Woll for the 1-0 UW lead.
SECOND GOAL (1-1 - Boston College) FIRST PERIOD - Graham McPhee - 18:51 - POWER PLAY
• The Eagles answered just over a minute and a half later on the power play. Luke McInnis kept the puck in Wisconsin's end after the Badgers attempted the clear it. McInnis chipped it into the corner for Julius Mattila and the sophomore Finnish product paddled it off the backboards to Graham McPhee in the far corner. McPhee corralled the puck, stepped into it and wristed it over UW goaltender Kyle Hayton's glove at 18:51 for the equalizer on the power play late in the first frame.
THIRD GOAL (2-1 - Wisconsin) SECOND PERIOD - Tim Davison - 1:16 - EVEN STRENGTH
• The Badgers reclaimed the lead 76 seconds into the second frame off a set faceoff play in Boston College's end. Tarek Baker cleanly won a draw back to Tim Davison and Davison wristed it low through traffic and duped Woll at 1:16 to make it a 2-1 affair.
FOURTH GOAL (3-1 - Wisconsin) SECOND PERIOD - Seamus Malone - 12:04 - EVEN STRENGTH
• Wisconsin copped its first two-goal lead of the night in transition at 12:04 of the first period. Tyler Inamoto kicked the puck out of Wisconsin's end onto the stick of Will Johnson on the flat. Seamus Malone joined the rush with Johnson down the seam and Johnson skated the puck hard to the far corner and kicked it back at a tough angle where Malone was able to stuff it in tight on Woll to make it a 3-1 advantage.
FIFTH GOAL (4-1 - Wisconsin) THIRD PERIOD - Matthew Freytag - 5:12 - EVEN STRENGTH
• The Badgers added another after a wrister by Matthew Freytag at 5:12 of the third stanza. Freytag made a hustle play early on by breaking up things along the near boards and getting the puck to Peter Tischke. He relayed the puck back to Freytag on the far side and after accepting Tischke's dish, he beat Woll with a snap shot from the right circle to claim a three-goal pad.
SIXTH GOAL (4-2 - Boston College) THIRD PERIOD - Christopher Grando - 10:59 - EVEN STRENGTH
• The Eagles cashed in on a Weissbach turnover under the midway point of the third as two rookies made their presence felt late in regulation. Weissbach threw the puck carelessly out of the Eagles' end and Logan Hutsko was there to corral the loose disc on the near boars. Christopher Grando flanked to Hustko's left down the center of the sheet and Hutsko drew his defender enough to give Grando the dunk in tight. Hutsko perfectly timed the pass to Grando on the doorstep as the Islip, N.Y. native made it a two-goal contest, 4-2, at 10:59 of the third.
SEVENTH GOAL (5-2 - Wisconsin) THIRD PERIOD - Tarek Baker - 19:10 - EMPTY NET
• Ryan Wagner stole a Boston College clearing attempt, whipped it over to Baker and he flung it over the unguarded line to cap the scoring at 5-2.
BOSTON COLLEGE GAME LEADERS
Points: Graham McPhee (1 - 0 - 1) / Chris Grando (1 - 0 - 1) / Luke McInnis (0 - 1 - 1) / Logan Hutsko (0 - 1 - 1) / Julius Mattila (0 - 1 - 1)
Goals: Graham McPhee (1 - 0 - 1) / Chris Grando (1 - 0 - 1)
Assists: Luke McInnis (0 - 1 - 1) / Logan Hutsko (0 - 1 - 1) / Julius Mattila (0 - 1 - 1)
Shots: Logan Hutsko ( 7 )
Faceoffs Won: Christopher Brown (15 - of - 22)
SPECIAL TEAMS
Wisconsin: 0-for-5
Boston College: 1-for-1
PENALTIES
Wisconsin: 4-for-8
Boston College: 8-for-16
BOSTON COLLEGE LINES
Cotton - Brown - Tortora
McPhee - Jul. Mattila - Dudek
Grando - Räsänen - Hutsko
Carreau - Greco - Walker
McInnis - Fitzgerald
Jes. Mattila - Moore
Karow - Kim
Woll
Edquist
Miloz
UP NEXT
The Eagles will practice tomorrow before heading to Providence for a 5 p.m. matinee on Sunday, Oct. 15. It marks the first time in over a season Boston College has played at Schneider Arena as PC's home game against the Eagles last season came at Fenway Park. Following Sunday's tilt against the Friars, BC stays on the road and heads west for a pair at St. Cloud on Friday and Saturday, Oct. 20 and 21.