Saturday, January 27, 2018
Boston College Notches 5-2 Win Over UMass Lowell
Junior forward JD Dudek records goal and assist for Eagles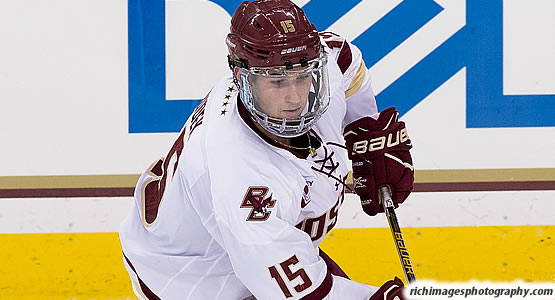 Junior forward JD Dudek had a goal and an assist for the Eagles
| | | | | | | |
| --- | --- | --- | --- | --- | --- | --- |
| Prd | Time | Team | Score | Type | Scored By | Assists |
| 1st | 18:39 | BC | 1-0 | PP | David Cotton (7) | Logan Hutsko/11, Michael Kim/5 |
| 2nd | 1:48 | BC | 2-0 | PP | Connor Moore (3) | Jesper Mattila/6, Aapeli Räsänen/9 |
| 2nd | 7:36 | BC | 3-0 | EV GW | Graham McPhee (11) | Christopher Brown/9, Jesper Mattila/7 |
| 2nd | 7:52 | BC | 4-0 | EV | JD Dudek (4) | Casey Fitzgerald/10, Michael Karow/4 |
| 2nd | 11:10 | BC | 5-0 | EV | Jacob Tortora (5) | Christopher Grando/9, JD Dudek/10 |
| 3rd | 4:26 | UML | 1-5 | PP | Charlie Levesque (6) | Tommy Panico/12, Chris Forney/11 |
| 3rd | 6:10 | UML | 2-5 | EV | Tommy Panico (5) | Chris Forney/12, Nick Master/8 |
| | | | | |
| --- | --- | --- | --- | --- |
| Scoring | 1st | 2nd | 3rd | Final |
| UMass Lowell | 0 | 0 | 2 | 2 |
| Boston College | 1 | 4 | 0 | 5 |
| | | | | |
| --- | --- | --- | --- | --- |
| Shots on Goal | 1st | 2nd | 3rd | SOG |
| UMass Lowell | 9 | 9 | 8 | 26 |
| Boston College | 12 | 20 | 3 | 35 |
| | | | |
| --- | --- | --- | --- |
| Team Stats and Records | PP | PIM | SHGF |
| UMass Lowell (15-12-0) | 1/6 | 6/12 | 0 |
| Boston College (13-10-3) | 2/6 | 6/23 | 0 |
| | | | | | | |
| --- | --- | --- | --- | --- | --- | --- |
| UMass Lowell Goaltending | MIN | GA | 1 | 2 | 3 | Saves |
| Tyler Wall (L, 3-7-0) | 27:52 | 4 | 11 | 6 | 0 | 17 |
| Christoffer Hernberg | 32:08 | 1 | 0 | 10 | 3 | 13 |
| | | | | | | |
| --- | --- | --- | --- | --- | --- | --- |
| Boston College Goaltending | MIN | GA | 1 | 2 | 3 | Saves |
| Joseph Woll (W, 10-8-2) | 60:00 | 2 | 9 | 9 | 6 | 24 |
CHESTNUT HILL, Mass. - No. 16 Boston College ended UMass Lowell's recent dominance over the Eagles in demonstrative fashion, taking down the River Hawks, 5-2, in front of a strong crowd on Saturday night at Kelley Rink.
Boston College lit the lamp four times in the second period to put the game out of reach and found the back of the net twice on the power play, extending its power play scoring streak to five games.
Thirteen of 18 skaters scored at least one point in the victory as second-year goaltender Joseph Woll steered away 24-of-26 River Hawk attempts to elevate his record to 10-8-2.
Boston College outshot the River Hawks, 35-26, in victory.
Once all the results subsides Saturday night, BC found itself back in first place in the Hockey East standings by two points.
SCORE
r/v UMass Lowell - 2 / No. 16 Boston College - 5
LOCATION
Kelley Rink / Chestnut Hill, Mass.
RECORDS
r/v UMass Lowell - (15-12-0 / 10-8-0 HEA) / No. 16 Boston College (13-10-3 / 13-5-0 HEA)
BC HIGHLIGHTS & GAME NOTES
- Boston College curbed a five-game losing streak to UMass Lowell with its domination 5-2 win on Saturday night.
- Boston College scored four goals in the second period to put the game out of hand. It marks the first time in almost two years since the Eagles lit the lamp four times in a period. The last time that occurred was at home against Merrimack in a 6-3 win on Feb. 12, 2016.
- Connor Moore has been on fire recently, extending his point streak to a career-best four games on Saturday night. The Cumming, Ga. native did so by scoring his first-career power play in dramatic fashion. Moore blasted a pass from Jesper Mattila far corner and nearly exploded the Lowell water bottle in true video-game fashion.
- Sophomore Graham McPhee scored his fifth goal in his last four games to maintain his lead in the goal-scoring category for the Eagles. The Las Vegas native has accounted for 11 goals on the season, six of which since the turn of the calendar year. With the goal, it marks McPhee's second occurrence of scoring goals in back-to-back games this season. McPhee's goal ended up counting as the game-winning goal, his second of the season and first since his one at Northeastern on Nov. 18.
- Sophomore David Cotton scored his third power play goal of the season, second in four games, at the end of the first period. It marked the Parker, Texas native's seventh goal of the season and team-leading seventh-career power play tally. After a seven-game point streak from Dec. 2 to Jan. 14, Cotton had gone scoreless his last two outings but ended that quick dry spell tonight.
- Cotton's and Moore's power play goals marks the Eagles' fifth-straight outing with a power play goal, their longest stretch of the season. It also marks the second time this season Boston College has scored two power play goals in a game, with the first coming against Michigan Tech in Las Vegas on Jan. 5.
- JD Dudek accounted for his third multi-point performance on Saturday night after his fourth goal of the season and 10th helper. The Auburn, N.H. native also assisted on Jacob Tortora's goal midway through the second period.
- Junior Christopher Brown assisted on Graham McPhee's goal in the second period, extending his career-best point streak to four games. The third-year captain has assisted in his last four outings.
- Sophomore Jesper Mattila notched his second multi-point performance of the season with a pair of assists in Saturday's victory. The last time the Tampere, Finland native recorded a multi-point performance with a goal and two assists at Northeastern on Nov. 18.
- First-year forward Jacob Tortora scored his fifth goal of the season and second in four games to move his point total (5-5-10) into double digits on the season.
- Freshman Aapeli Rasanen amassed his second-career two-game point streak with assists in back to back outings after helping out on Moore' first-career power play goal.
- Rookie Logan Hutsko notched his 11th assist of the season, one shy of the team lead, on Cotton's power play marker.
- Junior Michael Kim assisted on Cotton's power play goal on Saturday night, marking the second-straight time he's provided the help on a Cotton power play tally.
GOAL DESCRIPTIONS
FIRST GOAL (1-0 - Boston College) - FIRST PERIOD - David Cotton - 18:39 - POWER PLAY
• After UMass Lowell's Ryan Dmowski took his second penalty of the period, Boston College cashed in just before the end of the first on a David Cotton power play tally. Dmowski went off for tripping at 17:07 and after a few cycles, Michael Kim generated the scoring play by getting the puck down low to Logan Hutsko in the far corner. Cotton wrapped around the circle and freed himself for the one-timer. Hutsko connected right on the tape and Cotton blasted it past River Hawk goaltender Tyler Wall at 18:39 for the 1-0 Eagle advantage.
SECOND GOAL (2-0 - Boston College) - SECOND PERIOD - Connor Moore - 1:48 - POWER PLAY
• As the first period expired, UMass Lowell's Tyler Mueller was assessed a slashing call and Connor Moore made the River Hawks pay with 12 seconds left on the infraction. Aapeli Rasanen chased a loose puck down in the near corner and rimmed it up to the left side for Moore to set. Moore dispensed it to his right for Jesper Mattila who touched it back for the Moore one-timer that slashed through traffic, popping the water bottle right off the net for added flair and a 2-0 for the Eagles' second-consecutive power play marker.
THIRD GOAL (3-0 - Boston College) - SECOND PERIOD - Graham McPhee - 7:36 - EVEN STRENGTH
• Junior Graham McPhee added on midway through the second at 7:36 after Jesper Mattila made a great play along the half wall. Mattila broke up a Lowell charge in front of UMass Lowell's bench and swatted it out to Christopher Brown in the neutral zone. McPhee snuck in front of the play, accepted Brown's pass onsides and skated towards Wall. With no one in front, McPhee took his chance and snapped it five-hole through Wall's pads to make it a 3-0 affair.
FOURTH GOAL (4-0 - Boston College) - SECOND PERIOD - JD Dudek - 7:52 - EVEN STRENGTH
• With momentum fully on BC's side, the Eagles capitalized on it with another strike 16 seconds later right off the faceoff. Michael Karow steadied the draw in the neutral zone, zipped it over to Casey Fitzgerald and JD Dudek pulled the same move McPhee did moments ago. Dudek accepted Fitzgerald's pass with speed, steamed down the right side and whipped it top side past Wall with the backhand at 7:52 to make it a 4-0 affair and chase Wall out of net for backup goaltender Christoffer Hernberg.
FIFTH GOAL (5-0 - Boston College) - SECOND PERIOD - Jacob Tortora - 11:10 - EVEN STRENGTH
• On another set faceoff play, Dudek won the draw in UMass Lowell's end and scooted it forward for Christopher Grando to give chase down the near side. With the right side wide open, Jacob Tortora made himself at home on the far post and buried Grando's crisp pass through the crease to get one off Hernberg at 11:10 of the second period to mount a 5-0 advantage.
SIXTH GOAL (5-1 - UMass Lowell) - THIRD PERIOD - Charlie Levesque - 4:26 - POWER PLAY
• UMass Lowell stopped the bleeding early in the third by taking advantage of a five-minute major assessed to Jacob Tortora. Chris Forney quarterbacked the play from the slot, dishing from the slot to Tommy Panico. Charlie Levesque freed himself on the left dot, calmed Panico's dish and ripped it past BC's Joseph Woll to cut into the Eagles' sizeable lead, 5-1.
SEVENTH GOAL (5-2 - UMass Lowell) - THIRD PERIOD - Tommy Panico - 6:10 - EVEN STRENGTH
• The River Hawks got another one back quickly a minute and a half later after winning a puck battle behind BC's net. Nick Master flung it out from behind the cage to Forney on the right dot. As Woll was focusing on the one-timer, Forney deferred to his left and found Panico wide open for the easy tap-in at 6:10 of the third period to make it a 5-2 affair.
BOSTON COLLEGE GAME LEADERS
Points: JD Dudek (1 - 1 - 2) / Jesper Mattila (0 - 2 - 2)
Goals: JD Dudek (1 - 1 - 2) / David Cotton (1 - 0 - 1) / Connor Moore (1 - 0 - 1) / Graham McPhee (1 - 0 - 1) / Jacob Tortora (1 - 0 - 1)
Assists: Jesper Mattila (0 - 2 - 2)
Shots: Graham McPhee ( 5 )
SPECIAL TEAMS UMass Lowell: 1 - for - 6
Boston College: 2 - for - 6
PENALTIES
UMass Lowell: 6 - for - 12
Boston College: 6 - for - 23
BOSTON COLLEGE LINES
Cotton - Jul. Mattila - Hutsko
Grando - Dudek - Tortora
McPhee - Räsänen - Brown
Carreau - Greco - Walker
Jes. Mattila - Moore
Karow - Kim
McInnis - Fitzgerald
Woll
Edquist
Milosz
UP NEXT
Boston College will play only one game next weekend with the 66th annual Beanpot semifinals on tap next Monday. The Eagles will travel to Hartford on Friday, Feb. 2, to close out the three-game regular season series with UConn before taking the remainder of the weekend to rest up for Northeastern in the first game of the Beanpot at 5 p.m. on Monday, Feb. 5. As always, the Beanpot will be televised live on NESN.