Friday, November 24, 2017
Boston College Skates To 4-4 Tie With Harvard
Sophomore forward Julius Mattila has two goals and two assists for Eagles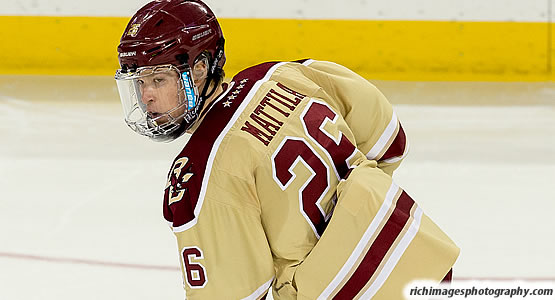 Sophomore forward Julius Mattila had two goals and two assists for the Eagles
| | | | | | | |
| --- | --- | --- | --- | --- | --- | --- |
| Prd | Time | Team | Score | Type | Scored By | Assists |
| 1st | 16:48 | BC | 1-0 | EV | Jacob Tortora (3) | Julius Mattila/6, David Cotton/5 |
| 2nd | 1:21 | HAR | 1-1 | EV | Adam Baughman (1) | Jack Badini/2, Nathan Krusko/2 |
| 2nd | 7:51 | HAR | 2-1 | SH | Michael Floodstrand (1) | Ryan Donato/6 |
| 2nd | 8:00 | BC | 2-2 | EV | Julius Mattila (3) | David Cotton/6 |
| 2nd | 10:50 | BC | 3-2 | EV | David Cotton (2) | Julius Mattila/7, Jacob Tortora/4 |
| 3rd | 4:11 | HAR | 3-3 | PP | Benjamin Solin (1) | Nathan Krusko/3, Jack Badini/3 |
| 3rd | 14:25 | BC | 4-3 | EV | Julius Mattila (4) | Jacob Tortora/5, David Cotton/7 |
| 3rd | 17:18 | HAR | 4-4 | EV GT | Jack Badini (2) | Nathan Krusko/4, Ty Pelton-Byce/3 |
| | | | | | |
| --- | --- | --- | --- | --- | --- |
| Scoring | 1st | 2nd | 3rd | OT | Final |
| Harvard | 0 | 2 | 2 | 0 | 4 |
| Boston College | 1 | 2 | 1 | 0 | 4 |
| | | | | | |
| --- | --- | --- | --- | --- | --- |
| Shots on Goal | 1st | 2nd | 3rd | OT | SOG |
| Harvard | 9 | 10 | 7 | 6 | 32 |
| Boston College | 7 | 3 | 8 | 3 | 21 |
| | | | |
| --- | --- | --- | --- |
| Team Stats and Records | PP | PIM | SHGF |
| Harvard (2-5-1) | 1/5 | 3/6 | 1 |
| Boston College (8-5-2) | 0/3 | 5/10 | 0 |
| | | | | | | | |
| --- | --- | --- | --- | --- | --- | --- | --- |
| Harvard Goaltending | MIN | GA | 1 | 2 | 3 | OT | Saves |
| Merrick Madsen (T, 2-5-1) | 65:00 | 4 | 6 | 1 | 7 | 3 | 17 |
| | | | | | | | |
| --- | --- | --- | --- | --- | --- | --- | --- |
| Boston College Goaltending | MIN | GA | 1 | 2 | 3 | OT | Saves |
| Joseph Woll (T, 6-4-2) | 65:00 | 4 | 9 | 8 | 5 | 6 | 28 |
CHESTNUT HILL, Mass. - The forward line of David Cotton - Julius Mattila - Jacob Tortora combined for all four Boston College goals in a 4-4 overtime draw against cross-town rival Harvard on Friday afternoon at Kelley Rink.
Friday's post-Thanksgiving affair featured several lead changes and back-and-forth action as the Crimson scored with just under three minutes to play to snatch the victory away late.
The Cotton - Mattila - Tortora triumvirate all turned in respective career performances as all three Eagles factored into every BC goal on Friday afternoon. Julius Mattila's two goal - two assists showing led the way while Cotton and Tortora each found the back of the net as well. Cotton turned in his second-career three-assist performance while Tortora also added a pair of assists for a career-best three-point night.
Boston College had its seven-game streak of outshooting its opponent snapped on Friday as the Crimson outshot the Eagles, 32-21.
Sophomore goaltender Joseph Woll stopped 28 shots to go to 6-4-2 on the season.
Boston College extends its unbeaten streak to eight games, rattling off a 7-0-1 mark over the course of that stretch.
SCORE
R/V Harvard - 4 / No. 14 Boston College - 4
LOCATION
Kelley Rink at Conte Forum / Chestnut Hill, Mass.
RECORDS
R/V Harvard (2-5-1 / 2-3-1 ECAC) / No. 14 Boston College - (8-5-2 / 8-1-0 HEA)
BC HIGHLIGHTS & GAME NOTES
- The top line of David Cotton - Julius Mattila - Jacob Tortora contributed on all four goals tonight, accounting for 11 points, including four goals, seven assists, eight shots on net and a combined +9 rating.
- Julius Mattila's four-point performance, along with David Cotton's, was the first four-point showing of any Eagle this season. In his 45th game as an Eagle, Mattila accounted for his first-ever two-goal performance and multi-assist showing. Mattila also finished with a +4 plus/minus rating, the best in the Finnish product's career.
- David Cotton recorded the Eagles' other four-point night, posting his seventh point (2-5-7) in his last three outings. Cotton scored his second goal of the season, 12th all-time on The Heights, and turned in his second-career three-assist performance. The Parker, Texas native also racked up three assists against Notre Dame on Jan. 28, 2017.
- After missing Boston College's last outing at Northeastern with an upper body injury, rookie Jacob Tortora scored his third goal of the season and second in his last three outings. The Victor, N.Y.'s also logged a pair of helpers for his first multi-assist performance in the maroon and gold. Tortora now has eight points on the season, including three goals and five assists through 14 games.
- Both Cotton and Mattila assisted on Tortora's first goal of the day, extending both to a three-game point streak. For Mattila, it marks his first-career three-game assist streak. Cotton has assisted in his last two games, marking the third time in his career he's accomplished that feat.
GOAL DESCRIPTIONS
FIRST GOAL (1-0 - Boston College) FIRST PERIOD - Jeff Wight - 16:48 - EVEN STRENGTH
- Boston College drew first blood in the later part of the first period with a nice pickpocket in the neutral zone, finished off by Jacob Tortora at 16:48. David Cotton chased down a Harvard breakout and Julius Mattila joined the play along the nearside wall. The puck came out near the center dot and Tortora streaked in fromt behind, skated it into the zone and zipped it over Harvard goaltender Merrick Madsen's mitt topshelf from the left dot to give the Eagles a 1-0 lead.
SECOND GOAL (1-1 - Harvard) SECOND PERIOD - Adam Baughman - 1:21 - EVEN STRENGTH
- Harvard tied things up 1:21 out of the chute to start the second period. Nathan Krusko generated the play by stripping the puck and carting it through the neutral zone. Jack Bandini continued the play by skating it into the far corner to stretch the defense. Adam Baughman descended behind the play, accepted Bandinio's cross-zone feed and zipped it past Joseph Woll from the top of the left circle to tie it up, 1-1.
THIRD GOAL (2-1 - Harvard) SECOND PERIOD - Michael Floodstrand - 7:51 - SHORT-HANDED GOAL
- The Crimson took their first lead of the afternoon on a short-handed goal at 7:51 of the second period. Michael Floodstrand chased down a shot that went wide and rimmed around the glass to the near corner. Ryan Donato ran ahead of the play, gathered Floodstrand's feed and skated in hard on Woll. Donato did not convert on the first attempt but Floodstrand crashed the blue paint and lifted it past a sprawled-out Woll to make it a 2-1 Harvard advantage.
FOURTH GOAL (2-2 - Boston College) SECOND PERIOD - Julius Mattila - 7:51 - EVEN STRENGTH (4-on-4)
- During Floodstrand's goal, Casey Fitzgerald was cited for holding at 7:51 to make it a 4-on-4 affair, but the Eagles countered nine seconds later at the 8:00-minute mark to tie it back up. Harvard won the draw, but Cotton jumped the play on the near side and stole the puck on the blue line. Julius Mattila perfectly timed his rush down the middle and took Cotton's feed between the circles. With no one between Mattila and Madsen, Mattila wristed it to the back of the net nine seconds later to make it a 2-2 affair.
FIFTH GOAL (3-2 - Boston College) SECOND PERIOD - David Cotton - 10:20 - EVEN STRENGTH
- The Eagles reclaimed their lead just over two minutes later in transition. Tortora was the quarterback from the far wall, connected with Cotton in stride from deep in BC territory. Cotton shifted over to Mattila down the left side and before Cotton crossed the blue paint, Mattila connected with Cotton on the far side and the sophomore forward tipped it over Madsen's glove at 10:20 of the second period to regain a one-goal edge, 3-2.
SIXTH GOAL (3-3 - Harvard) THIRD PERIOD - Benjamin Solin - 4:11 - POWER PLAY
- The back-and-forth contest continued after Harvard converted on a power play 4:11 into the third frame. Bandini started the play skating it down the left side of Boston College's zone and tossing the puck towards the middle with open room. Krusko was in front and got a stick on the bouncing puck in front of Woll. The rubber hopped over to the near posted where Benjamin Solin was stationed and he lifted it past Woll's blocker to tie things back up, 3-3.
SEVENTH GOAL (4-3 - Boston College) THIRD PERIOD - Julius Mattila - 14:25 - EVEN STRENGTH
- Boston College recaptured the lead with just over five minutes to go in the third as the same line accounted for the Eagles' fourth goal of the evening. BC's pressure in the neutral zone yielded another tally from the Cotton - Mattila - Tortora line. Cotton pilfered the puck at the red line and wheeled it around, touching it off to Tortora onsides. Mattila broke free from the play and created some room on the other side as Tortora found him on the other end. Mattila took his chance from the left dot and made it a 4-3 affair with 5:35 left in regulation.
EIGHTH GOAL (4-4 - Harvard) THIRD PERIOD - Jack Badini - 17:18 - EVEN STRENGTH
- With only 2:42 left in regulation, Badini beat Woll for the equalizer after beating a bunch of Eagles down low. Ty Pelton-Byce got the puck out from behind the net to Krusko on the half wall. Badini came charging from deep in Harvard's end and accepted the touch pass from Krusko in the neutral zone. With speed, Badini gained the zone, slipped through three Eagles and lifted the puck over Woll top shelf right on the crease to tie the contest late, 4-4.
BOSTON COLLEGE GAME LEADERS
Points: Julius Mattila (2 - 2 - 2) / David Cotton (1 - 3 - 4) / Jacob Tortora (1 - 2 - 3)
Goals: Julius Mattila (2 - 2 - 2)
Assists: David Cotton (1 - 3 - 4)
Shots: Julius Mattila ( 5 )
SPECIAL TEAMS
Harvard: 1 - for - 5
Boston College: 0 - for - 3
PENALTIES
Harvard: 3 - for - 6
Boston College: 5 - for - 10
BOSTON COLLEGE LINES
Cotton - Jul. Mattila - Tortora
Grando - Räsänen - Hutsko
McPhee - Brown - Dudek
Carreau - Greco - Booth

McInnis - Fitzgerald
Jes. Mattila -Moore
Kim - Lohan

Woll
Edquist
Milosz

UP NEXT
The Battle of Comm Ave. looms large next week as Boston University makes its way to Kelley Rink on Friday, Dec. 1 for a 7 p.m. puck drop. The Eagles will head down Comm Ave. on Saturday, Dec. 2 to close out the weekend against the Terriers at Agganis Arena for a 7 p.m. start time.