Saturday, October 7, 2017
Massachusetts Upends Arizona State, 4-2
Freshman forward John Leonard scores game-winning goal for Minutemen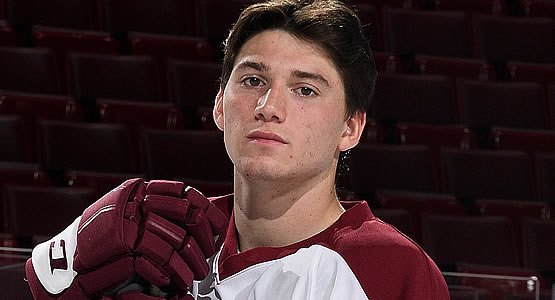 Freshman forward John Leonard scored the game-winning goal for the Minutemen
| | | | | | | |
| --- | --- | --- | --- | --- | --- | --- |
| Prd | Time | Team | Score | Type | Scored By | Assists |
| 1st | 6:30 | UMA | 1-0 | EV | Jake Gaudet (1) | Jake Horton/1, Oliver Chau/1 |
| 1st | 7:39 | ASU | 1-1 | EV | Johnny Walker (1) | Joey Raats/1, Dylan Hollman/3 |
| 2nd | 7:59 | UMA | 2-1 | EV | Griff Jeszka (1) | Brett Boeing/1 |
| 2nd | 12:06 | ASU | 2-2 | EV | Anthony Croston (1) | Louie Rowe/4 |
| 3rd | 9:02 | UMA | 3-2 | EV GW | John Leonard (1) | Niko Rufo/1, Jake McLaughlin/1 |
| 3rd | 19:11 | UMA | 4-2 | EV EN | Niko Rufo (1) | Mario Ferraro/2 |
| | | | | |
| --- | --- | --- | --- | --- |
| Scoring | 1st | 2nd | 3rd | Final |
| Massachusetts | 1 | 1 | 2 | 4 |
| Arizona State | 1 | 1 | 0 | 2 |
| | | | | |
| --- | --- | --- | --- | --- |
| Shots on Goal | 1st | 2nd | 3rd | SOG |
| Massachusetts | 6 | 13 | 13 | 32 |
| Arizona State | 8 | 8 | 8 | 24 |
| | | | |
| --- | --- | --- | --- |
| Team Stats and Records | PP | PIM | SHGF |
| Massachusetts (1-1-0) | 0/4 | 4/8 | 0 |
| Arizona State (1-1-0) | 0/4 | 4/8 | 0 |
| | | | | | | |
| --- | --- | --- | --- | --- | --- | --- |
| Massachusetts Goaltending | MIN | GA | 1 | 2 | 3 | Saves |
| Matt Murray (W, 1-0-0) | 59:57 | 2 | 7 | 7 | 8 | 22 |
| Empty Net | 0:03 | 0 | | | | |
| | | | | | | |
| --- | --- | --- | --- | --- | --- | --- |
| Arizona State Goaltending | MIN | GA | 1 | 2 | 3 | Saves |
| Joey Daccord (L, 1-1-0) | 58:38 | 3 | 5 | 12 | 11 | 28 |
| Empty Net | 1:22 | 1 | | | | |
TEMPE, Ariz. - Amherst native John Leonard's first collegiate goal broke a 2-2 deadlock midway through the third period to help carry University of Massachusetts hockey to its first win of the season, 4-2 at Arizona State on Saturday night. The victory levels the Minutemen's record at 1-1-0, while the Sun Devils sit at 1-1-0, as well.
UMass jumped on the board first at the 6:30 mark of the opening period. Freshman Jake Gaudet swatted home a rebound off a Jake Horton shot from the top of the crease to give the Minutemen a 1-0 lead. Freshman Oliver Chau earned his first collegiate point with the secondary assist.
Arizona State answered, however, just 69 seconds later. Joey Raats found Johnny Walker in the slot for a quick wrister that knotted things up at 1-1.
The Minutemen went back on top by a goal 7:59 into the second period. Junior Brett Boeing fed the puck out of the corner to sophomore Griff Jeszka for a close-range one-timer, the first points of the year for both.
At 12:06, though, the Sun Devils answered once more. Anthony Croston tucked a shot under the cross bar, set up by Louie Rowe.
UMass regained the lead 9:02 into the third period when Leonard collected a pass from redshirt senior Niko Rufo and sophomore Jake McLaughlin and slid the puck underneath netminder Joey Daccord.
Rufo then sealed the victory with an empty net tally from freshman Mario Ferraro at the 19:11 mark to complete a two-point night.
Freshman Matt Murray earned his first collegiate win (1-0-0) in net, making 22 saves in the victory for the Minutemen. Daccord stopped 28 shots for Arizona State as UMass out-shot the Sun Devils 32-24. Both teams were 0-for-4 on the power play for the night.
UMass returns to action on Fri., Oct. 13, when the squad will travel to Union for a 7 p.m. contest in Schenectady, New York.