Saturday, January 27, 2018
Boston University Holds Off Arizona State, 4-3
Sophomore defenseman Dante Fabbro has goal and two assists for Terriers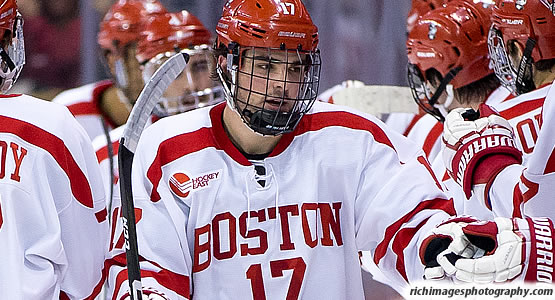 Sophomore defenseman Dante Fabbro had goal and two assists for the Terriers
| | | | | | | |
| --- | --- | --- | --- | --- | --- | --- |
| Prd | Time | Team | Score | Type | Scored By | Assists |
| 1st | 7:58 | BU | 1-0 | PP | Brandon Hickey (4) | Hank Crone/4, Drew Melanson/7 |
| 1st | 11:51 | BU | 2-0 | EV | Dante Fabbro (8) | Drew Melanson/8, Brady Tkachuk/14 |
| 2nd | 0:54 | ASU | 1-2 | PP | Johnny Walker (9) | Brett Gruber/12, Brinson Pasichnuk/14 |
| 2nd | 7:05 | ASU | 2-2 | SH | Jacob Wilson (2) | - |
| 2nd | 7:24 | BU | 3-2 | EV | Brien Diffley (1) | Nikolas Olsson/3, Dante Fabbro/11 |
| 3rd | 8:41 | BU | 4-2 | EV GW | Shane Bowers (12) | Dante Fabbro/12, Logan Cockerill/7 |
| 3rd | 14:40 | ASU | 3-4 | PP | David Norris (5) | Brinson Pasichnuk/15, Brett Gruber/13 |
| | | | | |
| --- | --- | --- | --- | --- |
| Scoring | 1st | 2nd | 3rd | Final |
| Boston University | 2 | 1 | 1 | 4 |
| Arizona State | 0 | 2 | 1 | 3 |
| | | | | |
| --- | --- | --- | --- | --- |
| Shots on Goal | 1st | 2nd | 3rd | SOG |
| Boston University | 18 | 16 | 7 | 41 |
| Arizona State | 5 | 6 | 10 | 21 |
| | | | |
| --- | --- | --- | --- |
| Team Stats and Records | PP | PIM | SHGF |
| Boston University (13-11-2) | 1/8 | 15/46 | 0 |
| Arizona State (7-16-5) | 2/7 | 18/71 | 1 |
| | | | | | | |
| --- | --- | --- | --- | --- | --- | --- |
| Boston University Goaltending | MIN | GA | 1 | 2 | 3 | Saves |
| Jake Oettinger (W, 12-10-2) | 59:51 | 3 | 5 | 4 | 9 | 18 |
| Empty Net | 0:09 | 0 | | | | |
| | | | | | | |
| --- | --- | --- | --- | --- | --- | --- |
| Arizona State Goaltending | MIN | GA | 1 | 2 | 3 | Saves |
| Joey Daccord (L, 7-14-5) | 58:48 | 4 | 16 | 15 | 6 | 37 |
| Empty Net | 1:12 | 0 | | | | |
TEMPE, Ariz. - The Boston University men's ice hockey team completed a weekend sweep of Arizona State with a 4-3 victory on Saturday evening at Oceanside Ice Arena.
Sophomore Dante Fabbro tallied a goal and two assists and was one of three defensemen who lit the lamp for the Terriers. Freshman Shane Bowers provided the eventual game-winner to help BU stretch its unbeaten streak to six games (5-0-1) and improve to 13-11-2 on the year.
HOW IT HAPPENED
- After posting an 8-0 win in the series opener on Friday, BU picked up where it left off as senior captain Brandon Hickey scored a power-play goal 7:58 into the game before his d-partner, Fabbro, made it 2-0 less than four minutes later.
- It took a 5-on-3 power play for the Sun Devils to finally solve BU netminder Jake Oettinger as Johnny Walker got the home team on the board 54 seconds into the second.
- A shorthanded goal by ASU's Jacob Wilson made it a 2-2 affair at the 7:24 mark of the second but senior Brien Diffley gave BU the lead back for good just 19 seconds later.
- A rebound attempt by Bowers that was initially ruled a no-goal ended up being overturned, giving the Terriers a 4-2 advantage with 11:19 left in regulation.
- ASU made things interesting when a power-play shot from the top of the zone by David Norris bounced through traffic and in with 5:20 to play.
- Oettinger and the Terrier defense held on to extend the team's win streak to four games.
GAME NOTES
- The teams combined for 33 penalties and 117 penalty minutes, including five 10-minute misconducts and the Sun Devils' second game misconduct in as many nights.
- BU held a 41-21 shot advantage but went just 1-for-8 on the power play.
- ASU got a 37-save effort from Joey Daccord and scored on two of its seven chances with the man advantage.
- Senior Drew Melanson had his first two-assist game as a Terrier.
- Fabbro led all players in points (3) and rating (+3).
- Wilson's tally for the Sun Devils marked the first time all season that BU gave up a shorthanded goal. Oettinger has given up just one even-strength goal in the past 235 minutes of play.
UP NEXT
- The Terriers will return to Hockey East play when they visit Amherst on Friday (Feb. 2) for their first meeting of the season with Massachusetts.
- The game, which starts at 7 p.m., will be televised on NESN and ElevenSports.