Saturday, September 30, 2017
UMass Lowell Tops Acadia, 4-2, in Exhibition Play
Junior forward Nick Master scores goal and assist for Riverhawks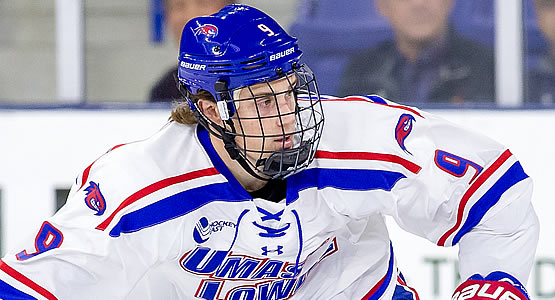 Junior forward Nick Master scored a goal and an assist for the Riverhawks
| | | | | | | |
| --- | --- | --- | --- | --- | --- | --- |
| Prd | Time | Team | Score | Type | Scored By | Assists |
| 1st | 19:23 | UML | 1-0 | PP | Jake Kamrass | Nick Master, Connor Wilson |
| 2nd | 9:27 | ACA | 1-1 | EV | Stephen Harper | Michael Zipp |
| 2nd | 10:14 | UML | 2-1 | EV | Colin O'Neill | John Edwardh |
| 3rd | 1:58 | UML | 3-1 | EV GW | Ryan Lohin | Croix Evingson, Chris Forney |
| 3rd | 4:19 | ACA | 2-3 | PP | Rodney Southam | - |
| 3rd | 19:58 | UML | 4-2 | EV EN | Nick Master | Ryan Lohin |
| | | | | |
| --- | --- | --- | --- | --- |
| Scoring | 1st | 2nd | 3rd | Final |
| Acadia | 0 | 1 | 1 | 2 |
| UMass Lowell | 1 | 1 | 2 | 4 |
| | | | | |
| --- | --- | --- | --- | --- |
| Shots on Goal | 1st | 2nd | 3rd | SOG |
| Acadia | 2 | 9 | 5 | 16 |
| UMass Lowell | 12 | 8 | 7 | 27 |
| | | | |
| --- | --- | --- | --- |
| Team Stats and Records | PP | PIM | SHGF |
| Acadia | 1/4 | 5/10 | 0 |
| UMass Lowell | 1/4 | 5/10 | 0 |
| | | | | | | |
| --- | --- | --- | --- | --- | --- | --- |
| Acadia Goaltending | MIN | GA | 1 | 2 | 3 | Saves |
| Dawson Carty (L) | 59:04 | 3 | 11 | 7 | 5 | 23 |
| Empty Net | 0:56 | 1 | | | | |
| | | | | | | |
| --- | --- | --- | --- | --- | --- | --- |
| UMass Lowell Goaltending | MIN | GA | 1 | 2 | 3 | Saves |
| Christoffer Hernberg | 20:00 | 0 | 2 | 0 | 0 | 2 |
| Tyler Wall (W) | 40:00 | 2 | 0 | 8 | 4 | 12 |
LOWELL, Mass. -- The UMass Lowell Hockey team skated to a 4-2 exhibition win against Acadia University on Saturday night at the Tsongas Center.
Senior forward Jake Kamrass (Atlanta, Georgia) got the River Hawks on the board first with just 37 seconds left in the first period with a power-play tally.
Stephen Harper and Rodney Southam tallied goals for the Axemen in the second and third periods respectively. Southam's power-play goal made it a 3-2 game just 4:19 into the third, after sophomore forward Ryan Lohin (Chadds Ford, Pa.) netted the go ahead goal just 1:58 into the final frame. Lohin notched a game-high two points (1g,1a), to go along with three shots on goal for the River Hawks in the victory.
Junior forward Nick Master (Broomall, Pa.) added an insurance empty-netter with just two seconds remaining in the contest.
Senior forward John Edwardh (Calgary, Alta.) registered a game-high four shots on goal for UMass Lowell.
The River Hawks outshot the Axemen, 27-16 for the game, including a 12-2 shot advantage in the opening period. Junior goaltender Christoffer Hernberg (Espoo, Finland) started the game for the River Hawks and made two saves in the first 20 minutes of the game. Sophomore Tyler Wall (Leamington, Ont.) played the final 40 minutes, making 12 saves, including eight in the second period. Acadia's Dawson Carty stopped 23 shots in the losing effort.
The River Hawks officially open their 51st season of play on Friday, October 6th against New Hampshire in Hockey East play. Game time from the Tsongas Center is 7:15 p.m.