Providence Skates Past Massachusetts, 5-1, To Earn Series Sweep
Senior defenseman Josh Monk has goal and two assists for Friars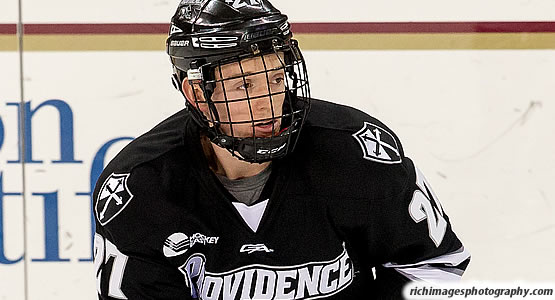 Senior defenseman Josh Monk had a goal and two assists for the Friars
| | | | | | | |
| --- | --- | --- | --- | --- | --- | --- |
| Prd | Time | Team | Score | Type | Scored By | Assists |
| 1st | 8:54 | PRV | 1-0 | PP | Scott Conway (12) | Brian Pinho/27, Josh Monk/16 |
| 2nd | 2:05 | PRV | 2-0 | EV GW | Vimal Sukumaran (8) | Jacob Bryson/17, Bryan Lemos/8 |
| 2nd | 15:04 | PRV | 3-0 | EV | Conor MacPhee (4) | Josh Monk/17, Shane Kavanagh/1 |
| 3rd | 14:13 | PRV | 4-0 | EV | Josh Wilkins (13) | Brian Pinho/28, Erik Foley/19 |
| 3rd | 17:18 | UMA | 1-4 | EV | Ray Pigozzi (8) | William Lagesson/6 |
| 3rd | 18:39 | PRV | 5-1 | EV | Josh Monk (3) | Kasper Björkqvist/6, Garrett Gamez/5 |
| | | | | |
| --- | --- | --- | --- | --- |
| Scoring | 1st | 2nd | 3rd | Final |
| Massachusetts | 0 | 0 | 1 | 1 |
| Providence | 1 | 2 | 2 | 5 |
| | | | | |
| --- | --- | --- | --- | --- |
| Shots on Goal | 1st | 2nd | 3rd | SOG |
| Massachusetts | 7 | 7 | 7 | 21 |
| Providence | 8 | 15 | 12 | 35 |
| | | | |
| --- | --- | --- | --- |
| Team Stats and Records | PP | PIM | SHGF |
| Massachusetts (5-29-2) | 0/5 | 6/12 | 0 |
| Providence (22-9-5) | 1/3 | 9/29 | 0 |
| | | | | | | |
| --- | --- | --- | --- | --- | --- | --- |
| Massachusetts Goaltending | MIN | GA | 1 | 2 | 3 | Saves |
| Ryan Wischow (L, 4-20-2) | 60:00 | 5 | 7 | 13 | 10 | 30 |
| | | | | | | |
| --- | --- | --- | --- | --- | --- | --- |
| Providence Goaltending | MIN | GA | 1 | 2 | 3 | Saves |
| Hayden Hawkey (W, 22-9-5) | 56:12 | 0 | 7 | 7 | 6 | 20 |
| Brendan Leahy | 3:48 | 1 | 0 | 0 | 0 | 0 |
PROVIDENCE, R.I. - The 10th-ranked Providence College men's hockey team advanced to the Hockey East Quarterfinals by virtue of their series-clinching sweep over UMass with a 5-1 victory at Schneider Arena on Saturday night. With the win, Providence will move on to face the No. 4 seed Notre Dame Fighting Irish next weekend in a best-of-three series at the Compton Family Ice Arena beginning Friday night.
SCORE
No. 10 Providence - 5 | Massachusetts - 1
RECORDS
Providence - 22-9-5 | Massachusetts - 5-29-2
VENUE
Schneider Arena - Providence, R.I.​
GAME FLOW & NOTES
- Providence cashed in on the power play for the first time in their last 10 opportunities as Scott Conway slap shot found its way inside the post past the glove of Wischow to put the Friars up 1-0 at 8:54.
- The goal marked Conway's team-high 7th on the power play and his 12th goal overall this season.
- Brian Pinho assisted on the goal and added another helper late in the goal for his 16th point in the last 12 games.
- The Friars extended their lead to 2-0 just 2:05 into the second period as Vimal Sukumaran notched his 8th of the season as he re-directed a cross-ice pass from fellow freshman Jacob Bryson.
- Senior Conor MacPhee made it a 3-0 Providence lead with his 4th strike of the season as he streaked down the left wing and snapped a shot through the legs of Wischow.
- Hawkey turned away all seven shots he faced in the middle stanza, including a prime opportunity for UMass' Kurt Keats on a 2-on-1 that Hawkey snared with the glove.
- Josh Wilkins notched his 13th of the season and second in as many nights with a wrist shot through a screen to give the Friars a four-goal cushion at 4-0 at the 14:13 mark of the third.
- The Minutemen's Ray Pigozzi spoiled Providence's home playoff shutout streak, which ended at 194:12, by putting a rebound past Brendan Leahy with 2:42 to play.
- Senior defenseman Josh Monk, in his second game back after missing seven due to injury, registered his first career three-point game with his 3rd goal of the season at 18:39.
- Hawkey made 20 saves before giving way to senior Brendan Leahy with 3:48 regulation. UMass' Ryan Wischow made 30 stops for the Minutemen.
- The Friars will play in the Hockey East Quarterfinal round for the 6th time in six seasons under Nate Leaman.
- Providence has hosted the four previous quarterfinal series and will play on the round in the quarterfinal round for the first time since defeated UMass Lowell in three games back in 2012 as the No. 7 seed.
- Providence has now out-scored opponents by a 36-17 margin this season in first periods.
- Shots on goal: Providence 35, Massachusetts 21. Shot attempts: Providence 47, Massachusetts 45.
- Shot blocks: Providence 14, Massachusetts 5.
- The Friars are 17-3-3 over their last 23 games and are on a 13-1-1 run since Jan. 14.
HOW THEY SCORED
1-0 (PC) - 8:54/1st - PP - Scott Conway (Pinho, Monk) - Pinho and Conway moved the puck back and forth from the left of the goal line and the left faceoff dot. Pinho fed Conway for a one-timer that hit off the far post and the cross bar and past Wischow.
2-0 (PC) - 2:05/2nd - EV - Vimal Sukumaran (Bryson, Lemos) - Lemos won the offensive zone faceoff back to Bryson on the point. Bryson skated down the half wall with the puck and sent in a feed to Sukumaran on the back post for a tap in past Wischow.
3-0 (PC) - 15:04/2nd - EV - Conor MacPhee (Monk, Kavanagh) - MacPhee skating in on a two-on-one, looked off the pass and took a wrist shot from the high slot to beat Wischow's five-hole.
4-0 (PC) - 14:13/3rd - EV - Josh Wilkins (Pinho, Foley) - Pinho sent a past to Wilkins from just outside the left post. Wilkins turned around on a wrist shot and sent the puck through traffic in front and just over the shoulder of Wischow.
4-1 (UMass) 17:12/3rd - EV - Ray Pigozzi (Lagesson) - Lagesson's point shot bounced off of traffic in front to Pigozzi on the back door to lift in past Leahy.
5-1 (PC) - 18:39/3rd - EV - Josh Monk (Bjorkqvist, Gamez) - Gamez wrapped the puck around and centered it to Bjorkqvist in the slot for a shot that rebounded off of Wischow's pad and to Monk in the high slot. Monk fired the puck back through traffic and past Wischow's glove.
PC GAME HIGHS
Points: Monk (3)
Goals: Conway (1); Sukumaran (1); MacPhee (1); Wilkins (1); Monk (1)
Assists: Pinho (2); Monk (2)
Shots: Conway (5); Sukumaran (5)
Face-offs: Pinho (17/24)
POWER PLAYS
Providence 1/3
Massachusetts 0/5
LOOKING AHEAD
Providence will travel to fourth-seeded Notre Dame for a best-of-three Hockey East Quarterfinal series against the Irish beginning Friday night at 7:35 p.m.