Saturday, February 25, 2017
Gamez Sends Providence Past Massachusetts In Overtime, 2-1
Sophomore forward Garrett Gamez scores at 2:16 of overtime for Friars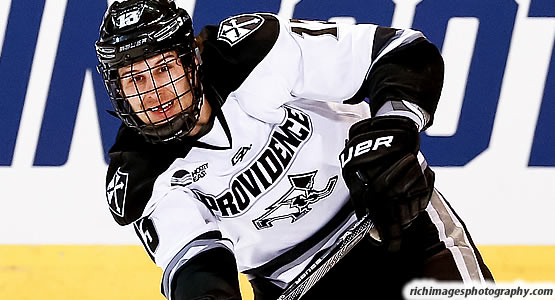 Sophomore forward Garrett Gamez scored at 2:16 of overtime for the Friars
| | | | | | | |
| --- | --- | --- | --- | --- | --- | --- |
| Prd | Time | Team | Score | Type | Scored By | Assists |
| 1st | 4:46 | PRV | 1-0 | EV | Garrett Gamez (3) | Kasper Björkqvist/5, Spenser Young/9 |
| 2nd | 11:48 | UMA | 1-1 | EV | Ray Pigozzi (7) | Niko Hildenbrand/5, Steven Iacobellis/13 |
| OT | 2:16 | PRV | 2-1 | EV GW | Garrett Gamez (4) | Jake Walman/16, Brian Pinho/25 |
| | | | | | |
| --- | --- | --- | --- | --- | --- |
| Scoring | 1st | 2nd | 3rd | OT | Final |
| Massachusetts | 0 | 1 | 0 | 0 | 1 |
| Providence | 1 | 0 | 0 | 1 | 2 |
| | | | | | |
| --- | --- | --- | --- | --- | --- |
| Shots on Goal | 1st | 2nd | 3rd | OT | SOG |
| Massachusetts | 9 | 6 | 5 | 0 | 20 |
| Providence | 18 | 14 | 5 | 5 | 42 |
| | | | |
| --- | --- | --- | --- |
| Team Stats and Records | PP | PIM | SHGF |
| Massachusetts (5-27-2) | 0/4 | 9/26 | 0 |
| Providence (20-9-5) | 0/8 | 4/8 | 0 |
| | | | | | | | |
| --- | --- | --- | --- | --- | --- | --- | --- |
| Massachusetts Goaltending | MIN | GA | 1 | 2 | 3 | OT | Saves |
| Ryan Wischow (L, 4-18-2) | 62:08 | 2 | 17 | 14 | 5 | 4 | 40 |
| Empty Net | 0:08 | 0 | | | | | |
| | | | | | | | |
| --- | --- | --- | --- | --- | --- | --- | --- |
| Providence Goaltending | MIN | GA | 1 | 2 | 3 | OT | Saves |
| Hayden Hawkey (W, 20-9-5) | 62:16 | 1 | 9 | 5 | 5 | 0 | 19 |
PROVIDENCE, R.I. - Sophomore Garrett Gamez's second goal of the night 2:16 into overtime gave the No. 10 Providence College men's hockey team a 2-1 win over UMass on Saturday night at Schneider Arena in the regular season finale for both teams. The Friars secure the No. 5 seed in the Hockey East Tournament and will host the No. 12 seed UMass in a best-of-three series beginning next Friday at Schneider Arena.
SCORE
No. 10 Providence - 2 | Massachusetts - 1
NEW RECORDS
Providence - 20-9-5 (12-7-3 HEA) | Massachusetts - 5-27-2 (2-19-1 HEA)
VENUE
Schneider Arena - Providence, R.I.​
GAME FLOW & NOTES
- Providence struck first for the second consecutive night as sophomore Garrett Gamez beat Ryan Wischow with a snap-shot on his off-wing for his third tally of the season and first since Dec. 30.
- Spenser Young recorded his third point in the last two nights on Gamez's goal, while Kasper Björkqvist also tallied an assist for the second consecutive outing.
- The Friars outshot the Minutemen by an 18-9 margin in the first, but came up empty on the power play (0/3).
- Providence nearly made it 2-0 early in the second period on a wrap-around attempt from Josh Wilkins that beat Wischow to the post, but didn't cross the goal line.
- UMass tied things up midway through the second as Ray Pigozzi put home a rebound of a shot from Niko Hildenbrand.
- The teams played through a scoreless third period, despite three attempts on the man-advantage for the Friars.
- Gamez tallied his first-ever two-goal game with his re-direct of a Jake Walman point shot just under the crossbar for his fourth strike of the season.
- Brian Pinho continued his point-per-game pace with an assist on the game-winning goal tonight. He know has nine goals and 25 assists in 34 games this season.
- Hayden Hawkey made 19 saves for the Friars, while Ryan Wischow turned away 40 shots for the Minutemen.
- The overtime winner was the first for Providence since Trevor Mingoia vs. Notre Dame on Feb. 19, 2016.
- The win marked the first this season for the Friars when scoring under three goals.
- Providence has recorded four consecutive 20-win seasons for the first time since 1988-92.
- Providence has now out-scored opponents by a 34-17 margin this season in first periods.
- Shots on goal: Providence 42, Massachusetts 20. Shot attempts: Providence 73, Massachusetts 38.
- Shot blocks: Providence 10, Massachusetts 23.
- The Friars are 15-3-3 over their last 21 games and finished just two points out of first place in the Hockey East standings after a 1-6-2 start.
HOW THEY SCORED
1-0 (PC) - 4:46/1st - EV - Garrett Gamez, (Björkqvist, Young) -Young broke the puck out to Björkqvist, who chipped up the boards to Gamez. Gamez deked in the high slot and sent a snap shot to the far post to beat Wischow's glove.
1-1 (UM) 11:48/2nd - EV - Ray Pigozzi (Hildenbrand, Iacobellis) Hildebrand's point shot deflected off of Hawkey's pad and to the back door for a one-timer from Pigozzi into the open net.
2-1 (PC) 2:16/OT - EV - Garrett Gamez (Walman, Pinho) Point shot from Walman, tipped at the top of the crease by Gamez to beat Wischow just under the crossbar.
PC GAME HIGHS
Points: Gamez (2)
Goals: Gamez (2)
Assists: Björkqvist (1); Pinho (1); Walman (1); Young (1)
Shots: Walman (9)
Face-offs: Hennessey (9/18)
POWER PLAYS
Providence 0/8
Massachusetts 0/4
LOOKING AHEAD
The Friars and Minutemen will face-off next weekend in a best-of-three Hockey East First Round series at Schneider Arena beginning on Friday night. All puck drops for the series will be at 7:05 p.m.