UMass Lowell Rolls Past Prince Edward Island, 7-0
Junior forward John Edwardh has goal and two assists for River Hawks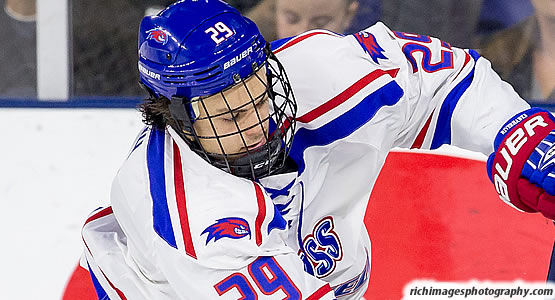 Junior forward John Edwardh had a goal and two assists for the River Hawks
| | | | | | | |
| --- | --- | --- | --- | --- | --- | --- |
| Prd | Time | Team | Score | Type | Scored By | Assists |
| 1st | 0:42 | UML | 1-0 | EV GW | Connor Wilson | Tommy Panico, James Winkler |
| 1st | 6:35 | UML | 2-0 | EV | C.J. Smith | Joe Gambardella |
| 1st | 18:30 | UML | 3-0 | EV | Kenny Hausinger | Ryan Collins, Jake Kamrass |
| 2nd | 2:22 | UML | 4-0 | PP | Jake Kamrass | Dylan Zink, Nick Master |
| 2nd | 8:20 | UML | 5-0 | EV | John Edwardh | Niklas Folin |
| 2nd | 18:46 | UML | 6-0 | PP | Chris Forney | Tyler Mueller, John Edwardh |
| 3rd | 11:53 | UML | 7-0 | EV | Guillaume Leclerc | Tyler Mueller, John Edwardh |
| | | | | |
| --- | --- | --- | --- | --- |
| Scoring | 1st | 2nd | 3rd | Final |
| Prince Edward Island | 0 | 0 | 0 | 0 |
| UMass Lowell | 3 | 3 | 1 | 7 |
| | | | | |
| --- | --- | --- | --- | --- |
| Shots on Goal | 1st | 2nd | 3rd | SOG |
| Prince Edward Island | 1 | 4 | 7 | 12 |
| UMass Lowell | 15 | 16 | 9 | 40 |
| | | | |
| --- | --- | --- | --- |
| Team Stats and Records | PP | PIM | SHGF |
| Prince Edward Island | 0/5 | 10/20 | 0 |
| UMass Lowell | 2/10 | 5/10 | 0 |
| | | | | | | |
| --- | --- | --- | --- | --- | --- | --- |
| Prince Edward Island Goaltending | MIN | GA | 1 | 2 | 3 | Saves |
| Connor Wilkinson (L) | 40:00 | 6 | 12 | 13 | 0 | 25 |
| Matt Mahalak | 19:57 | 1 | 0 | 0 | 8 | 8 |
| Empty Net | 0:03 | 0 | | | | |
| | | | | | | |
| --- | --- | --- | --- | --- | --- | --- |
| UMass Lowell Goaltending | MIN | GA | 1 | 2 | 3 | Saves |
| Sean Cleary (W) | 19:58 | 0 | 1 | 0 | 0 | 1 |
| Tyler Wall | 19:45 | 0 | 0 | 4 | 0 | 4 |
| Christoffer Hernberg | 20:00 | 0 | 0 | 0 | 7 | 7 |
| Empty Net | 0:17 | 0 | | | | |
LOWELL, Mass. -- The UMass Lowell Hockey team shutout University of Prince Edward Island, 7-0, in exhibition play on Sunday afternoon at the Tsongas Center.
The River Hawks didn't take long to get on the scoreboard just 42 seconds into the game on a goal by sophomore forward Connor Wilson (Calgary, Alberta). Junior forward C.J. Smith (Des Moines, Iowa) and freshman forward Kenny Hausiner (Anchorage, Alaska) also scored to give UMass Lowell a 3-0 lead at the end of the opening period. Smith recorded a game-high six shots on goal.
Junior forward Jake Kamrass (Atlanta, Ga.) scored the River Hawks fourth goal of the game just 2:22 into the second frame, while John Edwardh (Calgary, Alberta) and Chris Forney (Thief River Falls, Minn.) pushed the River Hawks lead to 6-0 at the end of the second. Edwardh finished the game with a game-high three points (1g,2a).
Freshman forward Guillaume Leclerc (Franois, France) added a goal at 11:53 of the third period to cap of the scoring in the game.
Sophomore goaltender Sean Cleary (Centerville, Mass.) got the start in net for the River Hawks making just one save, while freshman Tyler Wall (Leamington, Ont.) made four saves in the second period. Sophomore Christoffer Hernberg (Espoo, Finland) totaled seven saves in the final period of play.
UMass Lowel outshot the Panthers, 40-12 in the game, including a 15-1 shot advantage in the opening period. The River Hawks went 2 for 10 on the power play and a perfect 5-for-5 on the penalty kill.
The No. 8 ranked River Hawks officially open their 50th Anniversary season on Friday, October 7th against No. 6 ranked Minnesota Duluth. Game time from the Tsongas Center is 7:15 p.m.
Tickets for all River Hawks home hockey games are on sale now. UMass Lowell students receive free admission by scanning their ID as part of the "River Hawk Rewards" campaign. Tickets can be purchased at the Tsongas Center Box Office, which is open Monday-Friday, 10 a.m. - 5 p.m. during the week. Fans can also purchase tickets online at TsongasCenter.com or by calling 866-722-8780.