Friday, February 17, 2017
Bjork Scores Two Goals In Notre Dame's 4-1 Win Over Providence
Junior forward Anders Bjork scores two goals for Fighting Irish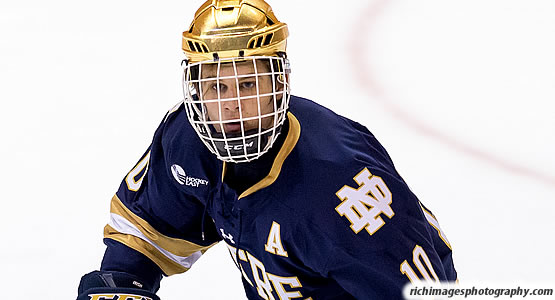 Junior forward Anders Bjork scored two goals for the Fighting Irish
| | | | | | | |
| --- | --- | --- | --- | --- | --- | --- |
| Prd | Time | Team | Score | Type | Scored By | Assists |
| 1st | 17:34 | NDM | 1-0 | EV | Jack Jenkins (5) | Andrew Oglevie/16, Dennis Gilbert/17 |
| 2nd | 14:02 | PRV | 1-1 | EV | Anthony Florentino (9) | - |
| 3rd | 0:59 | NDM | 2-1 | EV GW | Cal Burke (3) | Tory Dello/8, Dennis Gilbert/18 |
| 3rd | 14:18 | NDM | 3-1 | SH | Anders Bjork (18) | - |
| 3rd | 16:15 | NDM | 4-1 | PP | Anders Bjork (19) | Jake Evans/22, Bobby Nardella/13 |
| | | | | |
| --- | --- | --- | --- | --- |
| Scoring | 1st | 2nd | 3rd | Final |
| Providence | 0 | 1 | 0 | 1 |
| Notre Dame | 1 | 0 | 3 | 4 |
| | | | | |
| --- | --- | --- | --- | --- |
| Shots on Goal | 1st | 2nd | 3rd | SOG |
| Providence | 11 | 12 | 11 | 34 |
| Notre Dame | 8 | 13 | 14 | 35 |
| | | | |
| --- | --- | --- | --- |
| Team Stats and Records | PP | PIM | SHGF |
| Providence (18-9-4) | 0/2 | 1/2 | 0 |
| Notre Dame (18-9-4) | 1/1 | 3/6 | 1 |
| | | | | | | |
| --- | --- | --- | --- | --- | --- | --- |
| Providence Goaltending | MIN | GA | 1 | 2 | 3 | Saves |
| Hayden Hawkey (L, 18-9-4) | 60:00 | 4 | 7 | 13 | 11 | 31 |
| | | | | | | |
| --- | --- | --- | --- | --- | --- | --- |
| Notre Dame Goaltending | MIN | GA | 1 | 2 | 3 | Saves |
| Cal Petersen (W, 18-9-4) | 60:00 | 1 | 11 | 11 | 11 | 33 |
NOTRE DAME, Indiana -- With the score tied at 1-1 following two periods of play, the 15th-ranked Notre Dame hockey team put together a three-goal third period to skate past 10th-ranked Providence, 4-1, on Friday night at the Compton Family Ice Arena (4,509).
Cal Burke scored what proved to be the game winner just 59 seconds into the third period and then Anders Bjork added a shorthanded goal and power-play tally later in the third to lead Notre Dame (18-9-4, 11-5-3 HEA) to the victory.
Cal Petersen stopped 33 of the 34 shots he faced, helping Notre Dame push its unbeaten streak to five games (4-0-1), while also snapping Providence College's (18-9-4, 10-7-2 HEA) nine-game winning streak.
With the win, the Irish (25 points) moved into a tie with Boston University for second place in the Hockey East standings.
How It Happened
After a tight checking start to the first period, the Irish took a 1-0 lead at 17:34 when Jack Jenkins finished off a feed in front from Andrew Oglevie for his fifth goal of the season. Dennis Gilbert also earned an assist on the play.
Oglevie nearly extended the Notre Dame lead early in the second period when he took a stretch pass, blew by the Providence defense and snapped a shot off the post.
Anthony Florentino tied the game at 14:02 of the second period with an unassisted goal, scored from down low to Petersen's left.
Just 59 seconds into the third period, Burke roofed a rebound high past Hawkey for his third goal of the season. Burke won an offensive zone faceoff back to Gilbert, who passed to Tory Dello for the initial shot on goal.
Just after jumping onto the ice on the penalty kill, Bjork picked off a Providence pass, deked past a Friar defenseman and flipped a shot high past Hawkey that hit the crossbar. The puck ricocheted off a crashing defenseman back into the net for Bjork's second shorthanded goal of the season at 14:18 of the third to make it a 3-1 game.
Then at 16:15 of the third, Bjork closed the scoring with his fourth power-play goal of the year, scored from the low slot. The assists went to Jake Evans and Bobby Nardella.
Coach Jackson's Thoughts
On the game overall...
"It was a great game. There wasn't a lot of ice out there tonight, wasn't much space. It was like a playoff game, there wasn't much space for either team and we were fortunate to take advantage of the opportunity.".
On the some of the keys to the win ...
"They're (Notre Dame's lineup) starting to get it as far as keeping the game simple. They understand you can't try the high risk plays because they always end up coming back at you. I want them to be creative and make plays, but when you get into games like this there's not a lot of space to do that. It's just a matter of taking the ice that's there and making plays to get the pucks behind them and take the ice behind them and they're starting to do that more effectively."
On Defensemen Tory Dello and Andrew Peeke ...
"Him (Tory Dello) and Andrew Peeke both. I mean they're both talented young defensemen. They've had their moments in the first half but they're both playing real well for us but the young guys are growing up, they're sophomores now. They're a very effective team on the forecheck and if we can make good puck decisions to get out of our zone that's 90% of the game."
On the play of Cal Petersen ...
"He made some good saves for us. He's the backbone and without him we wouldn't be in position where we are right now but we're still in control over our own destiny. That was a good sign that we're not giving up those 2-on-O's or breakaways, but it's still a high trafficky game so it's a hard game for a goaltender when there's a lot of traffic at the net front area."
Notre Dame - Providence Notes
- Junior goaltender Cal Petersen made his 81st-consecutive start in the Notre Dame net, which is tied for the fourth-longest streak in the NCAA Div. I records book.
- Petersen has also appeared 82 consecutive games, which is the fifth-longest mark in the NCAA Div. I records book.
- Jordan Gross skated in his 110th consecutive game, dating back to the first game of his freshman season.
- With an assist, Andrew Oglevie extended his career-long point streak to 11 games (9-5-14).
- With a goal, Cal Burke (2-3-5) extended his point streak to a career-long five games.
- Dennis Gilbert notched two assists and now has 11 assists in the last 10 games.
- Notre Dame has won four games in a row and is 4-0-1 over the last five games.