New Hampshire Downs New Brunswick, 3-1
Freshman forward Liam Blackburn has goal and assist for Wildcats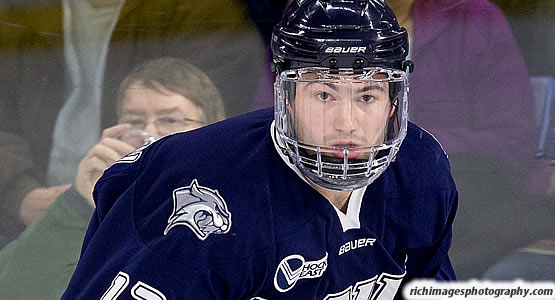 Junior forward Shane Eiserman scored a goal for the Wildcats
| | | | | | | |
| --- | --- | --- | --- | --- | --- | --- |
| Prd | Time | Team | Score | Type | Scored By | Assists |
| 2nd | 2:46 | UNH | 1-0 | PP | Ara Nazarian | Tyler Kelleher, Patrick Grasso |
| 2nd | 14:39 | UNH | 2-0 | PP GW | Liam Blackburn | Brendan van Riemsdyk, Matt Dawson |
| 3rd | 2:23 | UNH | 3-0 | PP | Shane Eiserman | Liam Blackburn, Brendan van Riemsdyk |
| 3rd | 8:33 | NBR | 1-3 | PP | Randy Gazzola | Philippe Maillet, Cam Braes |
| | | | | |
| --- | --- | --- | --- | --- |
| Scoring | 1st | 2nd | 3rd | Final |
| New Brunswick | 0 | 0 | 1 | 1 |
| New Hampshire | 0 | 2 | 1 | 3 |
| | | | | |
| --- | --- | --- | --- | --- |
| Shots on Goal | 1st | 2nd | 3rd | SOG |
| New Brunswick | 7 | 9 | 9 | 25 |
| New Hampshire | 10 | 11 | 13 | 34 |
| | | | |
| --- | --- | --- | --- |
| Team Stats and Records | PP | PIM | SHGF |
| New Brunswick | 1/7 | 13/37 | 0 |
| New Hampshire | 3/11 | 9/29 | 0 |
| | | | | | | |
| --- | --- | --- | --- | --- | --- | --- |
| New Brunswick Goaltending | MIN | GA | 1 | 2 | 3 | Saves |
| Alex Dubeau (L) | 59:00 | 3 | 10 | 9 | 12 | 31 |
| Empty Net | 1:00 | 0 | | | | |
| | | | | | | |
| --- | --- | --- | --- | --- | --- | --- |
| New Hampshire Goaltending | MIN | GA | 1 | 2 | 3 | Saves |
| Adam Clark | 30:07 | 0 | 7 | 6 | 0 | 13 |
| Daniel Tirone (W) | 29:48 | 1 | 0 | 3 | 8 | 11 |
| Empty Net | 0:05 | 0 | | | | |
DURHAM, N.H. - Freshman Liam Blackburn (Prince George, B.C.) had a goal and an assist and classmate Brendan van Riemsdyk (Middletown, N.J.) added a pair of assists to lead the University of New Hampshire hockey team to a 3-1 exhibition win over the University of New Brunswick on Sunday at the Whittemore Center.
Blackburn and van Riemsdyk skated on a line with fellow freshman Patrick Grasso (Ankeny, Iowa), who also had an assist.
UNH opens the regular season with a game against Bentley University on Saturday at 7 p.m. at the Whittemore Center.
GAME INFORMATION
Date: October, 2, 2016 (4 p.m.)
Score: New Hampshire 3, New Brunswick 1
Records: New Hampshire (0-0-0)
Location: Whittemore Center, Durham, N.H.
Attendance: 1,866 (6,501 capacity)
Goal Scorers: New Hampshire - Ara Nazarian, Liam Blackburn, Shane Eiserman; New Brunswick - Randy Gazzola
Goaltenders: UNH - Adam Clark (7-6-X - 13, 30:12), Danny Tirone (X-3-8 - 11, 29:48); New Brunswick - Alex Dubeau (10-9-12 - 31) 60:00)
Next Game: Oct. 8 vs. Bentley University at Whittemore Center (7 p.m.)
WHAT HAPPENED
After a scoreless first period, UNH got on the board with a pair of power plays goals in the second.
Sophomore forward Ara Nazarian (Boxford, Mass.) opened the scoring 2:46 into the period off a nice feed from senior forward Tyler Kelleher (Longmeadow, Mass.). Grasso also had an assist on the goal.
Blackburn made it 2-0 at 14:39 of the period. van Riemsdyk and sophomore defenseman Matt Dawson (Delta, B.C.) assisted on the score.
Junior forward Shane Eiserman (Newburyport, Mass.) upped the UNH lead to 3-0 with a five-on-three power play goal 2:23 into the third period. Blackburn and van Riemsdyk had assists.
New Brunswick got one back with its own five-on-three power play at the 8:33 mark of the third period. Randy Gazzola scored the goal.
UNH sophomore Marcus Vela (Burnaby, B.C.) left the game with a shoulder and head injury in the second period.
PENALTIES
New Hampshire: 9 penalties - 29 minutes
New Brunswick: 13 penalties - 37 minutes
SPECIAL TEAMS
New Hampshire: 3-11
New Brunswick: 1-7
NEW HAMPSHIRE LEADERS
Points: Blackburn, van Riemsdyk (2)
Goals: Nazarian, Blackburn, Eiserman (1)
Assists: - van Riemsdyk (2)
Shots: Jason Salvaggio (8)
NEW BRUNSWICK LEADERS
Points: Gazzola, Philippe Maillet, Cam Braes (1)
Goals: Gazzola (1)
Assists: Maillet, Braes (1)