Saturday, November 5, 2016
New Hampshire Shuts Out Mercyhurst, 3-0
Junior goaltender Daniel Tirone makes 14 saves for Wildcats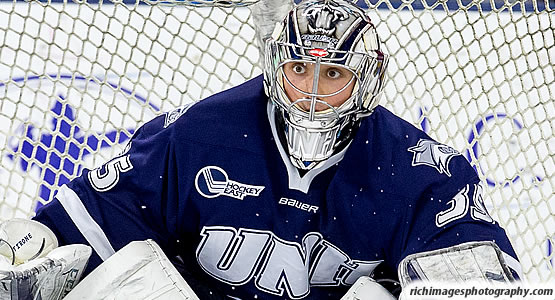 Junior goaltender Daniel Tirone made 14 saves for the Wildcats
| | | | | | | |
| --- | --- | --- | --- | --- | --- | --- |
| Prd | Time | Team | Score | Type | Scored By | Assists |
| 2nd | 3:08 | UNH | 1-0 | EV GW | Jason Salvaggio (3) | Michael McNicholas/3, Tyler Kelleher/6 |
| 3rd | 13:47 | UNH | 2-0 | PP | Patrick Grasso (9) | Tyler Kelleher/7, Matias Cleland/8 |
| 3rd | 17:40 | UNH | 3-0 | PP | Marcus Vela (1) | Shane Eiserman/3, Cameron Marks/1 |
| | | | | |
| --- | --- | --- | --- | --- |
| Scoring | 1st | 2nd | 3rd | Final |
| Mercyhurst | 0 | 0 | 0 | 0 |
| New Hampshire | 0 | 1 | 2 | 3 |
| | | | | |
| --- | --- | --- | --- | --- |
| Shots on Goal | 1st | 2nd | 3rd | SOG |
| Mercyhurst | 4 | 4 | 6 | 14 |
| New Hampshire | 15 | 11 | 15 | 41 |
| | | | |
| --- | --- | --- | --- |
| Team Stats and Records | PP | PIM | SHGF |
| Mercyhurst (2-4-0) | 0/5 | 7/14 | 0 |
| New Hampshire (4-3-1) | 2/7 | 5/10 | 0 |
| | | | | | | |
| --- | --- | --- | --- | --- | --- | --- |
| Mercyhurst Goaltending | MIN | GA | 1 | 2 | 3 | Saves |
| Colin DeAugustine (L, 0-1-0) | 60:00 | 3 | 15 | 10 | 13 | 38 |
| | | | | | | |
| --- | --- | --- | --- | --- | --- | --- |
| New Hampshire Goaltending | MIN | GA | 1 | 2 | 3 | Saves |
| Daniel Tirone (W, 4-2-1) | 60:00 | 0 | 4 | 4 | 6 | 14 |
DURHAM, N.H. - Junior goaltender Daniel Tirone made 14 saves and senior forward Tyler Kelleher had two assists as New Hampshire skated to a 3-0 win against Mercyhurst on Saturday at the Whittemore Center.
GAME INFORMATION
Date: November 5, 2016 (7:00 p.m.)
Score: University of New Hampshire 3, Mercyhurst University 0
New Records: New Hampshire (4-3-1, 2-0-0 HE) // Mercyhurst University (2-4-0, 2-1-0 AHA)
Location: Whittemore Center (Durham, N.H.)
Goal Scorers: New Hampshire - Jason Salvaggio (McNicholas, Kelleher), 3:08 - second period // Patrick Grasso (Kelleher, Cleland), 13:47 - third period (ppg), Marcus Vela (Eiserman, Marks), 17:40 - third period (ppg); Mercyhurst - None
Goaltenders: UNH - Danny Tirone (4-2-1) - 14 saves (4 | 4 | 6 - 60:00); Mercyhurst - Colin DeAugustine - (0-1-0) - 38 saves (15 | 10 | 13 - 60:00)
Next Game // Next Home Game: Tuesday, Nov. 8 at Boston College // Saturday, Nov. 12, 2016 vs. Arizona State University (7:00 p.m.) GET TICKETS HERE
WHAT HAPPENED
After a scoreless first period, junior Jason Salvaggio (Hanson, Mass.) got the Wildcats on the board with his third goal of the season at 3:08 of the second period. The play started with senior captain Matias Cleland (Longmont, Colo.) played the puck from behind the UNH net to classmate Tyler Kelleher (Longmeadow, Mass.) along the boards. He found junior Michael McNicholas (Manhattan Beach, Calif.) in the neutral zone with the pass. McNicholas skated in and fired a shot on net that Mercyhurst goalie Colin DeAugustine saved, but Salvaggio found the rebound and buried his chance.
In the third period, rookie Patrick Grasso (Ankeny, Iowa) scored his team-leading ninth goal of the season on a power play at the 13:47 mark. Cleland registered his second assist of the night as he started the play with a pass from the point to Kelleher at the top of the slot. Kelleher played a pass to Grasso who was waiting to the left of DeAugustine and one timed a shot into the net.
Marcus Vela (Burnaby, British Columbia) gave the 'Cats a 3-0 cushion with 2:20 left in the third period to score the second power play goal of the night. Cameron Marks (North Vancouver, British Columbia) redirected a pass to Shane Eiserman at the top of the face-off circle. Eiserman skated in with the puck and fed a pass to the stick of Vela who was waiting at the top of the crease. Vela one timed the shot past DeAugustine and into the net.
PENALTIES
New Hampshire: 5 penalties - 10 minutes
Mercyhurst: 7 penalties - 14 minutes
SPECIAL TEAMS
New Hampshire: 2-for-7
Mercyhurst: 0-for-5
NEW HAMPSHIRE LEADERS
Points: Tyler Kelleher (2)
Goals: Jason Salvaggio (1), Patrick Grasso (1), Marcus Vela (1)
Assists: Kelleher (2), Matias Cleland (1), Michael McNicholas (1), Shane Eiserman (1), Cameron
Marks (1)
Shots: Cleland (5)
MERCYHURST LEADERS Points: -
Goals: -
Assists: -
Shots: Les Lancaster (4)