Maine Skates Past Massachusetts, 4-1
Junior forward Nolan Vesey, junior forward CÚdric Lacroix and freshman forward Patrick Shea each post goal and assist for Black Bears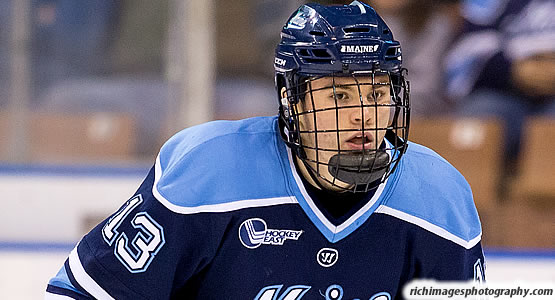 Junior forward Nolan Vesey had a goal and an assist for the Black Bears
| | | | | | | |
| --- | --- | --- | --- | --- | --- | --- |
| Prd | Time | Team | Score | Type | Scored By | Assists |
| 1st | 3:01 | MNE | 1-0 | EV | Daniel Perez (2) | Robin H÷glund/1, Patrick Holway/7 |
| 1st | 8:00 | MNE | 2-0 | PP GW | Nolan Vesey (8) | Patrick Shea/9, CÚdric Lacroix/4 |
| 3rd | 0:52 | UMA | 1-2 | EV | William Lagesson (2) | Brett Boeing/1 |
| 3rd | 8:33 | MNE | 3-1 | PP | CÚdric Lacroix (4) | Nolan Vesey/9, Rob Michel/9 |
| 3rd | 16:19 | MNE | 4-1 | EV | Patrick Shea (5) | CÚdric Lacroix/5, Mitchell Fossier/8 |
| | | | | |
| --- | --- | --- | --- | --- |
| Scoring | 1st | 2nd | 3rd | Final |
| Massachusetts | 0 | 0 | 1 | 1 |
| Maine | 2 | 0 | 2 | 4 |
| | | | | |
| --- | --- | --- | --- | --- |
| Shots on Goal | 1st | 2nd | 3rd | SOG |
| Massachusetts | 13 | 8 | 8 | 29 |
| Maine | 6 | 10 | 15 | 31 |
| | | | |
| --- | --- | --- | --- |
| Team Stats and Records | PP | PIM | SHGF |
| Massachusetts (5-18-2) | 0/7 | 3/6 | 0 |
| Maine (9-13-3) | 2/3 | 7/14 | 0 |
| | | | | | | |
| --- | --- | --- | --- | --- | --- | --- |
| Massachusetts Goaltending | MIN | GA | 1 | 2 | 3 | Saves |
| Ryan Wischow (L, 4-13-2) | 60:00 | 4 | 4 | 10 | 13 | 27 |
| | | | | | | |
| --- | --- | --- | --- | --- | --- | --- |
| Maine Goaltending | MIN | GA | 1 | 2 | 3 | Saves |
| Rob McGovern (W, 8-9-3) | 60:00 | 1 | 13 | 8 | 7 | 28 |
ORONO, Maine -- The University of Maine men's ice hockey team (9-13-3, 3-9-1 Hockey East) tallied a pair of power play goals on its way to a 4-1 victory over visiting UMass (5-18-2, 2-10-1) on Friday evening at Alfond Arena.
Cedric Lacroix, Nolan Vesey and Patrick Shea all tallied a goal and an assist to lead the way for the Black Bears. Daniel Perez added a goal for Maine which finished 2-for-3 on the power play.
Rob McGovern picked up his eighth win of the year after turning away 13 first period shots before ending the game with 28 saves.
The Black Bears were solid on the penalty kill, holding UMass to an 0-for-6 showing with the extra skater.
Maine was able to jump out to an early 2-0 first period lead despite being outshot 13-6 over the opening 20-minutes. Just 3:01 into the game, Daniel Perez found the back of the net for his second goal of the season. Patrick Holoway sent the puck around the back of the UMass net where Robin Hoglund gathered before sliding it to the front of the net. Perez quickly stuffed a shot past UMass netminder Ryan Wischow. For Hoglund, it was his first point as a Black Bear.
Maine added to its lead with its first power play goal of the night just five minutes later. Shea found Vesey in the right face-off dot. Vesyey surveyed his options before sneaking a shot by Wischow, giving Maine the early 2-0 advantage.
With no scoring in the second period, the Black Bears looked to put things away in the third.
However, the Minutemen had other ideas as William Lagesson cut the deficit in half with his second goal of the second just 52-seconds into the final period.
But Maine would have the answer, outshooting UMass 15-8 over the final 20-minutes to help secure the victory.
The Black Bears answered the UMass goal at 8:33 when Lacroix lit the lamp. Skating with the man advantage, Vesey shuffled a pass along to Lacroix who fired a shot on net. Lacroix followed his shot and was able to pound the puck over the goal line, regaining a two goal lead for the Black Bears.
Maine put the game away at 16:19 when Shea tallied his fifth goal of the season. Lacroix dumped the puck in before it was deflected off a UMass skater and right to Shea. Shea strided into the zone before throwing a shot on net. Wischow was able to make the pad save but Shea had the follow, jamming the puck in to give Maine a 4-1 advantage.
The Black Bears, behind solid goaltending by McGovern, would hold on for the 4-1 victory.
The two teams meet again on Saturday at the Alfond Arena at 7 p.m.