Maine Defeated By US Under-18 Team, 6-2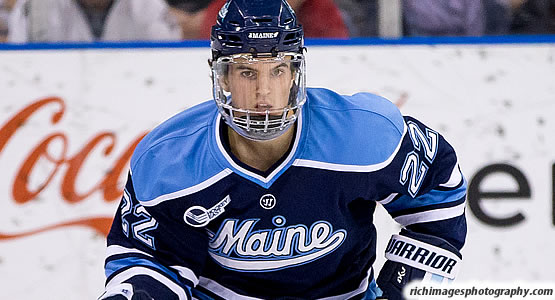 Sophomore forward Brendan Robbins scored a goal for the Black Bears
| | | | | | | |
| --- | --- | --- | --- | --- | --- | --- |
| Prd | Time | Team | Score | Type | Scored By | Assists |
| 1st | 7:02 | U18 | 1-0 | EV | Grant Mismash | Michael Pastujov, Evan Barratt |
| 1st | 7:16 | U18 | 2-0 | EV | Josh Norris | Jacob Tortora |
| 1st | 15:09 | MNE | 1-2 | PP | Patrick Holway | Ryan Smith, Patrick Shea |
| 1st | 16:00 | U18 | 3-1 | EV GW | Quinn Hughes | Jacob Tortora, Logan Cockerill |
| 2nd | 6:00 | U18 | 4-1 | EV | Evan Barratt | Michael Pastujov, Scott Reedy |
| 2nd | 9:27 | MNE | 2-4 | EV | Brendan Robbins | Jake Pappalardo, Robin Höglund |
| 2nd | 16:08 | U18 | 5-2 | PP | Grant Mismash | Scott Reedy, Evan Barratt |
| 3rd | 11:09 | U18 | 6-2 | PP | Grant Mismash | - |
| | | | | |
| --- | --- | --- | --- | --- |
| Scoring | 1st | 2nd | 3rd | Final |
| USA Under-18 Team | 3 | 2 | 1 | 6 |
| Maine | 1 | 1 | 0 | 2 |
| | | | | |
| --- | --- | --- | --- | --- |
| Shots on Goal | 1st | 2nd | 3rd | SOG |
| USA Under-18 Team | 7 | 13 | 10 | 30 |
| Maine | 8 | 10 | 7 | 25 |
| | | | |
| --- | --- | --- | --- |
| Team Stats and Records | PP | PIM | SHGF |
| USA Under-18 Team | 2/7 | 9/18 | 0 |
| Maine | 1/7 | 8/19 | 0 |
| | | | | | | |
| --- | --- | --- | --- | --- | --- | --- |
| USA Under-18 Team Goaltending | MIN | GA | 1 | 2 | 3 | Saves |
| Dylan St. Cyr (W) | 60:00 | 2 | 7 | 9 | 7 | 23 |
| | | | | | | |
| --- | --- | --- | --- | --- | --- | --- |
| Maine Goaltending | MIN | GA | 1 | 2 | 3 | Saves |
| Stephen Mundinger (L) | 60:00 | 6 | 4 | 11 | 9 | 24 |
The Maine Black Bears started 2017 off with an exhibition matchup against the US National Team Development Program. The opponent is made up of the most outstanding hockey players in the 1999 birth year.
The young guns of USNTDP came out flying early as Grant Mismash was able to put home a beautifully executed rush goal on assists from Michael Pastujov and team leading scorer Evan Barratt. Josh Norris was able to keep the momentum going for USNTDP scoring on a net drive just 14 seconds later on an assist from Jacob Tortora. Maine freshman Patrick Holway would cut into USNTDP's lead on the powerplay rifling a shot just under the bar on assists from fellow freshman Ryan Smith and Patrick Shea. However, USNTDP defenseman Quinn Hughes would find the back of the net just 41 seconds later, which would prove to be the game winner.
Evan Barratt of the USNTDP stretched the lead to 4-1 six minutes into the second frame, on assists from Michael Pastujov and Scott Reedy. However, Maine sophomore Brendan Robbins would cut the lead to 2 halfway through the second period on a beautiful far post net drive. The goal was set up by freshman Jake Pappalardo and Junior Robin Hoglund in his first contest as a Maine Black Bear. USNTDP would regain its 3 goal lead on a powerplay goal by Grant Mismash. The tic tac toe passing play was executed by Evan Barratt and Scott Reedy before Mismash was able to fire it home.
The third period was a penalty filled affair that saw Grant Mismash notch a hat trick tally unassisted on the powerplay. The exhibition would end with the Black Bears falling by a final score of 6-2. Freshman Stephen Mundinger would make 24 stops in his debut between the pipes, and USNTDP's Dylan St. Cyr would make 23 stops in the victory.
Maine hits the road next week, playing the University of Connecticut in a Hockey East Series. The first game will take place in Bridgeport, Connecticut before both teams meet in famous Fenway Park for an outdoor contest. Maine returns to Alfond Arena January 21 as they will take on the Boston University Terriers. Tickets are available at goblackbears.com or by calling 207-581-BEAR.