Saturday, October 15, 2016
Maine Stopped By Quinnipiac In Overtime, 3-2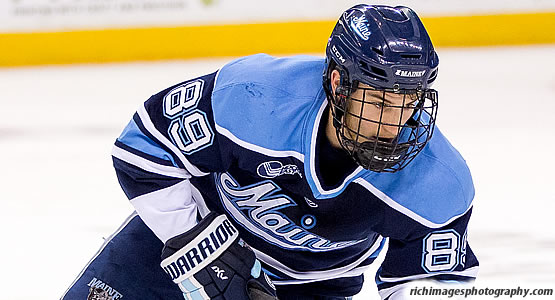 Senior forward Blaine Byron scored a goal for the Black Bears
| | | | | | | |
| --- | --- | --- | --- | --- | --- | --- |
| Prd | Time | Team | Score | Type | Scored By | Assists |
| 1st | 17:30 | QUI | 1-0 | EV | Tommy Schutt (1) | Brogan Rafferty/2 |
| 1st | 18:56 | QUI | 2-0 | PP | Tim Clifton (3) | Brogan Rafferty/3, K.J. Tiefenwerth/3 |
| 2nd | 4:40 | MNE | 1-2 | PP | Blaine Byron (2) | Cam Brown/3, Brendan Robbins/1 |
| 3rd | 15:37 | MNE | 2-2 | EV | Nolan Vesey (2) | Patrick Holway/1, Mitchell Fossier/3 |
| OT | 1:15 | QUI | 3-2 | EV GW | Craig Martin (1) | Kevin McKernan/2, Tim Clifton/1 |
| | | | | | |
| --- | --- | --- | --- | --- | --- |
| Scoring | 1st | 2nd | 3rd | OT | Final |
| Quinnipiac | 2 | 0 | 0 | 1 | 3 |
| Maine | 0 | 1 | 1 | 0 | 2 |
| | | | | | |
| --- | --- | --- | --- | --- | --- |
| Shots on Goal | 1st | 2nd | 3rd | OT | SOG |
| Quinnipiac | 11 | 12 | 8 | 2 | 33 |
| Maine | 7 | 6 | 9 | 0 | 22 |
| | | | |
| --- | --- | --- | --- |
| Team Stats and Records | PP | PIM | SHGF |
| Quinnipiac (2-1-1) | 1/8 | 5/10 | 0 |
| Maine (3-1-0) | 1/5 | 8/16 | 0 |
| | | | | | | | |
| --- | --- | --- | --- | --- | --- | --- | --- |
| Quinnipiac Goaltending | MIN | GA | 1 | 2 | 3 | OT | Saves |
| Andrew Shortridge (W, 1-0-0) | 61:15 | 2 | 7 | 5 | 8 | 0 | 20 |
| | | | | | | | |
| --- | --- | --- | --- | --- | --- | --- | --- |
| Maine Goaltending | MIN | GA | 1 | 2 | 3 | OT | Saves |
| Rob McGovern (L, 3-1-0) | 61:15 | 3 | 9 | 12 | 8 | 1 | 30 |
ORONO, Maine -- Men's ice hockey were unable to complete the comeback tonight in front of a sell out crowd at Alfond Arena against the no. 3 Quinnipiac Bobcats, losing 3-2 in overtime. The Black Bears suffer their first loss of the season and are now 3-1-0 on the year while Quinnipiac improves to 2-1-1.
Quinnipiac scored the first goal of the game, seventeen minutes into the first period from Tommy Schutt to give the Bobcats an early 1-0 lead. The Black Bears were then whistled for a roughing penalty, putting the Bobcats on the power play. Quinnipiac took advantage and scored their second goal of the night, a power play goal from Tim Clifton and assisted by Brogan Rafferty and K.J. Tiefenwerth to take a 2-0 advantage heading into the first intermission.
3:57 into the second period, the Bobcats were called for a tripping penalty, giving Maine their first power play opportunity of the night. Blaine Byron capitalized on the power play opportunity giving Maine their first goal of the night from Cam Brown and Brendan Robbins cutting the Quinnipiac lead in half, 2-1.
Rob McGovern finished the second period with the most saves in a period on the night with 12 after facing a barage of shots from the Quinnipiac attack.
The third featured back and forth action with neither time finding the back of the net after solid play from Quinnipiac's goalie Andrew Shortridge and Maine's McGovern. 15 minutes had passed in the third period, Nolan Vesey tied the game for the Black Bears to complete the comeback. Freshman Patrick Holway and Mitchell Fossier had assists on the play, sending the game to over time. Maine out shot Quinnipiac 9-8 in the third period.
In overtime, Quinnipiac fired off two shots and the second sealed the victory for the Bobcats.
Andrew Shortridge earned the win and Rob McGovern received the loss and falls to 3-1-0 on the season.
The Black Bears travel on the road for a weekend series with Miami of Ohio next weekend October 21 and 22. Maine returns home on November 4 with a game in Portland, Maine at the Cross Insurance Arena, then travel back to Orono on November 5 for the final game of the series against Boston College.