Saturday, February 25, 2017
Vesey Hat Trick Leads Maine To 5-4 Win Over Northeastern
Junior forward Nolan Vesey scores hat trick for Black Bears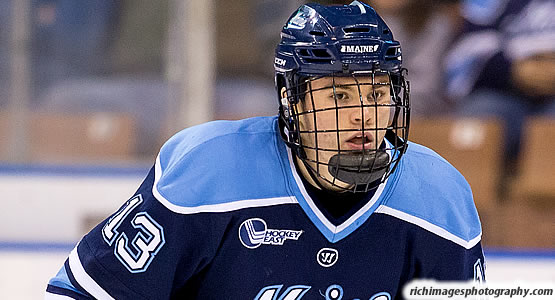 Junior forward Nolan Vesey scored a hat trick for the Black Bears
| | | | | | | |
| --- | --- | --- | --- | --- | --- | --- |
| Prd | Time | Team | Score | Type | Scored By | Assists |
| 1st | 0:18 | NOE | 1-0 | EV | Tanner Pond (1) | Matt Filipe/8, Garret Cockerill/24 |
| 1st | 11:59 | MNE | 1-1 | EV | Nolan Vesey (11) | Chase Pearson/8 |
| 2nd | 6:17 | NOE | 2-1 | PP | Jeremy Davies (7) | Nolan Stevens/8, Matt Filipe/9 |
| 2nd | 9:21 | MNE | 2-2 | PP | Chase Pearson (14) | Cam Brown/34, Blaine Byron/20 |
| 2nd | 12:08 | NOE | 3-2 | EV | Dylan Sikura (20) | Nolan Stevens/9, Jeremy Davies/12 |
| 2nd | 19:32 | MNE | 3-3 | PP | Nolan Vesey (12) | Blaine Byron/21 |
| 3rd | 4:34 | NOE | 4-3 | PP | Nolan Stevens (8) | Jeremy Davies/13, Ryan Shea/11 |
| 3rd | 5:51 | MNE | 4-4 | PS | Blaine Byron (18) | - |
| 3rd | 6:51 | MNE | 5-4 | PP GW | Nolan Vesey (13) | Patrick Holway/9, Blaine Byron/22 |
| | | | | |
| --- | --- | --- | --- | --- |
| Scoring | 1st | 2nd | 3rd | Final |
| Northeastern | 1 | 2 | 1 | 4 |
| Maine | 1 | 2 | 2 | 5 |
| | | | | |
| --- | --- | --- | --- | --- |
| Shots on Goal | 1st | 2nd | 3rd | SOG |
| Northeastern | 13 | 17 | 14 | 44 |
| Maine | 7 | 9 | 8 | 24 |
| | | | |
| --- | --- | --- | --- |
| Team Stats and Records | PP | PIM | SHGF |
| Northeastern (16-13-5) | 2/9 | 9/18 | 0 |
| Maine (11-19-4) | 3/5 | 11/25 | 0 |
| | | | | | | |
| --- | --- | --- | --- | --- | --- | --- |
| Northeastern Goaltending | MIN | GA | 1 | 2 | 3 | Saves |
| Ryan Ruck (L, 16-12-4) | 59:27 | 5 | 6 | 7 | 6 | 19 |
| Empty Net | 0:33 | 0 | | | | |
| | | | | | | |
| --- | --- | --- | --- | --- | --- | --- |
| Maine Goaltending | MIN | GA | 1 | 2 | 3 | Saves |
| Matt Morris (W, 2-5-1) | 60:00 | 4 | 12 | 15 | 13 | 40 |
ORONO, Maine -- Maine welcomed over 4,000 fans, friends and family to Alfond Arena for a Senior Night matchup against the Northeastern Huskies. In an electric environment, the Black Bears honored their four soon to be graduates before the puck dropped.
Northeastern would strike first as Tanner Pond would score just 18 seconds into the opening stanza on assists from Matt Filipe and Garret Cockerill. The Black Bears would even the score as Nolan Vesey would pick up his first of the night, firing a shot over Ruck's shoulder off a Chase Pearson faceoff win. Matt Morris and Ryan Ruck would remain perfect through the rest of the period making 11 and 4 saves respectively.
The second period saw Northeastern regain the lead as Jeremy Davies would register a powerplay tally on assists from Nolan Stevens and Matt Filipe. Once again, the resilient Black Bears would battle back, and Chase Pearson would register a powerplay market of his own 9:21 into the second on assists from Cam Brown and Blaine Byron. Dylan Sikura would give the Huskies a one-goal lead just under three minutes later on an assist from Nolan Stevens. Maine would gain momentum heading into the final period as Nolan Vesey would score his second of the night, on the powerplay after a great individual rush by Blaine Byron who was able to find Vesey on the back door. The Black Bears and Huskies would head into the final frame all knotted up at 3.
Northeastern was able to regain the lead 4:34 into the final period as Nolan Stevens would score a powerplay goal on an assist from Jeremy Davies. That's when senior Blaine Byron took command, and with a great individual effort, drew a penalty shot. On the penalty shot, he was able to go backhand, forehand, and beat a sliding Ruck to tie the game up at 4. Just a minute later, Nolan Vesey would register his hat trick tally on the powerplay on assists from Patrick Holway and Blaine Byron. This would be Vesey's second senior night hat trick, as he pulled off the feat 2/21/2015 as well. Matty "Mo" Morris would shut the door the rest of the way for the Black Bears, making 40 saves in total en route to the Black Bear victory.
Maine travels to Vermont to open Hockey East Tournament action next weekend. The Black Bears went 0-1-1 against the Catamounts and will look to exact revenge and continue momentum moving forward. The series will begin Friday, March 3 at 7 p.m.