Saturday, October 8, 2016
UMass Lowell Skates To 1-1 Tie With Minnesota Duluth
Sophomore forward Connor Wilson scores goal for River Hawks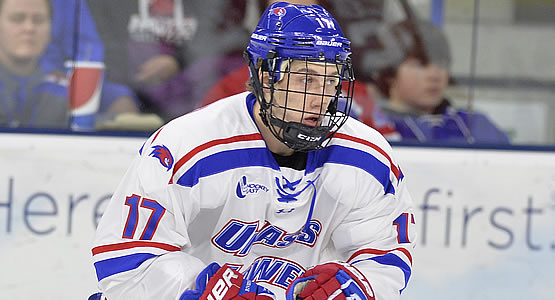 Sophomore forward Connor Wilson scored a goal for the River Hawks
| | | | | | | |
| --- | --- | --- | --- | --- | --- | --- |
| Prd | Time | Team | Score | Type | Scored By | Assists |
| 1st | 3:30 | UML | 1-0 | PP | Connor Wilson (1) | Dylan Zink/1, Tommy Panico/1 |
| 3rd | 16:06 | MND | 1-1 | EV GT | Neal Pionk (3) | Sammy Spurrell/1, Adam Johnson/3 |
| | | | | | |
| --- | --- | --- | --- | --- | --- |
| Scoring | 1st | 2nd | 3rd | OT | Final |
| Minnesota Duluth | 0 | 0 | 1 | 0 | 1 |
| UMass Lowell | 1 | 0 | 0 | 0 | 1 |
| | | | | | |
| --- | --- | --- | --- | --- | --- |
| Shots on Goal | 1st | 2nd | 3rd | OT | SOG |
| Minnesota Duluth | 6 | 12 | 20 | 3 | 41 |
| UMass Lowell | 12 | 7 | 4 | 2 | 25 |
| | | | |
| --- | --- | --- | --- |
| Team Stats and Records | PP | PIM | SHGF |
| Minnesota Duluth (2-0-2) | 0/6 | 3/6 | 0 |
| UMass Lowell (0-0-2) | 1/3 | 6/12 | 0 |
| | | | | | | | |
| --- | --- | --- | --- | --- | --- | --- | --- |
| Minnesota Duluth Goaltending | MIN | GA | 1 | 2 | 3 | OT | Saves |
| Nick Deery (T, 0-0-2) | 65:00 | 1 | 11 | 7 | 4 | 2 | 24 |
| | | | | | | | |
| --- | --- | --- | --- | --- | --- | --- | --- |
| UMass Lowell Goaltending | MIN | GA | 1 | 2 | 3 | OT | Saves |
| Tyler Wall (T, 0-0-1) | 64:58 | 1 | 6 | 12 | 19 | 3 | 40 |
| Empty Net | 0:02 | 0 | | | | | |
LOWELL, Mass. - Sophomore forward Connor Wilson (Calgary, Alberta) picked up his first career goal and freshman goalkeeper Tyler Wall (Lemington, Ont.) made 40 saves in his college debut as the UMass Lowell Hockey Team (0-0-2) danced to a 1-1 tie with Minnesota Duluth (2-0-2) Saturday night at the Tsongas Center in front of 4,638.
"I thought the team improved from last night's performance," said Head Coach Norm Bazin. "Things were tighter tonight and systematically and we feel we are going in the right direction. This is a good hockey team we played and we got a point today and a point yesterday."
The River Hawks jumped out to an early 1-0 lead when Wilson and the power play unit broke open the scoring with a slap shot from the right hand circle just three minutes into the game. Senior defenseman Dylan Zink (Madison, Wis.) and junior defenseman Tommy Panico (Wall, N.J.) each picked up their first helper of the season on the play.
After being outshot, 12-6, in the opening frame, Minnesota Duluth turned the tables in the second period, holding a 12-7 edge in shots. Despite the action in front of the net, Wall held strong to keep the visitors scoreless after the first 40 minutes of play.
The Bulldogs continued to apply heavy offensive pressure in the final period, eventually netting the equalizer, 1-1, with 3:56 remaining in regulation. Neal Pionk notched his second goal of the series to give his team an opportunity to win it in overtime.
Junior defenseman Tyler Mueller (Regina, Sask.) sparked the best opportunity in extended play when his slap shot rung the left pipe and bounced wide of the net.
The River Hawks are back in action on Friday, October 14, as the squad sets their sights on Colorado College for a 9:30 p.m. tilt for their first road series of the year.