Saturday, October 15, 2016
Malmquist Leads Notre Dame Past Minnesota Duluth, 3-1
Sophomore forward Dylan Malmquist has goal and two assists for Fighting Irish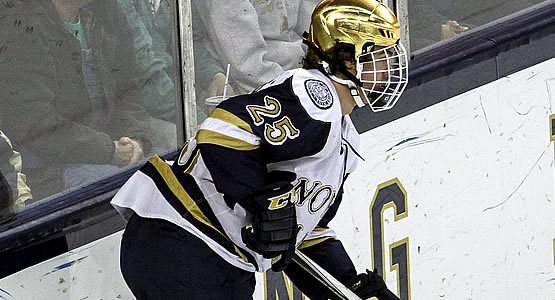 Sophomore forward Dylan Malmquist had a goal and two assists for the Fighting Irish
| | | | | | | |
| --- | --- | --- | --- | --- | --- | --- |
| Prd | Time | Team | Score | Type | Scored By | Assists |
| 2nd | 1:53 | MND | 1-0 | EV | Adam Johnson (4) | Joey Anderson/6 |
| 2nd | 15:22 | NDM | 1-1 | PP | Andrew Oglevie (3) | Dylan Malmquist/4, Bobby Nardella/3 |
| 3rd | 5:01 | NDM | 2-1 | EV GW | Jordan Gross (2) | Dylan Malmquist/5, Anders Bjork/4 |
| 3rd | 5:56 | NDM | 3-1 | EV | Dylan Malmquist (3) | Anders Bjork/5, Connor Hurley/6 |
| | | | | |
| --- | --- | --- | --- | --- |
| Scoring | 1st | 2nd | 3rd | Final |
| Notre Dame | 0 | 1 | 2 | 3 |
| Minnesota Duluth | 0 | 1 | 0 | 1 |
| | | | | |
| --- | --- | --- | --- | --- |
| Shots on Goal | 1st | 2nd | 3rd | SOG |
| Notre Dame | 13 | 17 | 8 | 38 |
| Minnesota Duluth | 13 | 7 | 8 | 28 |
| | | | |
| --- | --- | --- | --- |
| Team Stats and Records | PP | PIM | SHGF |
| Notre Dame (3-1-0) | 1/3 | 4/8 | 0 |
| Minnesota Duluth (3-1-2) | 0/4 | 3/6 | 0 |
| | | | | | | |
| --- | --- | --- | --- | --- | --- | --- |
| Notre Dame Goaltending | MIN | GA | 1 | 2 | 3 | Saves |
| Cal Petersen (W, 3-1-0) | 59:25 | 1 | 13 | 6 | 8 | 27 |
| Empty Net | 0:35 | 0 | | | | |
| | | | | | | |
| --- | --- | --- | --- | --- | --- | --- |
| Minnesota Duluth Goaltending | MIN | GA | 1 | 2 | 3 | Saves |
| Hunter Shepard (L, 0-1-0) | 58:31 | 3 | 13 | 16 | 6 | 35 |
| Empty Net | 1:29 | 0 | | | | |
DULUTH, Minn. -- Jordan Gross and Dylan Malmquist scored third period goals 55 seconds apart to break open a 1-1 game, lifting the No. 5/6 Fighting Irish hockey team to a 3-1 win over No. 4 Minnesota Duluth on Saturday night at the Amsoil Arena (6,014).
Gross' tally at 5:01 of the third proved to be the game winner, while Malmquist finished his night with a goal and two assists.
Andrew Oglevie's power-play goal scored at 15:22 of the second period tied the game at 1-1, setting the stage for the pivotal third period.
In the Irish net, Cal Petersen finished with 27 saves, including 13 in a busy first period.
Hunter Shepard made 35 saves for the Bulldogs as the Irish outshot Minnesota Duluth 38-28.
Notre Dame's penalty kill was also strong, killing off all four of Minnesota Duluth's power-play chances. The Irish also finished 1-for-3 on the man advantage.
COACH JACKSON'S THOUGHTS
On Saturday night's win ...
"It's early in the season but this was a big series with two teams that are potentially going to be really solid this year. Playing in their building it was a tough environment but our guys did a really nice job. It was probably our first 60-minute hockey game of the season. That was the effort we needed to have in that type of environment."
On the Hurley line in the third period...
"You have to be good when it matters most and in the third, Cal made some great saves for us and the Hurley line (Malmquist-Hurley-Bjork) did a nice job generating some offense. All four lines contributed tonight which was great and the Hurley line really made a difference in the third."
On Cal Petersen and the penalty kill ...
"I thought our guys did a nice job on the penalty kill but still your goalie has to be the last line of defense. He made some really tough saves, we left some people open on the backside a couple times. He played the way he is capable of."
IRISH FIRST STAR
Dylan Malmquist notched a goal and two assists to tie his career-high mark of three points. He now has three multi-point games this season.
NOTRE DAME SCORING
1-1 | Andrew Oglevie scored a power-play goal for the second night in a row, this time tying the game 1-1 at 15:22 of the second period. He finished into an empty net at the back post after Dylan Malmquist dropped a pass back to him from behind the goal. Bobby Nardella also assisted on the play.
2-1 | After working the puck down low in the offensive zone, Dylan Malmquist passed the puck up to Jordan Gross at the point, who moved to the center of the zone and let a wrist shot fly that beat Shepard. Anders Bjork also earned an assist.
3-1 | Just 55 seconds after Gross' goal, Malmquist extended the Irish lead to 3-1 with his third goal of the season, Bjork broke into the offensive zone and beat two Bulldog players before laying the puck off to Malmquist, who then beat Shepard low. Connor Hurley recorded the second assist on the play.
UP NEXT The Irish return home to play host to Penn State for a weekend series (Oct. 21-22). Game one will start at 7:35 and will be televised by CSN Chicago+, while puck drop for game two is slated for 7:10 p.m. on the NBC Sports Network. To purchase tickets visit UND.com/BuyTickets.
MINNESOTA DULUTH SERIES NOTES
- Seven players on the Notre Dame roster hail from Minnesota, the most of any state, including Tony Bretzman (Mendota Heights), Jordan Gross (Maple Grove), Ben Ostlie (Edina), Connor Hurley (Edina), Dylan Malmquist (Edina), Peter Mark (Minneapolis) and Bo Brauer (Edina).
- The Irish are now 22-16-6 all-time against Minnesota Duluth.
- On Friday night, Cam Morrison (1-1-2) posted his second multi-point game of the season.
- On Friday night, Andrew Oglevie (1-1-2) posted his second multi-point game of the season (third of his career).
- All three of Oglevie's goals this season have come on the power play, which are the first three power-play goals of his Irish career.
- With a goal and two assists in Saturday's game, Dylan Malmquist tied his career high with three points. It was also his third multi-point game of the season and the fifth of his career.
- With a pair of assists on Saturday, Anders Bjork notched his third multi-point game of the season and the 14th of his Irish career. He now has 10 points (5-5-10) through four games in 2016-17.