Saturday, December 31, 2016
Massachusetts Falls To Minnesota, 4-1, In Mariucci Classic Final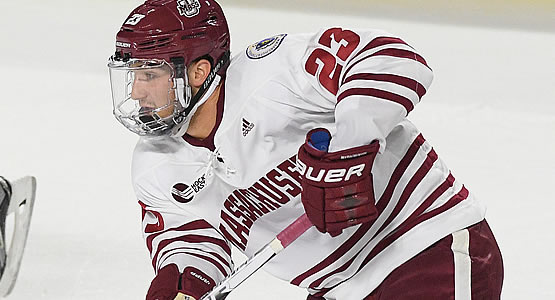 Freshman forward Jonny Lazarus scored a goal for the Minutemen
| | | | | | | |
| --- | --- | --- | --- | --- | --- | --- |
| Prd | Time | Team | Score | Type | Scored By | Assists |
| 1st | 1:44 | MIN | 1-0 | PP | Tyler Sheehy (12) | Justin Kloos/12, Mike Szmatula/11 |
| 2nd | 5:02 | MIN | 2-0 | SH GW | Justin Kloos (9) | - |
| 2nd | 12:54 | UMA | 1-2 | EV | Jonny Lazarus (5) | Jack Suter/3 |
| 2nd | 14:09 | MIN | 3-1 | PP | Mike Szmatula (6) | Tyler Sheehy/13, Justin Kloos/13 |
| 3rd | 19:23.6 | MIN | 4-1 | EV EN | Vinni Lettieri (8) | Steve Johnson/8, Jake Bischoff/14 |
| | | | | |
| --- | --- | --- | --- | --- |
| Scoring | 1st | 2nd | 3rd | Final |
| Massachusetts | 0 | 1 | 0 | 1 |
| Minnesota | 1 | 2 | 1 | 4 |
| | | | | |
| --- | --- | --- | --- | --- |
| Shots on Goal | 1st | 2nd | 3rd | SOG |
| Massachusetts | 10 | 14 | 10 | 34 |
| Minnesota | 16 | 17 | 6 | 39 |
| | | | |
| --- | --- | --- | --- |
| Team Stats and Records | PP | PIM | SHGF |
| Massachusetts (5-13-2) | 0/6 | 9/29 | 0 |
| Minnesota (11-5-2) | 2/5 | 10/31 | 1 |
| | | | | | | |
| --- | --- | --- | --- | --- | --- | --- |
| Massachusetts Goaltending | MIN | GA | 1 | 2 | 3 | Saves |
| Ryan Wischow (L, 4-9-2) | 59:12 | 3 | 15 | 15 | 5 | 35 |
| Empty Net | 0:48 | 1 | | | | |
| | | | | | | |
| --- | --- | --- | --- | --- | --- | --- |
| Minnesota Goaltending | MIN | GA | 1 | 2 | 3 | Saves |
| Eric Schierhorn (W, 11-5-2) | 60:00 | 1 | 10 | 13 | 10 | 33 |
MINNEAPOLIS, Minn. - Freshman forward Jonny Lazarus scored a goal but Massachusetts was downed by Minnesota, 4-1, in the title game of the Mariucci Classic on Saturday night at Mariucci Arena.
THE BASICS:
RESULT: #11 Minnesota 4, Massachusetts 1 - Mariucci Classic Championship Game
LOCATION: Mariucci Arena (Minneapolis, Minn.)
RECORDS: Massachusetts (5-13-2); Minnesota (11-5-2)
THE LEAD: No. 11 Minnesota used three special teams goals to help the squad past University of Massachusetts hockey, 4-1, in the Mariucci Classic championship game on Saturday night. The Gophers finished 2-for-5 on the power play and netted a shorthanded goal, as well.
FIRST PERIOD:
The Gophers capitalized on an early penalty against the Minutemen as Tyler Sheehy scored on a 2-on-1 on the power play from Justin Kloos and Mike Szmatula at the 1:44 mark. UMass had a chance on an odd-man rush of its own with 14:42 to go in the first, but sophomore Ryan Badger's shot was stopped by Eric Schierhorn.
SECOND PERIOD:
Minnesota hit the post with 17:57 on the clock in the second before ultimately expanding its lead to 2-0 on a shorthanded breakway by Kloos 5:02 into the period. The Gophers appeared to go up 3-0 at 9:38, but the goal was waived off for goaltender interference. Freshman Jonny Lazarus pulled the Minutemen back to within one at the 12:54 mark, taking a blocked shot from classmate Jack Suter up the ice for the tally. However, Minnesota pushed the margin back to two with a power-play goal from Szmatula at 14:09.
THIRD PERIOD:
UMass had five power play opportunities in the third period, including an abbreviated five-minute power play, but was unable to convert, finishing the night 0-for-6. Seven of the Minutemen's 10 shots in the final frame came with the man advantage. The Gophers added an empty net goal from Vinni Lettieri 19:23 into the period to complete the scoring.
INSIDE THE NUMBERS:
- Minnesota edged UMass in shots, 39-34. Wischow totaled 35 saves for the Minutemen and his counterpart, Eric Schierhorn, had 33 stops for the Gophers.
- Lazarus' goal marked his fifth of the season, landing him in a three-way tie for the team lead. Suter's assist was his third of the year.
- Junior Jake Horton represented UMass on the Mariucci Classic All-Tournament Team.
UP NEXT: The Minutemen will return home to play host to American International on Tue., Jan. 3, at 7 p.m. at the Mullins Center.