Saturday, October 8, 2016
Providence College Topped By Miami, 2-1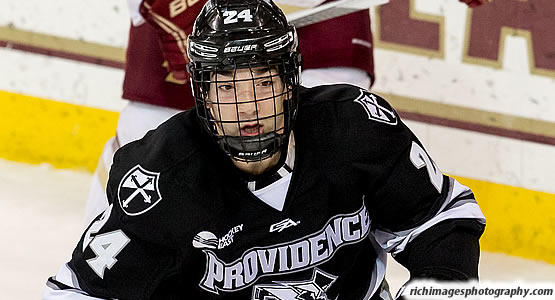 Sophomore forward Bryan Lemos scored a goal for the Friars
| | | | | | | |
| --- | --- | --- | --- | --- | --- | --- |
| Prd | Time | Team | Score | Type | Scored By | Assists |
| 1st | 0:30 | MIA | 1-0 | PP | Carson Meyer (1) | Louie Belpedio/1, Kiefer Sherwood/1 |
| 3rd | 2:24 | PRV | 1-1 | EV | Bryan Lemos (1) | Erik Foley/1, Jake Walman/2 |
| 3rd | 11:35 | MIA | 2-1 | PP GW | Kiefer Sherwood (1) | Louie Belpedio/2, Josh Melnick/1 |
| | | | | |
| --- | --- | --- | --- | --- |
| Scoring | 1st | 2nd | 3rd | Final |
| Miami | 1 | 0 | 1 | 2 |
| Providence | 0 | 0 | 1 | 1 |
| | | | | |
| --- | --- | --- | --- | --- |
| Shots on Goal | 1st | 2nd | 3rd | SOG |
| Miami | 7 | 6 | 11 | 24 |
| Providence | 7 | 9 | 5 | 21 |
| | | | |
| --- | --- | --- | --- |
| Team Stats and Records | PP | PIM | SHGF |
| Miami (1-1-0) | 2/10 | 10/31 | 0 |
| Providence (1-1-0) | 0/9 | 10/20 | 0 |
| | | | | | | |
| --- | --- | --- | --- | --- | --- | --- |
| Miami Goaltending | MIN | GA | 1 | 2 | 3 | Saves |
| Ryan Larkin (W, 1-1-0) | 60:00 | 1 | 7 | 9 | 4 | 20 |
| | | | | | | |
| --- | --- | --- | --- | --- | --- | --- |
| Providence Goaltending | MIN | GA | 1 | 2 | 3 | Saves |
| Hayden Hawkey (L, 1-1-0) | 58:55 | 2 | 6 | 6 | 10 | 22 |
| Empty Net | 1:05 | 0 | | | | |
PROVIDENCE, R.I. - The 10th-ranked Providence College men's hockey team dropped a 2-1 decision to Miami University on Saturday night at Schneider Arena.
Bryan Lemos (East Providence, R.I.) recorded the lone goal for the Friars (1-1-0), while Hayden Hawkey (Parker, Colo) made 22 saves to drop to 1-1-0 this season. Miami evened its record at 1-1-0 after a 20 save performance from freshman Ryan Larkin.
The RedHawks continued their success with the man-advantage early on Saturday night. With Brian Pinho whistled for slashing just 25 seconds into the game, Carson Meyer tipped in a point shot from Louie Belpedio off the ensuing faceoff to put Miami up 1-0.
The Friars' best bid of the period came off the stick off Spenser Young (Brentwood, N.H.) as he stepped into a one-timer at the top of the circles that was smothered by Ryan Larkin.
Providence had its chances in the second period to tie things up after a two-minute 5-on-3 advantage and a five-minute power play after Miami's Bryce Hatten was ejected for hitting Brandon Duhaime from behind. Despite seven shots on the power play in the second period, the Friars couldn't solve Larkin, who also stoned Young on a 2-on-1 shorthanded bid with just seconds remaining in the period.
Providence knotted the game up at one just 2:24 into the third as Lemos hammered home a wrap-around centering feed from Erik Foley (Mansfield, Mass.). A string of penalties in the third period doomed the Friars when Kiefer Sherwood blasted a one-timer over the shoulder of Hawkey on Miami's two-man advantage with 8:25 to play in regulation.
The Friars pressed in the waning minutes, but couldn't find the equalizer as the RedHawks earned their first Providence in seven games.
Jake Walman (Toronto, Ont.) added an assist and had a game-high six shots on goal.
The Friars are back in action next Saturday, October 15 as they hit the road to take on Holy Cross at the DCU Center in Worcester, Massachusetts.
HOW THEY SCORED
- 1-0 (MU) Meyer (Belpedio, Sherwood): Shot by Belpedio from the point, re-directed by Meyer at the top of the crease on the power play.
- 1-1 (PC) Lemos (Foley, Walman): Bull rush to the net by Foley with a wrap-around centering pass for the tap-in by Lemos.
- 2-1 (MU) Sherwood (Belpedio, Melnick): One-timer from the point on the power play.
Notes: Power Plays - Miami (2/10), Providence (0/8). Final shots on goal: 24-21 in favor of the RedHawks ... shot attempts: PC 40, Miami 43 ... Providence suffers its first loss at home since Jan. 30, 2016 against New Hampshire.