Saturday, October 22, 2016
Maine Shut Out By Miami, 5-0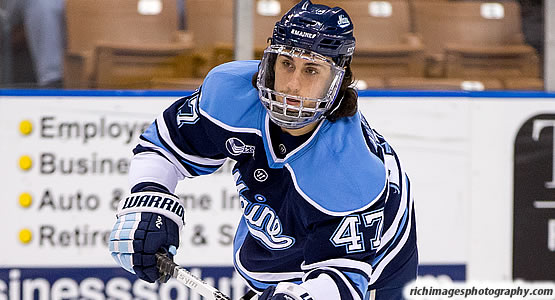 Maine junior defenseman Mark Hamilton (pictured)
| | | | | | | |
| --- | --- | --- | --- | --- | --- | --- |
| Prd | Time | Team | Score | Type | Scored By | Assists |
| 2nd | 3:42 | MIA | 1-0 | EV GW | Anthony Louis (3) | Josh Melnick/3, Alex Alger/1 |
| 2nd | 4:07 | MIA | 2-0 | PP | Louie Belpedio (2) | Anthony Louis/2, Carson Meyer/2 |
| 2nd | 9:18 | MIA | 3-0 | PP | Louie Belpedio (3) | Kiefer Sherwood/5, Carson Meyer/3 |
| 3rd | 6:41 | MIA | 4-0 | EV | Scott Dornbrock (2) | Kiefer Sherwood/6, Carson Meyer/4 |
| 3rd | 9:14 | MIA | 5-0 | EV EA DP | Kiefer Sherwood (2) | Karch Bachman/2, Grant Frederic/1 |
| | | | | |
| --- | --- | --- | --- | --- |
| Scoring | 1st | 2nd | 3rd | Final |
| Maine | 0 | 0 | 0 | 0 |
| Miami | 0 | 3 | 2 | 5 |
| | | | | |
| --- | --- | --- | --- | --- |
| Shots on Goal | 1st | 2nd | 3rd | SOG |
| Maine | 9 | 12 | 12 | 33 |
| Miami | 12 | 13 | 15 | 40 |
| | | | |
| --- | --- | --- | --- |
| Team Stats and Records | PP | PIM | SHGF |
| Maine (3-2-1) | 0/6 | 10/20 | 0 |
| Miami (2-1-2) | 2/8 | 8/16 | 0 |
| | | | | | | |
| --- | --- | --- | --- | --- | --- | --- |
| Maine Goaltending | MIN | GA | 1 | 2 | 3 | Saves |
| Rob McGovern (L, 3-2-1) | 46:36 | 4 | 12 | 10 | 6 | 28 |
| Stephen Mundinger | 13:19 | 1 | 0 | 0 | 7 | 7 |
| Empty Net | 0:05 | 0 | | | | |
| | | | | | | |
| --- | --- | --- | --- | --- | --- | --- |
| Miami Goaltending | MIN | GA | 1 | 2 | 3 | Saves |
| Ryan Larkin (W, 2-1-2) | 59:29 | 0 | 9 | 12 | 12 | 33 |
| Empty Net | 0:31 | 0 | | | | |
It was a tale of two games tonight as the Men's Hockey program fell to the Miami (OH) RedHawks on the back end of their two game series.
The first period saw both clubs exchange chances as the RedHawks outshot the Black Bears 12-10.
Period 2 would prove to be the game changing period as Maine was whistled for 4 penalties in which the Red Hawks were able to convert on, along with adding an even strength tally. Anthony Louis opened the scoring at the 3:42 mark of the 2nd period completing a give and go play on the rush with Josh Melnick to give the RedHawks a 1-0 lead. Louis Belpedio would add to the RedHawks lead at 4:07 into the 2nd period. The RedHawks were able to execute on the faceoff off a Carson Meyer win. Anthony Louis widened out and then hit Belpedio at the top of the circle. Belpedio did the rest beating McGovern giving the RedHawks a 2-0 lead. At the 9:18 mark of the 2nd period, Louis Belpedio would once again find the back of the net on the powerplay as Kiefer Sherwood found him on a low to high play. Carson Meyer would add a secondary assist on the play, giving the RedHawks a 3-0 lead heading into the 3rd Period.
Miami (OH) continued their momentum in the 3rd period as Scott Dornbrock beat McGovern on assists from Kiefer Sherwood and Carson Meyer. This ended McGovern's night where he made 28 saves on 32 shots. This paved the way for the collegiate debut for freshman Stephen Mundinger. The RedHawks scored on a delayed penalty as Karch Bachman was able to slide the puck passed a sliding Dane Gibson on the rush, to Kiefer Sherwood who did the rest, sending the goal passed Mundinger's blocker and giving the RedHawks a 5-0 lead. As a bright spot, this was the only goal Mundinger surrendered and was able to turn away multiple chances including a 2 on 0 from inside the top of the circles. Mundinger made 7 saves on 8 attempts.
Maine travels to Colgate next weekend to meet the Raiders in brand new Class of 1965 Arena. Puck drop is set for 7:00 pm EST.