Friday, November 18, 2016
Merrimack College Clipped By Wisconsin, 3-2
Junior forward Brett Seney scores two goals for Warriors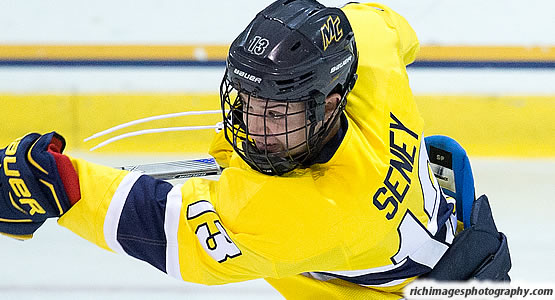 Junior forward Brett Seney scored two goals for the Warriors
| | | | | | | |
| --- | --- | --- | --- | --- | --- | --- |
| Prd | Time | Team | Score | Type | Scored By | Assists |
| 1st | 0:21 | WIS | 1-0 | EV | Luke Kunin (6) | Ryan Wagner/4 |
| 1st | 14:12 | WIS | 2-0 | PP | Jake Linhart (1) | Cameron Hughes/7, Grant Besse/8 |
| 2nd | 7:22 | MER | 1-2 | EV | Brett Seney (4) | Sami Tavernier/2, Alex Carle/5 |
| 3rd | 1:36 | WIS | 3-1 | PP GW | Max Zimmer (1) | Dan Labosky/3, Seamus Malone/6 |
| 3rd | 5:37 | MER | 2-3 | EV | Brett Seney (5) | - |
| | | | | |
| --- | --- | --- | --- | --- |
| Scoring | 1st | 2nd | 3rd | Final |
| Merrimack | 0 | 1 | 1 | 2 |
| Wisconsin | 2 | 0 | 1 | 3 |
| | | | | |
| --- | --- | --- | --- | --- |
| Shots on Goal | 1st | 2nd | 3rd | SOG |
| Merrimack | 6 | 9 | 4 | 19 |
| Wisconsin | 11 | 12 | 13 | 36 |
| | | | |
| --- | --- | --- | --- |
| Team Stats and Records | PP | PIM | SHGF |
| Merrimack (4-6-3) | 0/3 | 8/16 | 0 |
| Wisconsin (6-3-0) | 2/8 | 3/6 | 0 |
| | | | | | | |
| --- | --- | --- | --- | --- | --- | --- |
| Merrimack Goaltending | MIN | GA | 1 | 2 | 3 | Saves |
| Drew Vogler (L, 4-5-3) | 59:03 | 3 | 9 | 12 | 12 | 33 |
| Empty Net | 0:57 | 0 | | | | |
| | | | | | | |
| --- | --- | --- | --- | --- | --- | --- |
| Wisconsin Goaltending | MIN | GA | 1 | 2 | 3 | Saves |
| Jack Berry (W, 2-0-0) | 59:49 | 2 | 6 | 8 | 3 | 17 |
| Empty Net | 0:11 | 0 | | | | |
MADISON, Wis. - The Merrimack College men's ice hockey team saw a two-goal night from junior Brett Seney (London, Ontario), but the Warriors dropped their weekend series opener against Wisconsin, 3-2, on Friday night at the Kohl Center.
The Basics
Score: Wisconsin 3, Merrimack 2
Records: Merrimack (4-6-3, 0-2-3 HEA) | #RV Wisconsin (6-3-0, 0-0-0 B1G)
Location: Kohl Center | Madison, Wis.
Game Duration: 2:32
How It Happened
1st Period
- Wisconsin struck very early thanks to a bit of puck luck, as a deflection at the blue line led to Luke Kunin netting his sixth goal of the season just 21 seconds in to give the Badgers an early lead.
- The hosts thought they had another goal with just over 12 minutes to play, but that would-be tally was disallowed after review, which ruled that illegal contact was made with Merrimack goaltender Drew Vogler (Florissant, Mo.) prior to the goal being scored.
- The Badgers did manage to light the lamp once more in the period while on their power play, as Jake Linhart's first of the season snuck through a screen at the 14:12 mark, giving the Badgers a two-lead lead after 20 minutes.
2nd Period
- Merrimack's penalty kill went to work early in the second, turning away back-to-back Wisconsin power plays that included over a minute's worth of 5-on-3 time, to keep the deficit at two.
- Seney cut the deficit in half with his fourth goal of the year at 7:22 after redirecting the puck off his skate and in. The play was reviewed but the officiating crew deemed it a good goal.
3rd Period
- The Badgers were able to regain their two-goal lead thanks to their second power play marker of the night early in the third, as Max Zimmer recorded his first collegiate goal 96 seconds into the final frame to push Wisconsin ahead, 3-1.
- Seney, though, assured the Warriors wouldn't back down and registered his second goal of the night at 5:37 of the third, getting the visitors back to within one (3-2).
- Skating with an extra attacker for the final minute of regulation, Merrimack came close to netting the equalizer but could not push the tying tally across, as Wisconsin held on for the series-opening win.
Notes & Notables
- Seney posted just the second multi-goal game of his career and first since doing so in a win over Quinnipiac at home on Jan. 17, 2015.
- Seney now has four multi-point games this season, the most among all Warriors.
- Merrimack fell to 0-6-3 when allowing the first goal of the game this season, and 0-6-2 when being held to fewer than three goals.
- Merrimack was held to under 20 shots for the first time this season (19).
Goal Descriptions
WIS #1 (Kunin/Wagner) | P1 0:21 - As Merrimack tried to clear the defensive zone, Ryan Wagner gets his stick down on an attempted outlet pass and causes the puck to bounce back and directly to Luke Kunin, who was still in the zone, behind the defense, and stuffs a mini-breakaway attempt over the pad of Drew Vogler blocker side.
WIS #2 (Linhart/Hughes/Besse) | P1 14:12 (PP) - While on the power play, Wisconsin works the puck from the right corner to the right point, where Jake Linhart fires a wrist shot that winds up in the upper-left corner of the net past a screened Vogler.
MC #1 (Seney/Tavernier/Carle) | P2 7:22 - Alex Carle works a breakout pass from the right goal line extended up to Sami Tavernier, who comes in 2-on-1 with Brett Seney. Tavernier's shot from in close ricocheted off a Wisconsin defender's stick but was redirected off Seney's skate without a distinct kicking motion, who was crashing at the back post.
WIS #3 (Zimmer/Labosky/Malone) | P3 1:36 (PP) - From the right wing goal line extended, Dan Labosky sends a pass across the crease to a wide-open Max Zimmer, who scores from the bottom of the near circle.
MC #2 (Seney) | P3 5:37 - Brett Seney picks up the puck in the neutral zone and skates it into the Wisconsin zone, gets behind the defense and beats goaltender Jack Berry with a tough-angle shot over the right shoulder from the bottom of the far circle.
MERRIMACK LINEUP
Hennig | Gustafsson | Irvine
Seney | A. Larsson | Tavernier
Petti | Babcock | LeBlanc
Coomes | Kramer | Drevitch
Biega | Lashyn
Kolquist | Kovacevic
Spaxman| Carle
Vogler
Delia
Pantano
Game Leaders (MC // WIS)
Points: Three players (1) // Eight players (1)
Goals: Brett Seney (2) // Three players (1)
Assists: Sami Tavernier/Alex Carle (1) // Five players (1)
Shots: Jace Hennig (5) // Seamus Malone (5)
Saves: Drew Vogler (33-for-36) // Jack Berry (17-for-19)
Facts and Figures (MC // WIS)
Power Plays: 0-3 // 2-8
Penalties: 8 Penalties - 16 Minutes // 3 Penalties - 6 Minutes
SOG: 6-11 // 9-12 // 4-13 // 19-36
Up Next
Merrimack and Wisconsin round out the season series tomorrow night back at the Kohl Center. Puck drop is set for 8 p.m. Eastern.