Saturday, January 21, 2017
Northeastern Sweeps Weekend With 4-2 Win At Merrimack
Senior forward Zach Aston-Reese and freshman forward Matt Filipe each record goal and assist for Huskies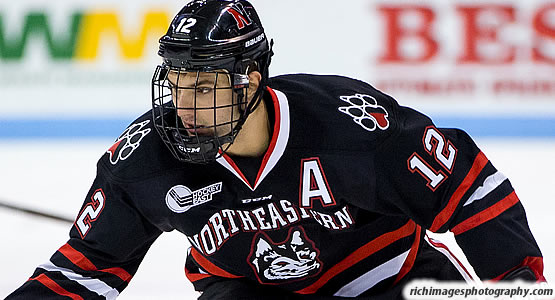 Senior forward Zach Aston-Reese had a goal and an assist for the Huskies
| | | | | | | |
| --- | --- | --- | --- | --- | --- | --- |
| Prd | Time | Team | Score | Type | Scored By | Assists |
| 1st | 6:15 | NOE | 1-0 | PP | Adam Gaudette (13) | Garret Cockerill/14, Dylan Sikura/24 |
| 1st | 16:05 | MER | 1-1 | PP | Johnathan Kovacevic (2) | Jace Hennig/8, Hampus Gustafsson/8 |
| 2nd | 2:26 | MER | 2-1 | PP | Jace Hennig (4) | Chris LeBlanc/3, Johnathan Kovacevic/10 |
| 2nd | 6:55 | NOE | 2-2 | EV | Matt Filipe (4) | Zach Aston-Reese/19 |
| 2nd | 12:36 | NOE | 3-2 | PP GW | Zach Aston-Reese (22) | John Stevens/15, Dylan Sikura/25 |
| 3rd | 9:44 | NOE | 4-2 | PP | Eric Williams (2) | Matt Filipe/5, Jeremy Davies/6 |
| | | | | |
| --- | --- | --- | --- | --- |
| Scoring | 1st | 2nd | 3rd | Final |
| Northeastern | 1 | 2 | 1 | 4 |
| Merrimack | 1 | 1 | 0 | 2 |
| | | | | |
| --- | --- | --- | --- | --- |
| Shots on Goal | 1st | 2nd | 3rd | SOG |
| Northeastern | 14 | 13 | 8 | 35 |
| Merrimack | 7 | 19 | 9 | 35 |
| | | | |
| --- | --- | --- | --- |
| Team Stats and Records | PP | PIM | SHGF |
| Northeastern (9-10-5) | 3/7 | 6/12 | 0 |
| Merrimack (8-13-3) | 2/5 | 8/16 | 0 |
| | | | | | | |
| --- | --- | --- | --- | --- | --- | --- |
| Northeastern Goaltending | MIN | GA | 1 | 2 | 3 | Saves |
| Ryan Ruck (W, 9-9-4) | 60:00 | 2 | 6 | 18 | 9 | 33 |
| | | | | | | |
| --- | --- | --- | --- | --- | --- | --- |
| Merrimack Goaltending | MIN | GA | 1 | 2 | 3 | Saves |
| Drew Vogler (L, 6-8-3) | 58:19 | 4 | 13 | 11 | 7 | 31 |
| Empty Net | 1:41 | 0 | | | | |
NORTH ANDOVER, Mass. - The Merrimack College men's ice hockey had an early second-period lead, but visiting Northeastern responded with the next three goals to sweep both schools' home-and-home series after the Warriors fell, 4-2, on Saturday night at Lawler Rink.
The Basics
Score: Northeastern 4, Merrimack 2
Records: Merrimack (8-13-3, 2-7-3 HEA) | Northeastern (9-10-5, 3-8-3 HEA)
Location: Lawler Rink | North Andover, Mass.
Attendance: 2391
Game Duration: 2:15
How It Happened
- Northeastern had three early power plays and capitalized directly off a faceoff win while skating with a brief 5-on-3 advantage, as Adam Gaudette ripped home his 13th of the year off a one-timer feed from Garrett Cockerill to put the Huskies ahead 6:15 into the contest.
- But the home side evened things up 10 minutes later while on a power play of its own after freshman Johnathan Kovacevic (Granby, Ontario) snuck in a wrist shot from above the right circle, as his second tally of the year tied things up at 16:05 of the opening frame. Junior Jace Hennig (Port Moody, British Columbia) and senior Hampus Gustafsson (Ljungby, Sweden) helped set up the play along the right wing boards.
- The start of the middle frame featured an early pair of Warrior power plays, and the hosts capitalized on their second after Hennig collected a shot that caromed off the right end boards and stuffed it past NU goaltender Ryan Ruck for his fourth of the year at 2:26. Senior Chris LeBlanc (Winthrop, Mass.) put the puck in deep for the helper, while Kovacevic secured his 10th assist on the play, as well.
- Roughly four minutes later, the Huskies leveled the ledger after the nation's leading scorer, Zach Aston-Reese, picked up a loose puck above the right circle and fed Matt Filipe, who backhanded one through traffic from the right dot to tie things up.
- Northeastern's fifth power play opportunity of the night would give way to their third goal, as Aston-Reese waited out goaltender Drew Vogler (Florissant, Mo.) and tucked it by him after receiving the puck in front of the crease from John Stevens, propelling the Huskies in front, 3-2, and that score went unchanged heading into the third.
- The Huskies added an insurance tally with just over 10 minutes to play after Eric Williams toe-dragged and scored off a wrister from the slot to make it a 4-2 game.
- Merrimack pulled Vogler over the final 90 seconds in favor of the extra attacker and had another late power play for a 6-on-4 advantage, but Ruck had another 30-plus-save effort to backstop the Huskies to the sweep.
Notes & Notables
- Saturday marked Merrimack's first game with multiple power play goals since netting three against Mercyhurst back on Nov. 4 as part of a 5-1 home victory.
- Saturday was also the first time both Merrimack and its opponent each had multiple power play goals since a 5-5 tie at home against Boston College on Feb. 13, 2016; each school had two tallies with the man advantage that night.
- Northeastern became the second team this year to score three power play goals in a game against the Warriors; the first was New Hampshire on Oct. 29, 2016, in a 6-2 loss in Durham.
Merrimack Lineup
Hennig | Gustafsson | Irvine
Seney | A. Larsson | Tavernier
Coomes | L. Larsson | LeBlanc
Petti | Babcock | Tibbet
Biega | Carle
Kolquist | Cook
Lashyn | Kovacevic
Vogler
Pantano
Game Leaders (MC // NU)
Points: Johnathan Kovacevic/Jace Hennig (2) // Three players (2)
Goals: Johnathan Kovacevic/Jace Hennig (1) // Four players (1)
Assists: Johnathan Kovacevic/Jace Hennig (1) // Three players (2)
Shots: Sami Tavernier (9) // Dylan Sikura (7)
Faceoffs Won: Alfred Larsson (21) // John Stevens (12)
Saves: Drew Vogler (31-for-35) // Ryan Ruck (33-for-35)
Facts and Figures (MC // NU)
Power Plays: 2-5 // 3-7
Penalties: 6 Penalties - 12 Minutes // 8 Penalties - 16 Minutes
Faceoffs: 38 // 27
SOG: 7-14 // 19-13 // 9-8 // 35-35
Up Next
Merrimack will have a short turnaround before hosting the current No. 3/4-ranked team in Boston University next Tuesday, Jan. 24, at Lawler Rink. Following that 7 p.m. puck drop, the Warriors and Terriers will conclude the season series on Friday (Jan. 27) at Agganis Arena at 7:30 p.m.