Merrimack College Rolls Past Mercyhurst, 5-1
Sophomore defenseman Alex Carle registers three assists for Warriors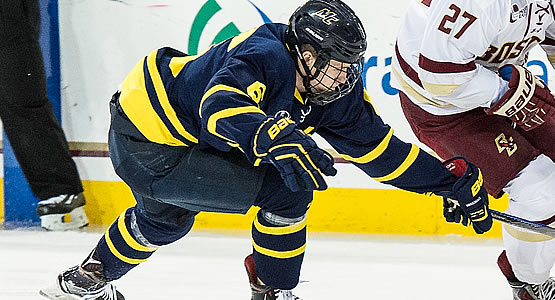 Sophomore defenseman Alex Carle had three assists for the Warriors
| | | | | | | |
| --- | --- | --- | --- | --- | --- | --- |
| Prd | Time | Team | Score | Type | Scored By | Assists |
| 1st | 1:50 | MER | 1-0 | PP | Johnathan Kovacevic (1) | Mathieu Foget/2, Alex Carle/1 |
| 1st | 12:36 | MER | 2-0 | EV GW | Brett Seney (2) | Mathieu Tibbet/2, Jonathan Lashyn/2 |
| 2nd | 4:26 | MER | 3-0 | PP | Hampus Gustafsson (5) | Alex Carle/2, Brett Seney/6 |
| 2nd | 6:27 | MRC | 1-3 | PP | Zach Todd (3) | Lester Lancaster/5, Derek Barach/6 |
| 2nd | 18:37 | MER | 4-1 | EV | Mathieu Tibbet (1) | Alex Carle/3 |
| 3rd | 8:54 | MER | 5-1 | PP | Michael Babcock (2) | Jared Kolquist/3, Derek Petti/1 |
| | | | | |
| --- | --- | --- | --- | --- |
| Scoring | 1st | 2nd | 3rd | Final |
| Mercyhurst | 0 | 1 | 0 | 1 |
| Merrimack | 2 | 2 | 1 | 5 |
| | | | | |
| --- | --- | --- | --- | --- |
| Shots on Goal | 1st | 2nd | 3rd | SOG |
| Mercyhurst | 12 | 13 | 5 | 30 |
| Merrimack | 11 | 13 | 17 | 41 |
| | | | |
| --- | --- | --- | --- |
| Team Stats and Records | PP | PIM | SHGF |
| Mercyhurst (2-3-0) | 1/10 | 10/20 | 0 |
| Merrimack (4-4-1) | 3/9 | 11/22 | 0 |
| | | | | | | |
| --- | --- | --- | --- | --- | --- | --- |
| Mercyhurst Goaltending | MIN | GA | 1 | 2 | 3 | Saves |
| Brandon Wildung (L, 2-3-0) | 58:47 | 5 | 9 | 11 | 16 | 36 |
| Empty Net | 1:13 | 0 | | | | |
| | | | | | | |
| --- | --- | --- | --- | --- | --- | --- |
| Merrimack Goaltending | MIN | GA | 1 | 2 | 3 | Saves |
| Drew Vogler (W, 4-3-1) | 59:47 | 1 | 12 | 12 | 5 | 29 |
| Empty Net | 0:13 | 0 | | | | |
NORTH ANDOVER, Mass. - The Merrimack College men's ice hockey team scored three power play goals while 10 different players recorded at least a point to highlight a 5-1 bounce-back victory over Mercyhurst on Friday nigh at Lawler Rink.
The Basics
Score: Merrimack 5, Mercyhurst 1
Records: Merrimack (4-4-1, 0-1-1 HEA) | Mercyhurst (2-3-0, 2-1-0 AHA)
Location: Lawler Rink | North Andover, Mass.
Attendance: 2007
Game Duration: 2:14
How It Happened
- Two early penalties against Merychurst put Merrimack in prime position, as the Warriors cashed in a 5-on-3 power play after freshman Johnathan Kovacevic (Grimsby, Ontario) scored his first in the Navy and Gold just 1:50 into the game to give the hosts a 1-0 edge.
- A bit later in the period, Merrimack doubled its lead with a pretty scoring sequence off the rush, as junior Brett Seney (London, Ontario) netted his second of the year at 12:36 to give the Warriors a 2-0 advantage that they carried into the intermission.
- Merrimack pushed the lead to three with its second power play strike of the night at 4:26 of the second frame, as senior Hampus Gustafsson (Ljungby, Sweden) buried his team-leading fifth of the year off a rebound.
- Mercyhurst took advantage of three subsequent Merrimack penalties and Zach Todd eventually scored while skating with a 5-on-3 advantage to break up the clean sheet at 6:27 of the second; that, however, was answered by junior Mathieu Tibbet's (Dover, Del.) first tally of the year with just under 90 seconds to play in the period to stake the hosts a 4-1 edge entering the final stanza.
- The Warriors never let Mercyhurst get closer with a dominant showing in the third period, outshooting the visitors by a 17-5 margin. Sophomore Michael Babcock (Northville, Mich.) added an insurance strike by burying a rebound with the home side on the power play at the 8:54 mark to account for the final margin of victory.
Notes & Notables
- Carle tied his previous career-high with three points on Friday, doing so for the first time since tallying three points against Arizona State on Jan. 31, 2016.
- Merrimack scored three power play goals for the first time since going 3-for-8 in a 4-2 victory against Northeastern at home on Oct. 21, 2014.
Goal Descriptions
MC #1 (Kovacevic/Foget/Carle) | P1 1:50 (PP/5x3) - Alex Carle fires a shot from the top of the left circle that caroms off the post and through the crease; Mathieu Foget chops the puck behind the net to a Mercyhurst skater, who tries to clear but the puck is intercepted by Johnathan Kovacevic, who scores glove side on a slap shot from above the far circle.
MC #2 (Seney/Tibbet/Lashyn) | P1 12:36 - Jonathan Lashyn plays an outlet pass from the defensive zone to Brett Seney, who carries the puck through the neutral zone and over the blue line before dishing a backhand pass to Mathieu Tibbet in the far circle. Tibbet returns the feed to Seney in the slot, who goes forehand over the blocker.
MC #3 (Gustafsson/Carle/Seney) | P2 4:26 (PP) - Brett Seney picks up a loose puck In the corner and plays it up the boards to the right point for a one-timer from Alex Carle. Hampus Gustafsson picks up the rebound in the slot and stuffs it past two defenders near the far post.
MU #1 (Todd/Lancaster/Barach) | P2 6:27 (PP/5x3) - Zach Todd scores off a one-timer from the top of the left wing circle.
MC #4 (Tibbet/Carle) | P2 18:37 - A Mercyhurst shot that was saved kicks out to the left wing circle to Alex Carle, who skates up to the blue line before threading a pass through center to Mathieu Tibbet, who gets a jump behind the two defensemen and scores over the blocker.
MC #5 (Babcock/Kolquist/Petti) | P3 8:54 (PP) - Derek Petti curls up from the right wing circle and centers for Jared Kolquist straightaway, who rips a slap shot that gets caught up in traffic before Michael Babcock pushes his own rebound into the net around an outstretched left pad.
MERRIMACK LINEUP
Hennig | Gustafsson | Irvine
Seney | A. Larsson | Tibbet
Petti | Babcock | Drevitch
Coomes | Foget| Tavernier
Biega | Carle
Kolquist | Kovacevic
Spaxman| Lashyn
Vogler
Pantano
Game Leaders (MC // MU)
Points: Alex Carle (3) // Three players (1)
Goals: Five tied (1) /Zach Todd (1)
Assists: Alex Carle (3) // Two tied (1)
Shots: Alex Carle (5) // Three tied (3)
Faceoffs Won: Alfred Larsson/Michael Babcock (11) // Derek Barach (13)
Saves: Drew Vogler (29-for-30) // Brandon Wildung (36-for-41)
Facts and Figures (MC // MU)
Power Plays: 3-9 // 1-10
Penalties: 10 Penalties - 20 Minutes // 11 Penalties - 22 Minutes
Faceoffs: 41 // 33
SOG: 11-12 // 13-13 // 17-5 // 41-30
Up Next
Merrimack will conclude its two-game weekend when it resumes Hockey East play with a trip to No. 15/14 Providence College tomorrow night. Puck drop from Schneider Arena is set for 7 p.m.