Thursday, October 27, 2016
Huska's 47 Saves Lead UConn Past Notre Dame, 4-2
Freshman goaltender Adam Huska makes 47 saves for Huskies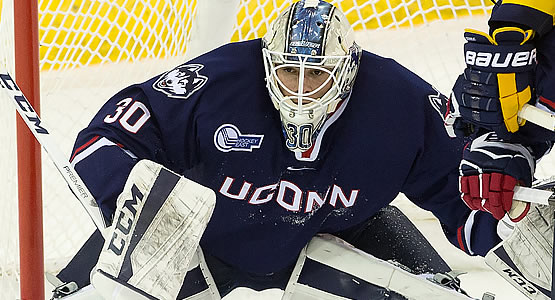 Freshman goaltender Adam Huska made 47 saves for the Huskies
| | | | | | | |
| --- | --- | --- | --- | --- | --- | --- |
| Prd | Time | Team | Score | Type | Scored By | Assists |
| 1st | 15:16 | CON | 1-0 | EV | Justin Howell (1) | Joona Kunnas/2, Jesse Schwartz/1 |
| 1st | 17:13 | CON | 2-0 | PP | Maxim Letunov (1) | Brian Morgan/2, Tage Thompson/3 |
| 2nd | 12:50 | NDM | 1-2 | EV | Tory Dello (1) | Connor Hurley/7, Dylan Malmquist/6 |
| 3rd | 7:23 | CON | 3-1 | EV GW | Karl El-Mir (4) | Derek Pratt/2, Max Kalter/5 |
| 3rd | 13:02 | NDM | 2-3 | EV | Jake Evans (2) | Andrew Oglevie/6, Anders Bjork/7 |
| 3rd | 18:54 | CON | 4-2 | EV EN | Maxim Letunov (2) | Tage Thompson/4 |
| | | | | |
| --- | --- | --- | --- | --- |
| Scoring | 1st | 2nd | 3rd | Final |
| Connecticut | 2 | 0 | 2 | 4 |
| Notre Dame | 0 | 1 | 1 | 2 |
| | | | | |
| --- | --- | --- | --- | --- |
| Shots on Goal | 1st | 2nd | 3rd | SOG |
| Connecticut | 11 | 5 | 9 | 25 |
| Notre Dame | 14 | 21 | 14 | 49 |
| | | | |
| --- | --- | --- | --- |
| Team Stats and Records | PP | PIM | SHGF |
| Connecticut (3-1-3) | 1/1 | 6/12 | 0 |
| Notre Dame (3-3-1) | 0/6 | 1/2 | 0 |
| | | | | | | |
| --- | --- | --- | --- | --- | --- | --- |
| Connecticut Goaltending | MIN | GA | 1 | 2 | 3 | Saves |
| Adam Huska (W, 1-1-1) | 60:00 | 2 | 14 | 20 | 13 | 47 |
| | | | | | | |
| --- | --- | --- | --- | --- | --- | --- |
| Notre Dame Goaltending | MIN | GA | 1 | 2 | 3 | Saves |
| Cal Petersen (L, 3-3-1) | 59:21 | 3 | 9 | 5 | 7 | 21 |
| Empty Net | 0:39 | 1 | | | | |
NOTRE DAME, Ind. -- The No. 6/7 Notre Dame Fighting Irish hockey team peppered the Connecticut goal all game but could not come back from a 3-1 deficit and ultimately fell to the Huskies, 4-2, in the Hockey East opener for both teams on Thursday night at the Compton Family Ice Arena (2,936).
Notre Dame forced UConn goaltender Adam Huska into making 47 saves on the night, including 20 in a busy second period.
The Huskies proved opportunistic on special teams, finishing 1-for-1 on the power play, while also holding Notre Dame to a 0-for-6 mark with the man advantage.
HOW IT HAPPENED
Connecticut took a 1-0 lead at 15:16 of the first period on a Justin Howell goal and just under two minutes later made it a 2-0 lead on a Maxim Letunov power-play goal.
Tory Dello notched his first career goal midway through the second period to make it a 2-1 game.
But UConn took advantage of a chance at 7:23 of the third when Karl El-Mir's pass through the slot deflected in off a skate in front for what proved to be the game winner.
Jake Evans scored his second goal of the season at 13:02 of the third to pull the Irish back to within one but Huska remained equal to the task for the remainder of the game and Lutunov added an empty netter with just over a minute to play.
Cal Petersen finished with 21 saves in the Notre Dame net.
COACH JACKSON'S THOUGHTS
On opportunities had and missed...
"It's not like we didn't have chances to score. You have to give their goaltender credit of course, but we just need to bear down on our chances and make sure that we've got people at the net for potential rebounds. I thought he (Huska) was really good. That's two weeks in a row that we've seen really talented freshmen goaltenders."
On what went wrong with the power plays...
"We had wide open nets, and we had pucks on the goal line that we couldn't handle. It was frustrating because I actually thought we played pretty well. I can't be overly critical about our guys, but when we lose a game there's obviously disappointment in our inability to finish."
On changes that need to be made for tomorrow night...
"We have to be better on faceoffs. That led to one goal against us. We lost some draws clean, and one ended up in our net. The power play goal they scored was just a simple thing like a bad clear, where you have the puck on your stick and you can't get it out. We didn't play a perfect game, but we did some good things. I thought our offensive game transitioned, and we used our speed really well. We just need to make sure guys are getting inside body position on their defensemen, getting to the net, and shooting the puck. We shot a lot of pucks right to the goaltender. If he sees it, he'll stop it."
IRISH FORWARD Jake Evans
On Notre Dame's play...
"I think we started out pretty well. A couple bounces didn't go our way. One of them was a block off our guy and went over Cal (Peterson). The game winner was off a skate. Those bounces drained us a little bit, but I think all in all we had a pretty good game. The guys were moving and staying focused. We ran into a hot goalie, but once you do that you have to get to the net and make sure he doesn't see the puck, or not even give him a chance. I think that was a big factor in the game. We had a lot of opportunities to score, too. Tomorrow we'll have to fix that."
On not being able to finish...
"UConn shut it down pretty well. They were locking down the blue line. There were a couple times where I thought I could get by, but they got their stick on the puck. I'll give them credit, they ... blocked shots, they chipped pucks out and we made more turnovers than they did."
On adjusting to the puck's poor bounces during the game...
"When you're in these situations--as a leader especially - you have to keep the bench positive. It's so early in the game at that point. You're playing well and focused. You don't want guys to make extra moves and play risky. You just want to stick with what you're doing. I think we did a pretty good job of that, but UConn capitalized on their chances, and we didn't. That's probably the biggest issue."
NOTRE DAME SCORING
2-1 | Tory Dello cut the UConn lead to 2-1 at 12:50 of the second period with a shot from the point following an offensive zone faceoff. Dylan Malmquist won the faceoff and then Connor Hurley tipped it back to Dello to earn the assists on the play.
3-2 | Jake Evans scored his second goal of the season and the 17th of his Notre Dame career when he sent a quick wrist shot from the slot through traffic following a rebound of an Andrew Oglevie shot. Anders Bjork also notched an assist on the play, his 12th point of the season (5-7-12).
UP NEXT
The Irish close out their two-game series with the Huskies at 7:35 p.m. tomorrow night (Friday, Oct 28) at the Compton Family Ice Arena.
To purchase tickets visit UND.com/BuyTickets.
UCONN SERIES NOTES
- Cal Petersen made his 57th-consecutive start in goal for the Irish in game two of the weekend series.
- The Irish are now 3-1-1 all-time against UConn.
- Sophomore Andrew Oglevie has a career-long, five-game point streak (3-4-7).