Saturday, February 4, 2017
Larsson's Two Goals Lift Merrimack Into 2-2 Tie At UConn
Sophomore forward Ludvig Larsson scores twice in third period for Warriors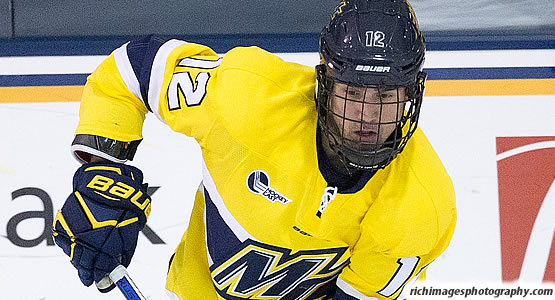 Sophomore forward Ludvig Larsson scored two goals for the Warriors
| | | | | | | |
| --- | --- | --- | --- | --- | --- | --- |
| Prd | Time | Team | Score | Type | Scored By | Assists |
| 2nd | 6:22 | CON | 1-0 | PP | Evan Richardson (5) | Joseph Masonius/8 |
| 3rd | 5:28 | CON | 2-0 | EV | Spencer Naas (13) | Corey Ronan/6, Tage Thompson/10 |
| 3rd | 10:59 | MER | 1-2 | PP | Ludvig Larsson (4) | Jace Hennig/10 |
| 3rd | 19:30 | MER | 2-2 | EV EA GT | Ludvig Larsson (5) | Jace Hennig/11, Chris LeBlanc/5 |
| | | | | | |
| --- | --- | --- | --- | --- | --- |
| Scoring | 1st | 2nd | 3rd | OT | Final |
| Merrimack | 0 | 0 | 2 | 0 | 2 |
| Connecticut | 0 | 1 | 1 | 0 | 2 |
| | | | | | |
| --- | --- | --- | --- | --- | --- |
| Shots on Goal | 1st | 2nd | 3rd | OT | SOG |
| Merrimack | 4 | 5 | 9 | 1 | 19 |
| Connecticut | 7 | 8 | 9 | 0 | 24 |
| | | | |
| --- | --- | --- | --- |
| Team Stats and Records | PP | PIM | SHGF |
| Merrimack (10-13-5) | 1/3 | 4/8 | 0 |
| Connecticut (10-10-8) | 1/3 | 4/8 | 0 |
| | | | | | | | |
| --- | --- | --- | --- | --- | --- | --- | --- |
| Merrimack Goaltending | MIN | GA | 1 | 2 | 3 | OT | Saves |
| Collin Delia (T, 4-5-2) | 64:04 | 2 | 7 | 7 | 8 | 0 | 22 |
| Empty Net | 0:56 | 0 | | | | | |
| | | | | | | | |
| --- | --- | --- | --- | --- | --- | --- | --- |
| Connecticut Goaltending | MIN | GA | 1 | 2 | 3 | OT | Saves |
| Adam Huska (T, 6-5-4) | 64:51 | 2 | 4 | 5 | 7 | 1 | 17 |
| Empty Net | 0:09 | 0 | | | | | |
HARTFORD, Conn. - The Merrimack Warriors flipped the script on UConn Saturday afternoon at the XL Center; erasing a 2-0 Husky lead in the third period and scoring the tying goal with 30 second left to play to produce the second 2-2 tie in as many nights between the two clubs. The Huskies and Merrimack have now played to a tie in four-straight meetings and five of the last six times they have met.
The Huskies remain at .500 with a 10-10-8 overall mark and at 6-6-4 in Hockey East, picking up two points in the standings on the weekend. Merrimack is now 10-13-5 overall and 4-7-5 in the league.
UConn led 1-0 after the second period on a power play goal by senior Evan Richardson (Nanaimo, British Columbia) and made it 2-0 just 5:28 into the third on a goal by junior Spencer Naas (Minnetonka, Minn.).
Merrimack's Ludvig Larsson scored both Warrior goals on the afternoon, the first coming on the power play at 10:59 to pull his team to within 2-1. Merrimack pulled goaltender Collin Delia with 1:15 left for the extra attacker and it paid off with 30 seconds to play. A Jace Hennig shot was blocked in front and the loose puck came to Larsson who was able to stuff it home through a scrum in front for the tying goal.
On both Larsson goals, Hennig was credited with the assist. In net, Delia finished with 22 saves while UConn goaltender Adam Huska (Zvolen, Slovakia) made 17 saves in goal.
The Huskies held a 24-19 edge on shots while both teams were 1-for-3 on the power play.
QUOTES:
Head Coach Mike Cavanaugh - "Mark (Dennehy) probably feels like I did last night, and I feel like he did. I thought our team played pretty well, I was very happy with the way we competed for all three periods. We had a two-on-one for the short-handed, and I told our guys that we're never going to pass that up. You have to try to score a goal there. You have to play on your toes and play to win. And their defensemen made a nice play and blocked the shot, it came around, we had a four-on-two coming back, got a good bounce and scored. And the six-on-five was very similar, it was a bouncing puck, and Larson came in and had a good whack at it, and it went in. Overall, I was very happy with the effort of our team, I felt we played a pretty sound game, we just couldn't find a way to get two points. It was an apropos for the weekend, the way each team played and came away with two points."
NOTES:
Since joining Hockey East in 2014-15, the Huskies are 1-1-5 against Merrimack. No game in the series over that time saw a team scored more than three goals and the Huskies win and lose were both by one goal. All-time, Merrimack leads the series 24-3-5.
Richardson scored his first goal in 21 games for the Huskies. His last goal came back on October 21 against AIC. On the season, Richardson has five goals and 14 assists.
Naas ended a five-game drought without a goal in the tie. He is second on the club with 13 goals on the season, matching his career-high total from his freshman season.
1st Period:
For the third-straight game, the Huskies played a scoreless first period. UConn posted a 7-4 edge on shots.
2nd Period
UConn ended the scoreless drought with a power play goal at 6:22. Sophomore Joseph Masonius (Spring Lake, N.J.) fed Richardson coming off the left half wall and he took the puck into the slot and ripped a wrist shot past Delia for his fifth goal on the season and a 1-0 lead.
3rd Period:
UConn built their lead to 2-0 at 5:28 on Naas' 13th goal of the season. Sophomore Tage Thompson (Orange, Conn.) fed the puck out of the corner to junior Corey Ronan (Franklin, Mass.) who played the puck to the net. Naas got his stick on the shot and redirected past Delia, five-hole, for a 2-0 lead.
Merrimack began their climb back at 10:59 as Larsson cleaned up a loose puck in front on the power play for his fourth on the season. After pulling the goaltender, the Warriors got their tying goal with 30 seconds left as Larsson scored his second of the night, putting home the puck through a scrum in front.
OT:
Merrimack got the lone shot on goal in the overtime as Brett Seney got denied by Huska breaking in on net.
Up Next:
The Huskies will open a home-and-home Hockey East series with Providence on Wednesday, Feb. 8 at the XL Center. Opening face-off is scheduled for 7:05 pm.