UMass Lowell Downs Colorado College, 8-5
Sophomore forward Ryan Dmowski and junior forward John Edwardh each score two goals for the River Hawks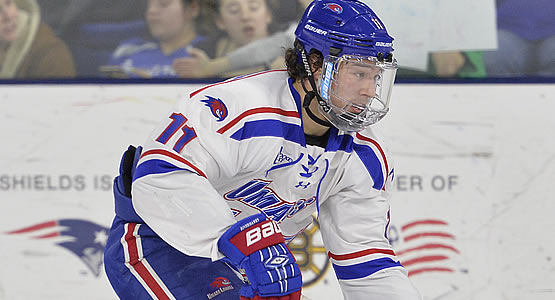 Sophomore forward Ryan Dmowski scored two goals for the River Hawks
| | | | | | | |
| --- | --- | --- | --- | --- | --- | --- |
| Prd | Time | Team | Score | Type | Scored By | Assists |
| 1st | 3:56 | UML | 1-0 | EV | John Edwardh (1) | Joe Gambardella/2 |
| 1st | 7:11 | CC | 1-1 | EV | Nick Halloran (1) | Alex Berardinelli/1, Cole Josefchak/2 |
| 1st | 8:59 | UML | 2-1 | EV | Ryan Dmowski (1) | Tommy Panico/2 |
| 1st | 11:16 | CC | 2-2 | EV | Mason Bergh (1) | Andrew Farny/1, Westin Michaud/1 |
| 1st | 14:54 | CC | 3-2 | SH | Alex Berardinelli (2) | Sam Rothstein/1 |
| 1st | 15:54 | UML | 3-3 | PP | Jake Kamrass (1) | Evan Campbell/1, Dylan Zink/2 |
| 1st | 17:50 | UML | 4-3 | EV | Ryan Dmowski (2) | Connor Wilson/1 |
| 2nd | 1:48 | UML | 5-3 | EV | Connor Wilson (2) | Michael Kapla/2, Ryan Lohin/1 |
| 2nd | 4:59 | UML | 6-3 | PP GW | Joe Gambardella (3) | Michael Kapla/3 |
| 3rd | 0:46 | CC | 4-6 | PP | Teemu Kivihalme (1) | Branden Makara/1, Luc Gerdes/1 |
| 3rd | 2:58 | UML | 7-4 | EV | John Edwardh (2) | C.J. Smith/4, Nick Master/1 |
| 3rd | 9:04 | CC | 5-7 | EV | Trevor Gooch (1) | Tanner Ockey/1, Bryce Van Horn/2 |
| 3rd | 14:29 | UML | 8-5 | PP | Mattias Göransson (2) | C.J. Smith/5, Joe Gambardella/3 |
| | | | | |
| --- | --- | --- | --- | --- |
| Scoring | 1st | 2nd | 3rd | Final |
| UMass Lowell | 4 | 2 | 2 | 8 |
| Colorado College | 3 | 0 | 2 | 5 |
| | | | | |
| --- | --- | --- | --- | --- |
| Shots on Goal | 1st | 2nd | 3rd | SOG |
| UMass Lowell | 11 | 13 | 6 | 30 |
| Colorado College | 8 | 6 | 9 | 23 |
| | | | |
| --- | --- | --- | --- |
| Team Stats and Records | PP | PIM | SHGF |
| UMass Lowell (1-0-2) | 3/5 | 7/14 | 0 |
| Colorado College (1-2-0) | 1/7 | 5/10 | 1 |
| | | | | | | |
| --- | --- | --- | --- | --- | --- | --- |
| UMass Lowell Goaltending | MIN | GA | 1 | 2 | 3 | Saves |
| Christoffer Hernberg | 20:00 | 3 | 5 | 0 | 0 | 5 |
| Tyler Wall (W, 1-0-1) | 40:00 | 2 | 0 | 6 | 7 | 13 |
| | | | | | | |
| --- | --- | --- | --- | --- | --- | --- |
| Colorado College Goaltending | MIN | GA | 1 | 2 | 3 | Saves |
| Alex Leclerc (L, 1-2-0) | 59:54 | 8 | 7 | 11 | 4 | 22 |
| Empty Net | 0:06 | 0 | | | | |
COLORADO SPRINGS, Colo. -- Sophomore forwards Ryan Dmowski (East Lyme, Conn.) and John Edwardh (Calgary, Alta.) each tallied two goals apiece to lead the No. 7 ranked UMass Lowell Hockey team to a 8-5 victory at NCHC foe Colorado College on Friday night at the Broadmoor World Arena in non-conference play.
With the victory, the River Hawks get their first win of the season improving to 1-0-2, while the Tigers fall to 1-2-0. It marks the fourth time since Norm Bazin has been Head Coach of the River Hawks that the team scored eight goals in a single game.
Edwardh and Mattias Goransson (Slottsbron, Sweden) capped the scoring in the third period for the River Hawks.
Sophomore forward Connor Wilson (Calgary, Alta.) opened the scoring in the second period with his second goal of the season just 1:48 into the frame. Senior forward Joe Gambardella (Staten Island, N.Y.) added a power play goal at 4:59 to give the River Hawks a 6-3 lead with his third goal of the season. UMass Lowell outshot CC, 13-6 in the middle stanza.
Dmowski, who posted his first career two-goal game with the River Hawks, notched goals at 8:59 and 17:50 of the opening period, to go along with tallies from Edwardh to open the game and a power play goal from Jake Kamrass (Atlanta, Ga.) to cap off the scoring in the first period. The River Hawks owned an 11-8 shot advantage heading into the locker room at the end of the first frame. Nick Halloran (7:11), Mason Bergh (11:16) and Alex Berardindelli (14:54; SHG) all scored for Colorado College in the opening frame.
Sophomore goaltender Christoffer Hernberg (Espoo, Finland) made his third career start and made five saves on eight shots in the first 20 minutes, giving way to freshman Tyler Wall (Leamington, Ont.) who finished the game with 13 saves in the final 40 minutes of play to pick up the first win of his River Hawks career. Alex Leclerc recorded 22 saves in the losing effort for the Tigers.
Gambardella won 9-of-15 faceoffs (60%) to lead the River Hawks in the faceoff circle.
UMass Lowell went 3-for-5 on the power play and went 6-for-7 on the penalty kill.
The River Hawks finish the two-game series at Colorado College on Saturday, October 15th. Game time is 9 p.m. (ET) from the Broadmoor World Arena in Colorado Springs.