Friday, February 17, 2017
Boston University, New Hampshire Skate To 4-4 Tie
Sophomore forward Jakob Forsbacka Karlsson has game-tying goal and two assists for Terriers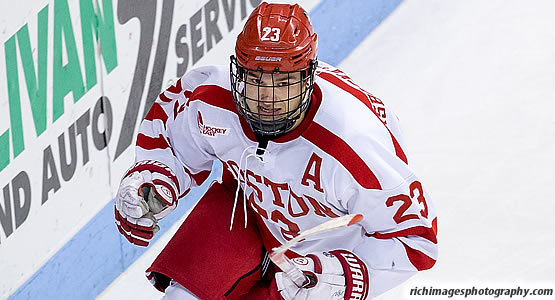 Sophomore forward Jakob Forsbacka Karlsson had a goal and two assists for the Terriers
| | | | | | | |
| --- | --- | --- | --- | --- | --- | --- |
| Prd | Time | Team | Score | Type | Scored By | Assists |
| 1st | 3:07 | UNH | 1-0 | PP | Michael McNicholas (11) | Tyler Kelleher/34, Matias Cleland/29 |
| 1st | 11:42 | UNH | 2-0 | EV | Ara Nazarian (4) | - |
| 2nd | 6:17 | BU | 1-2 | EV | Jordan Greenway (8) | Charlie McAvoy/14, Jakob Forsbacka Karlsson/15 |
| 2nd | 9:11 | BU | 2-2 | PP | Bobo Carpenter (12) | Patrick Harper/19, Dante Fabbro/9 |
| 2nd | 11:00 | UNH | 3-2 | EV | Dylan Chanter (1) | Tyler Kelleher/35, Michael McNicholas/22 |
| 2nd | 19:20 | UNH | 4-2 | EV | Tyler Kelleher (19) | Michael McNicholas/23, Brendan van Riemsdyk/9 |
| 3rd | 0:20 | BU | 3-4 | EV | Charlie McAvoy (4) | Clayton Keller/17, Jakob Forsbacka Karlsson/16 |
| 3rd | 15:36 | BU | 4-4 | EV GT | Jakob Forsbacka Karlsson (12) | Jordan Greenway/18 |
| | | | | | |
| --- | --- | --- | --- | --- | --- |
| Scoring | 1st | 2nd | 3rd | OT | Final |
| New Hampshire | 2 | 2 | 0 | 0 | 4 |
| Boston University | 0 | 2 | 2 | 0 | 4 |
| | | | | | |
| --- | --- | --- | --- | --- | --- |
| Shots on Goal | 1st | 2nd | 3rd | OT | SOG |
| New Hampshire | 9 | 10 | 4 | 1 | 24 |
| Boston University | 6 | 15 | 17 | 6 | 44 |
| | | | |
| --- | --- | --- | --- |
| Team Stats and Records | PP | PIM | SHGF |
| New Hampshire (12-14-5) | 1/5 | 2/4 | 0 |
| Boston University (19-9-3) | 1/2 | 5/10 | 0 |
| | | | | | | | |
| --- | --- | --- | --- | --- | --- | --- | --- |
| New Hampshire Goaltending | MIN | GA | 1 | 2 | 3 | OT | Saves |
| Daniel Tirone (T, 12-12-5) | 65:00 | 4 | 6 | 13 | 15 | 6 | 40 |
| | | | | | | | |
| --- | --- | --- | --- | --- | --- | --- | --- |
| Boston University Goaltending | MIN | GA | 1 | 2 | 3 | OT | Saves |
| Jake Oettinger (T, 16-8-3) | 64:08 | 4 | 7 | 8 | 4 | 1 | 20 |
| Empty Net | 0:52 | 0 | | | | | |
BOSTON - The No. 4 Boston University men's ice hockey team erased a pair of two-goal deficits to salvage a 4-4 draw with New Hampshire on Friday evening at Agganis Arena in the opener of a home-and-home series.
THE RUNDOWN
Final Score: #4/4 Boston University 4, New Hampshire 4 (OT)
Records: BU (19-9-3, 11-5-3 Hockey East), New Hampshire (12-14-5, 7-8-4 Hockey East)
Location: Agganis Arena - Boston, Mass.
HOW IT HAPPENED
- New Hampshire held a 2-0 lead after the first intermission and a 4-2 advantage after two but the Terriers drew even both times by getting goals from four members of their sophomore class.
- Jakob Forsbacka Karlsson scored the game-tying goal with 4:24 left in regulation and assisted on two other tallies.
- UNH held a 2-0 lead after the first intermission and a 4-2 lead after two.
- Jordan Greenway got BU on the board at 6:17 of the second to cut the visitors' lead to 2-1 before Bobo Carpenter converted on a power-play rush less than three minutes later to make it a 2-2 affair.
- The Wildcats regained a two-goal edge before the end of the middle stanza on goals from Dylan Chanter and Tyler Kelleher at 11:00 and 19:20, respectively.
- BU's second comeback started just 20 seconds into the third when a seeing-eye shot by Charlie McAvoy from the right point got through traffic to beat UNH netminder Danny Tirone and create a 4-3 score.
- The Terriers, who held a 17-4 shot advantage in the third, created the second tie of the game when Forsbacka Karlsson won a faceoff, allowing Greenway to fire at the goal from the foot of the left circle. Tirone saved the shot but Forsbacka Karlsson was there to clean up the rebound.
- Tirone made 40 saves for UNH while freshman netminder Jake Oettinger recorded 20 stops in goal for BU.
GAME NOTES
- The Terriers held a commanding 44-24 lead in shots, including a 38-15 advantage from the beginning of the second period on.
- Tyler Kelleher and Michael McNichols each recorded a goal and two assists for the Wildcats.
- McAvoy and Greenway each registered an assist to go along with their goals.
- Freshman Clayton Keller matched a season high in shots with eight.
- Carpenter extended his point streak to six games (5g, 3a), matching his career high.
- Senior captain Doyle Somerby played forward for the first time as a Terrier.
NEXT UP
- The teams will wrap up their home-and-home series on Saturday (Feb. 18) at the Whittemore Center in Durham, N.H., at 7 p.m.
- The game will be broadcast on ESPN3.