Saturday, October 1, 2016
Boston University Rolls Past Prince Edward Island, 10-2
Freshman forward Patrick Harper posts five goals and two assists for Terriers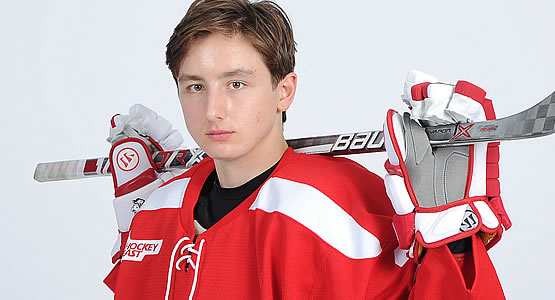 Freshman forward Patrick Harper had five goals and two assists for the Terriers
| | | | | | | |
| --- | --- | --- | --- | --- | --- | --- |
| Prd | Time | Team | Score | Type | Scored By | Assists |
| 1st | 3:16 | BU | 1-0 | EV | Patrick Harper | Jakob Forsbacka Karlsson, Chad Krys |
| 1st | 5:52 | BU | 2-0 | PP | Clayton Keller | Jordan Greenway, Chad Krys |
| 1st | 7:49 | PEI | 1-2 | PP | Cody Payne | Marcus Power, Ryan MacKinnon |
| 1st | 10:39 | BU | 3-1 | PP GW | Patrick Harper | Doyle Somerby, Chad Krys |
| 1st | 12:52 | BU | 4-1 | PP | Dante Fabbro | Charlie McAvoy, Patrick Harper |
| 1st | 17:37 | PEI | 2-4 | PP | Ryan MacKinnon | Marcus Power, JC Campagna |
| 2nd | 2:21 | BU | 5-2 | PP | Clayton Keller | Charlie McAvoy, Jordan Greenway |
| 2nd | 4:53 | BU | 6-2 | EV | Patrick Harper | Jakob Forsbacka Karlsson, Dante Fabbro |
| 2nd | 7:26 | BU | 7-2 | PP | Brandon Hickey | Patrick Harper, Charlie McAvoy |
| 2nd | 11:56 | BU | 8-2 | EV | Patrick Harper | Jakob Forsbacka Karlsson, Charlie McAvoy |
| 3rd | 6:45 | BU | 9-2 | PP | Clayton Keller | - |
| 3rd | 7:54 | BU | 10-2 | SH | Patrick Harper | Doyle Somerby, Shane Switzer |
| | | | | |
| --- | --- | --- | --- | --- |
| Scoring | 1st | 2nd | 3rd | Final |
| Prince Edward Island | 2 | 0 | 0 | 2 |
| Boston University | 4 | 4 | 2 | 10 |
| | | | | |
| --- | --- | --- | --- | --- |
| Shots on Goal | 1st | 2nd | 3rd | SOG |
| Prince Edward Island | 13 | 7 | 10 | 30 |
| Boston University | 14 | 12 | 12 | 38 |
| | | | |
| --- | --- | --- | --- |
| Team Stats and Records | PP | PIM | SHGF |
| Prince Edward Island | 2/14 | 18/58 | 0 |
| Boston University | 6/11 | 21/64 | 1 |
| | | | | | | |
| --- | --- | --- | --- | --- | --- | --- |
| Prince Edward Island Goaltending | MIN | GA | 1 | 2 | 3 | Saves |
| Matt Mahalak (L) | 22:21 | 5 | 10 | 1 | 0 | 11 |
| Connor Wilkinson | 37:39 | 5 | 0 | 7 | 10 | 17 |
| | | | | | | |
| --- | --- | --- | --- | --- | --- | --- |
| Boston University Goaltending | MIN | GA | 1 | 2 | 3 | Saves |
| Connor LaCouvee (W) | 20:00 | 2 | 11 | 0 | 0 | 11 |
| Jake Oettinger | 20:00 | 0 | 0 | 7 | 0 | 7 |
| Max Prawdzik | 20:00 | 0 | 0 | 0 | 10 | 10 |
BOSTON, Mass. - Highlighted by a five-goal, two-assist performance from Patrick Harper, the heralded freshman class of the fourth-ranked Boston University men's ice hockey team made a stellar first impression on Saturday evening in the Terriers' 10-2 exhibition victory over Prince Edward Island at Agganis Arena.
THE RUNDOWN
Final Score: Boston University 10, Prince Edward Island 2
Location: Agganis Arena - Boston, Mass.
HOW IT HAPPENED
- Boston University's freshmen accounted for nine of its 10 goals with Patrick Harper scoring five, Clayton Keller recording three and Dante Fabbro adding one. Junior Brandon Hickey also found the back of the net for the Terriers.
- The Terriers went 6-of-11 on the power play and Harper's fifth and final goal was a shorthanded tally to close out the scoring with 12:06 remaining in the third, giving BU seven special-team goals.
- Both of the Panthers' goals came on 5-on-3 power plays and BU kept the visitors scoreless for the final 42:23.
- Sophomore Charlie McAvoy earned four assists and freshman Chad Krys picked up a helper on each of BU's first three goals. Sophomore Jakob Forsbacka Karlsson also tallied a trio of assists while classmate Jordan Greenway and senior Doyle Somerby each earned two.
- All of BU's three goaltenders played a period between the pipes. Junior Connor LaCouvee stopped 11 of the 13 shots he faced before freshman Jake Oettinger (7 saves) and sophomore Max Prawdzik (10) each followed with a perfect period.
- Harper and Forsbacka Karlsson led the way in plus-minus at plus-4.
GAME NOTES
- BU's freshman class combined for 15 points on nine goals and six assists.
- The Terriers held a 38-30 shot advantage.
- The teams combined for 122 penalty minutes, including four game misconducts.
- BU improved to 17-1-1 all-time in exhibitions against Canadian universities.
- This the Terriers' first three-game losing streak since October 2010.
NEXT UP
BU returns to action on Thursday (Oct. 6) against the U.S. National Under-18 Team in its second and final exhibition contest of the preseason.
The game, which starts at 7 p.m., will be streamed live for free on TerrierTV through Campus Insiders.