Boston University Comeback Falls Short At Denver, 4-3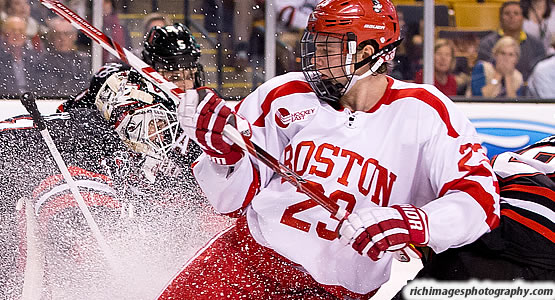 Sophomore forward Jakob Forsbacka Karlsson had two assists for the Terriers
| | | | | | | |
| --- | --- | --- | --- | --- | --- | --- |
| Prd | Time | Team | Score | Type | Scored By | Assists |
| 1st | 17:55 | DEN | 1-0 | PP | Matt Marcinew (1) | Will Butcher/1, Jarid Lukosevicius/1 |
| 2nd | 4:02 | DEN | 2-0 | EV | Troy Terry (1) | Michael Davies/2 |
| 2nd | 4:44 | DEN | 3-0 | EV | Evan Janssen (1) | Logan O'Connor/2 |
| 2nd | 9:25 | BU | 1-3 | PP | Brandon Hickey (1) | Jakob Forsbacka Karlsson/1, Patrick Harper/1 |
| 2nd | 12:06 | DEN | 4-1 | EV GW | Evan Janssen (2) | Tyson McLellan/1, Logan O'Connor/3 |
| 3rd | 2:47 | BU | 2-4 | EV | Jordan Greenway (1) | Jakob Forsbacka Karlsson/2, Patrick Harper/2 |
| 3rd | 10:48 | BU | 3-4 | SH | Clayton Keller (2) | - |
| | | | | |
| --- | --- | --- | --- | --- |
| Scoring | 1st | 2nd | 3rd | Final |
| Boston University | 0 | 1 | 2 | 3 |
| Denver | 1 | 3 | 0 | 4 |
| | | | | |
| --- | --- | --- | --- | --- |
| Shots on Goal | 1st | 2nd | 3rd | SOG |
| Boston University | 9 | 5 | 12 | 26 |
| Denver | 14 | 10 | 11 | 35 |
| | | | |
| --- | --- | --- | --- |
| Team Stats and Records | PP | PIM | SHGF |
| Boston University (1-1-0) | 1/3 | 7/14 | 1 |
| Denver (1-2-0) | 1/7 | 3/6 | 0 |
| | | | | | | |
| --- | --- | --- | --- | --- | --- | --- |
| Boston University Goaltending | MIN | GA | 1 | 2 | 3 | Saves |
| Jake Oettinger (L, 1-1-0) | 58:37 | 4 | 13 | 7 | 11 | 31 |
| Empty Net | 1:23 | 0 | | | | |
| | | | | | | |
| --- | --- | --- | --- | --- | --- | --- |
| Denver Goaltending | MIN | GA | 1 | 2 | 3 | Saves |
| Tanner Jaillet (W, 1-1-0) | 59:55 | 3 | 9 | 4 | 10 | 23 |
| Empty Net | 0:05 | 0 | | | | |
DENVER - A late comeback effort fell just short for the No. 2 Boston University men's ice hockey team on Friday evening as No. 10 Denver held on for a 4-3 win in the opener of a weekend series at Magness Arena.
THE RUNDOWN
Final Score: #10 Denver 4, #2 Boston University 2 Records: BU (1-1-0), Denver (1-2-0) Location: Magness Arena - Denver, Colo.
HOW IT HAPPENED
- Down 4-1 entering the third period, Boston University got goals from sophomore Jordan Greenway and freshman Clayton Keller to make it a one-goal game.
- A flurry of late pressure by the Terriers was withstood by the Pioneers, who picked up their first victory of the season.
- Denver opened the scoring late in the first period on a power-play goal by Matt Marcinew and then tacked on two more 42 seconds apart in the fifth minute of the middle stanza to take a 3-0 lead.
- Junior Brandon Hickey got the Terriers on the board with a power-play tally from the top of the left circle at 9:25 of the second before the home team reestablished a three-goal cushion less than three minutes later on Evan Janssen's second marker of the period.
- At 2:47 of the third, Greenway stuffed home the puck during a scrum at the right post to make it a 4-2 contest.
- With the Pioneers on a power play, Keller won a race to the puck and converted a shorthanded breakaway with 9:12 left in regulation.
- Sophomore Jakob Forsbacka Karlsson and freshman Patrick Harper assisted on both of BU's first two goals.
- Freshman Jake Oettinger made 31 saves in goal for the Terriers while Tanner Jaillet turned aside 23 BU shots for the Pioneers.
GAME NOTES
- Denver held a 35-26 shot advantage.
- The Pioneers converted on one of seven power-play chances and the Terriers' penalty kill is 14-of-15 thus far this season.
- BU went 1-of-3 with the man advantage.
- Greenway recorded 10 of the Terriers' 26 shots.
- Freshman Dante Fabbro (+1) was BU's lone plus player on the night.
- The all-time series between BU and Denver is now knotted at 15-15-2.
NEXT UP
- The teams will close out the weekend series on Saturday (Oct. 15) at 9 p.m. ET.
- The game will be televised on Altitude 2 (DirecTV 681-1, Dish 453) and will be streamed at NCHC.tv.