Boston College Held Off By Wisconsin, 3-1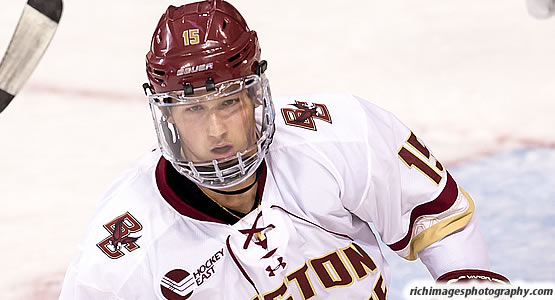 Sophomore forward JD Dudek scored a goal for the Eagles
| | | | | | | |
| --- | --- | --- | --- | --- | --- | --- |
| Prd | Time | Team | Score | Type | Scored By | Assists |
| 1st | 4:27 | WIS | 1-0 | PP | Grant Besse (1) | Cameron Hughes/3, Jake Linhart/3 |
| 2nd | 19:47.3 | WIS | 2-0 | PP GW | Ryan Wagner (1) | Tim Davison/2, Seamus Malone/3 |
| 3rd | 9:18 | WIS | 3-0 | EV | Seamus Malone (2) | Tim Davison/3 |
| 3rd | 9:30 | BC | 1-3 | EV | JD Dudek (1) | Chris Calnan/1 |
| | | | | |
| --- | --- | --- | --- | --- |
| Scoring | 1st | 2nd | 3rd | Final |
| Boston College | 0 | 0 | 1 | 1 |
| Wisconsin | 1 | 1 | 1 | 3 |
| | | | | |
| --- | --- | --- | --- | --- |
| Shots on Goal | 1st | 2nd | 3rd | SOG |
| Boston College | 12 | 7 | 11 | 30 |
| Wisconsin | 11 | 15 | 8 | 34 |
| | | | |
| --- | --- | --- | --- |
| Team Stats and Records | PP | PIM | SHGF |
| Boston College (1-2-0) | 0/6 | 9/18 | 0 |
| Wisconsin (2-1-0) | 2/8 | 7/14 | 0 |
| | | | | | | |
| --- | --- | --- | --- | --- | --- | --- |
| Boston College Goaltending | MIN | GA | 1 | 2 | 3 | Saves |
| Joseph Woll (L, 1-2-0) | 59:22 | 3 | 10 | 14 | 7 | 31 |
| Empty Net | 0:38 | 0 | | | | |
| | | | | | | |
| --- | --- | --- | --- | --- | --- | --- |
| Wisconsin Goaltending | MIN | GA | 1 | 2 | 3 | Saves |
| Matt Jurusik (W, 2-1-0) | 59:56 | 1 | 12 | 7 | 10 | 29 |
| Empty Net | 0:04 | 0 | | | | |
MADISON, Wis. - Sophomore forward JD Dudek scored a goal but Boston College was defeated by Wisconsin, 3-1, on Friday evening at Kohl Center.
SCORE
No. 6/9 Boston College - 1 / Wisconsin - 3
LOCATION
Kohl Center / Madison, Wisc.
RECORDS
No. 6/9 Boston College - (1-2-0) / Wisconsin - (2-1-0)
BC HIGHLIGHTS & GAME NOTES
- JD Dudek tallied his second-career goal on Friday night in Madison with help from captain Chris Calnan. Dudek now has four points (2-2-4) to his name as an Eagle.
- Special teams was the difference in Friday's decision. Wisconsin scored twice on eight power play attempts while the Eagles were denied on all six chances.
- Wisconsin ended Boston College's seven-game winning streak over the Badgers on Friday night. The Eagles still lead the overall series, 14-10. It was Wisconsin's first win over BC since the Badgers won the 2006 National Championship in Milwaukee.
GOAL DESCRIPTIONS
FIRST GOAL (1-0 - UW) FIRST PERIOD - Grant Besse - 4:27 - POWER PLAY
- Boston College was cited for a too many men penalty at 4:08 of the first period and the Badgers cashed in 19 seconds later. Wisconsin won the draw, forced it into the zone and Grant Besse carried the puck around the net, offer a tight shot on Joe Woll and then deposited his own rebound through Woll's pads for the 1-0 edge.
SECOND GOAL (2-0 - UW) SECOND PERIOD - Ryan Wagner - 19:47 - POWER PLAY (5-on-3)
- David Cotton and Connor Moore were cited with a hooking and boarding call, respectively, at the 18:21 mark of the second period to bestow the Badgers with a two-man advantage late in frame. BC started off strong, allowing only one shot until Seamus Malone carried the puck around the right side of the net and connected with Tim Davison for a quick one-timer effort on the doorstep. Ryan Wagner crashed the net from the slot and poked back the loose rebound for the 2-0 lead, taking advantage of UW's two-man advantage.
THIRD GOAL (3-0 - UW) THIRD PERIOD - Seamus Malone - 9:18 EVEN STRENGTH
- Boston College was dominating Wisconsin in possession, but the Badgers were able to sustain a cycle and attack Woll for theit third goal of the night. Tim Davison hurled the puck at BC's net from an off angle and Seamus Malone swooped in right off the crease to roof the rebound at 9:18 for a three-goal edge, 3-0.
FOURTH GOAL (3-1 - BC) THIRD PERIOD - JD Dudek - 9:30 EVEN STRENGTH
- The Eagles won the ensuing draw off of Seamus' goal and immediately turned it up towards Badger goaltender Matt Jurusik. Chris Calnan hit JD Dudek with a pass and he quickly triggered on net. Jurusik made the initial stop, but Dudek followed it up, crashed the net and tossed back his own rebound 12 seconds after UW's tally to cut into the Badgers' lead, 3-1.
BOSTON COLLEGE GAME LEADERS
Points: JD Dudek (1 - 0 - 1) / Chris Calnan (0 - 1 - 1)
Goals: JD Dudek (1 - 0 - 1)
Assists: Chris Calnan (0 - 1 - 1)
Shots: Christopher Brown (5)
Faceoffs Won: Austin Cangelosi (11 - of - 22)
SPECIAL TEAMS
Boston College: 0 - for - 6
Wisconsin: 2 - for - 8
PENALTIES
Boston College: 9 - of - 18
Wisconsin: 7 - of - 14
BOSTON COLLEGE LINES
Gaudreau- White - R. Fitzgerald
Cotton - Cangelosi - Brown
Dudek - Jul. Mattila - Calnan
McPhee - Greco - Walker
Jes. Mattila - C. Fitzgerald
McInnis - Savage
Kim - Moore
Woll
Edquist
UP NEXT
The Eagles will take tomorrow off due to Wisconsin hosting Ohio State in football but get back at it on Sunday afternoon at the Kohl Center. The Boston College - Wisconsin tilt will be broadcast live on ESPNU and WatchESPN at 4 p.m. (EST) / 3 p.m. (CST).