Woll, Boston College Shut Out Vermont In Series Opener, 7-0
Freshman goaltender Joe Woll earns first career shutout with 22 saves for Eagles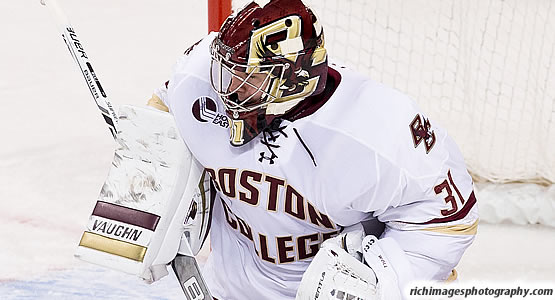 Freshman goaltender Joe Woll made 22 saves for the Eagles
| | | | | | | |
| --- | --- | --- | --- | --- | --- | --- |
| Prd | Time | Team | Score | Type | Scored By | Assists |
| 1st | 0:08 | BC | 1-0 | EV GW | Austin Cangelosi (18) | Colin White/14, Casey Fitzgerald/16 |
| 1st | 5:15 | BC | 2-0 | EV | Colin White (16) | Luke McInnis/5 |
| 1st | 14:23 | BC | 3-0 | EV | Luke McInnis (3) | Casey Fitzgerald/17, Graham McPhee/8 |
| 2nd | 5:27 | BC | 4-0 | EV | Matthew Gaudreau (8) | Michael Kim/14, Luke McInnis/6 |
| 3rd | 13:02 | BC | 5-0 | PP | Christopher Brown (8) | Matthew Gaudreau/25, Luke McInnis/7 |
| 3rd | 18:30 | BC | 6-0 | SH | Julius Mattila (7) | Ryan Fitzgerald/19, Connor Moore/12 |
| 3rd | 19:59.8 | BC | 7-0 | SH | Christopher Brown (9) | - |
| | | | | |
| --- | --- | --- | --- | --- |
| Scoring | 1st | 2nd | 3rd | Final |
| Vermont | 0 | 0 | 0 | 0 |
| Boston College | 3 | 1 | 3 | 7 |
| | | | | |
| --- | --- | --- | --- | --- |
| Shots on Goal | 1st | 2nd | 3rd | SOG |
| Vermont | 9 | 7 | 6 | 22 |
| Boston College | 12 | 12 | 7 | 31 |
| | | | |
| --- | --- | --- | --- |
| Team Stats and Records | PP | PIM | SHGF |
| Vermont (20-12-5) | 0/7 | 6/15 | 0 |
| Boston College (19-14-4) | 1/4 | 8/16 | 2 |
| | | | | | | |
| --- | --- | --- | --- | --- | --- | --- |
| Vermont Goaltending | MIN | GA | 1 | 2 | 3 | Saves |
| Stefanos Lekkas (L, 18-9-5) | 40:00 | 4 | 9 | 11 | 0 | 20 |
| Mike Santaguida | 19:54 | 3 | 0 | 0 | 4 | 4 |
| Empty Net | 0:06 | 0 | | | | |
| | | | | | | |
| --- | --- | --- | --- | --- | --- | --- |
| Boston College Goaltending | MIN | GA | 1 | 2 | 3 | Saves |
| Joseph Woll (W, 15-12-3) | 59:33 | 0 | 9 | 7 | 6 | 22 |
| Empty Net | 0:27 | 0 | | | | |
CHESTNUT HILL, Mass. - Freshman goaltender Joe Woll stopped 22 shots to earn his first career shutout as Boston College defeated Vermont, 7-0, in the first game of a Hockey East quarterfinal series on Friday at Kelley Rink.
SCORE
No. 13 Vermont - 0 / No. 17 Boston College - 7
LOCATION
Kelley Rink at Conte Forum / Chestnut Hill, Mass.
RECORDS
No. 13 Vermont (20-12-5 / 10-8-4) / No. 17 Boston College - (19-14-4 / 13-6-3)
HOCKEY EAST PLAYOFF SEEDING
Vermont - No. 6 seed / Boston College - No. 3 seed
BC HIGHLIGHTS & GAME NOTES
- Austin Cangelosi scored eight seconds into regulation to set the tone against Vermont on Friday night. Cangelosi's goal is the fastest goal to open a playoff game in Hockey East history and ties the fastest to open a period in the postseason. The Estero, Fla. native is now tied for 50th all-time in goals scored at Boston College with 54 for his career. In points scored, Cangelosi is tied for 62nd all-time (Jeff Giuliano - 1998-2002) after obtaining his 114th point (54-60-114) as an Eagle.
- Luke McInnis accounted for his first-career multi-point performance in style, notching Boston College's second four-point performance of the season with his third goal of the year and three assists. The Hingham, Mass. native nearly doubled his point total as McInnis skated into Friday's affair with two goals and four assists. McInnis how has 10 points (3-4-7) on the season.
- Freshman goaltender Joseph Woll secured his first-career shutout on Friday night in his 31st start as an Eagle. It marks the Eagles' first shutout of an opponent since blanking the Catamounts almost exactly one year ago. BC shutout UVM, 3-0, in game one of the Hockey East quarterfinals last year on March 11, 2016.
- Boston College's seven goals in Friday night's win marks the first time the Eagles tallied seven goals in a Hockey East tournament contest since the 7-6 overtime victory over Maine in the 2010 Hockey East Championship game. It also marks the largest margin of victory EVER by a Boston College team over an opponent in a Hockey East tournament game played. It is also the largest margin of victory over Vermont since it joined the league.
- The last time Boston College posted a margin of victory that large was at Massachusetts on Jan. 22, 2016 when head coach Jerry York won his 1,000th-career game. The Eagles won that game, 8-0.
- Colin White netted his 16th goal of the season and 35th of his career on Friday against Vermont.
- Christopher Brown accounted for his second multi-goal game of the season after scoring his tenth and 11th goals this season. The Bloomfield Hills, Mich. native netted a hat trick at Wisconsin on Oct. 16, 2016 earlier this year. Brown's second goal was a short-handed goal, marking the first of his career.
- Casey Fitzgerald logged a pair of assists in Friday's victory, marking his sixth multi-point performance of the season and first since the Notre Dame contest on Jan. 28.
- Matthew Gaudreau extended his team points lead to 33 (8-25-33) with a goal and an assist in Friday's victory. It marks the Carneys Point, N.J. native's ninth multi-point performance of the season.
- Julius Mattila scored his first-career short-handed goal in his 27th game as an Eagle on Friday night, marking his seventh goal overall. The Tampere, Finland native has accounted for 14 points (7-7-14) as an Eagle.
- Boston College has scored three goals in the first period four times this season, including tonight's outing. The Eagles scored three goals in the first period against UMass on both Oct. 29, 2016 and Jan. 20, 2017 in addition to the first contest against Vermont on Feb. 17, 2017.
- Boston College is now 39-18-1 in Hockey East quarterfinal contests and 8-3 against the Catamounts in quarterfinal games. All-time against Vermont in the Hockey East playoffs, the Eagles are 10-3 against the Catamounts. As the No. 3 seed, Boston College is 12-4 in the Hockey East Tournament.
- The Eagles scored a pair of short-handed goals in Friday's Game 1 victory for the second time this season. BC also turned the trick against Massachusetts on Oct. 29, 2016. As a whole, Boston College has scored nine short-handed goals so far this season.
GOAL DESCRIPTIONS
FIRST GOAL (1-0 - BC) FIRST PERIOD - Austin Cangelosi - 00:08 - EVEN STRENGTH
- Boston College attacked right off the draw eight seconds in off the opening draw. Austin Cangelosi won the draw back to Casey Fitzgerald and he immediately relayed it down the side to Colin White. Cangelosi slipped past the defense, accepted White's feel and beat UVM goaltender Stefanos Lekkas in tight between the pads to draw early blood and a 1-0 Boston College advantage.
SECOND GOAL (2-0 - BC) FIRST PERIOD - Colin White - 5:15 - EVEN STRENGTH
- The Eagles doubled up the lead at 5:15 of the first period following a home-run pass by Luke McInnis deep in the Eagles' end. McInnis broke up a Vermont charge in the near corner and quickly sent the puck right to Colin White's tape, waiting on the Catamounts' blue line. White skated it in without much resistance and beat Lekkas shortside to make it a 2-0 BC lead.
THIRD GOAL (3-0 - BC) FIRST PERIOD - Luke McInnis - 14:23 - EVEN STRENGTH
- The offense continued to light the lamp in the opening 20 minutes but it was the defense that made it a 3-0 affair at 14:23 of the first period. The Eagles broke the puck out of their end and utilized speed and a strong shot from up top by Luke McInnis for their third goal. Graham McPhee rushed the puck around Vermont's net and connected with C. Fitzgerald on the right circle. C. Fitzgerald skated it up top and dispensed a pass to McInnis just within the blue line. With plenty of traffic between McInnis and Lekkas, McInnis blasted it at the crease and found the back of the net at 14:23 for a 3-0 lead.
FOURTH GOAL (4-0 - BC) SECOND PERIOD - Matthew Gaudreau - 5:27 - EVEN STRENGTH
- Matthew Gaudreau added to the Eagles' cushion at 5:27 of the second period thanks to another great outlet pass by McInnis deep in BC's end. Michael Kim shifted the puck over to McInnis in an attempt to start the rush but McInnis saw Gaudreau streaking down the left side and just connected with him to remain onsides. Gaudreau made one deke and stuffed it past Lekkas on the breakaway to make it a 4-0 game.
FIFTH GOAL (5-0 - BC) THIRD PERIOD - Christopher Brown - 13:02 - POWER PLAY
- Christopher Brown netted BC's lone power play goal of the night, taking advantage of a Drew Best high-sticking call at 12:12 of the third period. McInnis finished off his playmaker after corralling a pass from Gaudreau in the far corner and threading it back between the circle for Brown. With ample room, Brown snapped it past UVM's backup goaltender Mike Santaguida at 13:02 on the near post to extend the Eagles' sizeable advantage to 5-0.
SIXTH GOAL (6-0 - BC) THIRD PERIOD - Julius Mattila - 18:30 - SHORT-HANDED
- With the Eagles on the penalty kill, Connor Moore swatted a puck out of BC's end to Ryan Fitzgerald on the half wall. Julius Mattila made a charge up the other way and R. Fitzgerald connected with him in stride. Jul. Mattila was off on the breakaway and slipped it past Santaguida for the short-handed strike and a 6-0 lead.
SEVENTH GOAL (7-0 - BC) THIRD PERIOD - Christopher Brown - 19:59 - SHORT-HANDED
- Brown intercepted a soft chip attempt by Vermont and was gifted the puck right in the Catamounts' zone on the turnover. Brown took two strides and wristed it past Santaguida with only 0.2 seconds left on the clock to ice the 7-0 beating.
BOSTON COLLEGE GAME LEADERS
Points: Luke McInnis (1 - 3 - 4)
Goals: Christopher Brown (2 - 0 - 2)
Assists: Luke McInnis (1 - 3 - 4)
Shots: Christopher Brown ( 4 )
Faceoffs Won: Austin Cangelosi (14 - of - 25)
SPECIAL TEAMS
Vermont: 0 - for - 7
Boston College: 1 - for - 4
PENALTIES
Vermont: 6 - of - 15
Boston College: 8 - of - 16
BOSTON COLLEGE LINES
Cotton - Cangelosi - White
Gaudreau - R. Fitzgerald - Brown
Dudek - Jul. Mattila - Calnan
McPhee - Greco - Booth
Campoli - Savage
Kim - Moore
McInnis - C. Fitzgerald
Woll
Edquist
Milosz
UP NEXT
Boston College and Vermont will run it back for Game 2 of the Hockey East quarterfinal series tomorrow night, Saturday, March 11, at 7 p.m. If Game 3 is necessary, it will take place at Kelley Rink on Sunday, March 12 at 5 p.m.