UMass Lowell Earns Third Hockey East Title With 4-3 Win Over Boston College
William Flynn Tournament MVP C.J. Smith has goal and two assists for River Hawks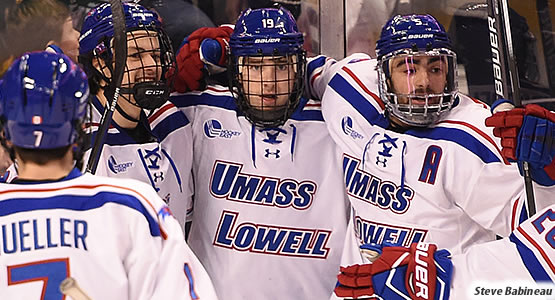 Junior forward C.J. Smith had a goal and two assists for the River Hawks
| | | | | | | |
| --- | --- | --- | --- | --- | --- | --- |
| Prd | Time | Team | Score | Type | Scored By | Assists |
| 1st | 1:06 | UML | 1-0 | EV | C.J. Smith (22) | - |
| 1st | 5:31 | BC | 1-1 | PP | Austin Cangelosi (21) | JD Dudek/8, Scott Savage/23 |
| 1st | 12:06 | UML | 2-1 | EV | Chris Forney (4) | C.J. Smith/27, Tommy Panico/6 |
| 1st | 18:38 | BC | 2-2 | SH | Graham McPhee (2) | - |
| 2nd | 10:05 | UML | 3-2 | PP | John Edwardh (18) | Joe Gambardella/33, C.J. Smith/28 |
| 2nd | 11:37 | UML | 4-2 | EV GW | Joe Gambardella (18) | Michael Kapla/26, John Edwardh/19 |
| 3rd | 17:15 | BC | 3-4 | EV EA | Ryan Fitzgerald (12) | JD Dudek/9, Scott Savage/24 |
| | | | | |
| --- | --- | --- | --- | --- |
| Scoring | 1st | 2nd | 3rd | Final |
| Boston College | 2 | 0 | 1 | 3 |
| UMass Lowell | 2 | 2 | 0 | 4 |
| | | | | |
| --- | --- | --- | --- | --- |
| Shots on Goal | 1st | 2nd | 3rd | SOG |
| Boston College | 13 | 13 | 15 | 41 |
| UMass Lowell | 11 | 12 | 2 | 25 |
| | | | |
| --- | --- | --- | --- |
| Team Stats and Records | PP | PIM | SHGF |
| Boston College (21-15-4) | 1/4 | 5/10 | 1 |
| UMass Lowell (26-10-3) | 1/4 | 5/10 | 0 |
| | | | | | | |
| --- | --- | --- | --- | --- | --- | --- |
| Boston College Goaltending | MIN | GA | 1 | 2 | 3 | Saves |
| Joseph Woll (L, 17-13-3) | 58:18 | 4 | 9 | 10 | 2 | 21 |
| Empty Net | 1:42 | 0 | | | | |
| | | | | | | |
| --- | --- | --- | --- | --- | --- | --- |
| UMass Lowell Goaltending | MIN | GA | 1 | 2 | 3 | Saves |
| Tyler Wall (W, 25-9-1) | 60:00 | 3 | 11 | 13 | 14 | 38 |
BOSTON, Mass.- C.J. Smith (Des Moines, Iowa) had a goal and two assists to lead top-seeded UMass Lowell to a thrilling 4-3 victory over third-seeded Boston College in the title game of the 33rd annual Hockey East Championship in front of 12,309 fans Saturday night at TD Garden. In its fifth straight trip to the title game and seventh overall, UMass Lowell captured its third Lamoriello Trophy as Hockey East champion, its first since back-to-back crowns in 2013 and 2014.
Smith, winner of the William Flynn Award as the tournament's MVP, scored an early goal and assisted on the next two as the River Hawks (26-10-3) built a 4-2 lead after two periods before the Eagles roared back in the third, outshooting UML, 15-2.
With an extra attacker on the ice, BC cut it to 4-3 with 2:45 on a goal by Ryan Fitzgerald (North Reading, Mass.), poking in one from the goalmouth on a great individual effort. The Eagles continued their bid for the equalizer and a drive by Fitzgerald rattled off the crossbar in the last minute. But it was UMass Lowell's defense led by all-tournament selections, goalie Tyler Wall (Leamington, Ontario) and senior defenseman Michael Kapla (Eau Claire, Wisc.) that held off the late BC charge to close out the win.
Smith opened the scoring 1:06 into the contest with his 21st goal of the season, going nearly end-to-end for an unassisted tally. BC answered at 5:31 on a power play goal by Austin Cangelosi (Estero, Fla.), just nine seconds after a River Hawks penalty, tipping in a shot from the point by Savage (two assists). J.D. Dudek (Auburn, N.H.) picked up an assist, feeding Scott Savage (San Clemente, Calif.) after Cangelosi won the draw.
UMass Lowell's Chris Forney (Thief River Falls, Minn.) blasted a one-timer off a feed from Smith at 12:06 to make it 2-1 before Boston College tied it again with their second short-handed goal in as many games. Freshman Graham McPhee (Bethesda, Md.) stole the puck at mid ice and beat Wall on a breakaway to conclude a fast-paced first period
All-tourney selection Joe Gambardella (Staten Island, N.Y.) set up the go-ahead goal midway in the second period and then added one of his own as the River Hawks snapped the 2-all tie. On the power play at 10:05, John Edwarth (Calgary, Alberta) fired in his 18th of the season on assists from Gambardella and Smith to make it 3-2. Just 1:32 later Gambardella added his 18th of the year converting passes from Smith and Kapla to give the River Hawks a two-goal advantage.
Teammates Smith, Kapla and Wall were joined on the Steve Nazro All-Tournament Team by Gambardella while BC's Savage and Fitzgerald rounded out the team.
Both teams went 1-for-4 on the power play in the game. Wall made 38 stops for UMass Lowell while at the other end, fellow freshman Joseph Woll (St. Louis, Mo.) finished with 21 saves for Boston College. Savage and Dudek both had with two assists for BC. With the loss, the Eagles (21-15-4) are in danger of missing the NCAA tournament for the first time since 2009. BC's three-game postseason winning streak propelled them into the title game for a Hockey East record 17th time.
As Hockey East Champion, UMass Lowell earns the league's automatic bid to the 2017 NCAA Men's Hockey Championship with selections announced Sunday at noon (eastern), aired nationally on ESPNU.
Notes:
-Starting this year the Hockey East all-tournament team is named in honor of Stephen Nazro, the longtime Vice President of Events at TD Garden, who has been instrumental in hosting the Hockey East Championship weekend since 1987 at both the old Boston Garden and the current building.
-UMass Lowell seniors Joe Gamberdella, Dylan Zink (Madison, Wisc.) and Michael Kapla skated in their fourth championship game and were members of the 2014 title team.
-Gamberdella tallied at least one point in seven career semifinal and title games at TD Garden with four goals and four assists. In four championship games, he scored three goals and had two assists.
-River Hawks senior defenseman and captain Michael Kapla skated in his 158 consecutive game Friday, the longest current streak in NCAA Division I men's hockey. Friday he also tied the UML program record for consecutive games played and Saturday should be his 159th, a new school record.
-Eagles senior Ryan Fitzgerald scored his 66th career goal Saturday night to pass his head coach Jerry York on the BC career goal scoring list.
-C.J. Smith (2016), Gamberdella (2015) and Kapla (2016) earned spots on the all-tourney team for the second time.
-Smith led all scorers in the 2017 Hockey East Championship with four goals and eight points in five games. Savage had seven assists to finish second in points while Austin Gangelosi and Ryan Fitzgerald tied with Smith with four goals.
-Under coach Norm Bazin, the 2017 Bauer/Bob Kullen Coach of the Year, the River Hawks are now 9-2 when playing at TD Garden including its three titles in 2013, 2014 and 2017.
-UMass Lowell played in its fifth consecutive Hockey East Championship game and seventh overall. All-time, UMass Lowell is now 3-4 in the title game, winning in 2013 and 2014.
-Boston College made its Hockey East record 17th appearance in the championship game and its first since 2012. The Eagles have won 11 Hockey East Championships, another league record, including wins in their last five (2007, 2008, 2010-12).
-This is the ninth meeting between Boston College and UMass Lowell in the Hockey East tournament and the first time they faced off in the championship game. BC holds a 5-2-2 edge and they last had met in the 2001 semifinals with the Eagles winning 5-1.