Saturday, November 5, 2016
Boston College Holds Off Maine, 3-2, To Sweep Weekend
Freshman goaltender Joe Woll makes 28 saves for Eagles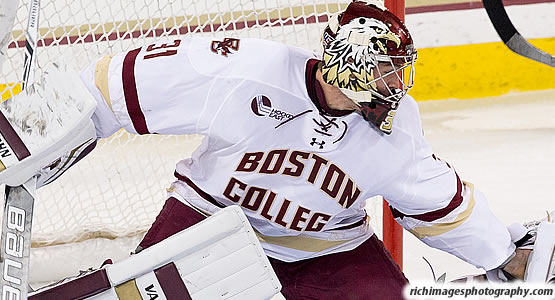 Freshman goaltender Joe Woll made 28 saves for the Eagles
| | | | | | | |
| --- | --- | --- | --- | --- | --- | --- |
| Prd | Time | Team | Score | Type | Scored By | Assists |
| 1st | 13:10 | BC | 1-0 | EV | Ron Greco (2) | Connor Moore/5, JD Dudek/2 |
| 2nd | 10:47 | BC | 2-0 | EV | Scott Savage (2) | Austin Cangelosi/2, Christopher Brown/8 |
| 2nd | 18:14 | MNE | 1-2 | PP | Ryan Smith (2) | Cam Brown/4, Blaine Byron/4 |
| 3rd | 9:01 | BC | 3-1 | EV GW | Mike Booth (2) | Zach Walker/5, Casey Fitzgerald/7 |
| 3rd | 10:18 | MNE | 2-3 | EV | Dane Gibson (2) | Blaine Byron/5, Patrick Holway/2 |
| | | | | |
| --- | --- | --- | --- | --- |
| Scoring | 1st | 2nd | 3rd | Final |
| Boston College | 1 | 1 | 1 | 3 |
| Maine | 0 | 1 | 1 | 2 |
| | | | | |
| --- | --- | --- | --- | --- |
| Shots on Goal | 1st | 2nd | 3rd | SOG |
| Boston College | 22 | 9 | 3 | 34 |
| Maine | 9 | 11 | 10 | 30 |
| | | | |
| --- | --- | --- | --- |
| Team Stats and Records | PP | PIM | SHGF |
| Boston College (8-2-1) | 0/4 | 5/10 | 0 |
| Maine (3-5-2) | 1/4 | 5/10 | 0 |
| | | | | | | |
| --- | --- | --- | --- | --- | --- | --- |
| Boston College Goaltending | MIN | GA | 1 | 2 | 3 | Saves |
| Joseph Woll (W, 6-2-1) | 60:00 | 2 | 9 | 10 | 9 | 28 |
| | | | | | | |
| --- | --- | --- | --- | --- | --- | --- |
| Maine Goaltending | MIN | GA | 1 | 2 | 3 | Saves |
| Rob McGovern (L, 3-3-2) | 59:08 | 3 | 21 | 8 | 2 | 31 |
| Empty Net | 0:52 | 0 | | | | |
Orono, Maine -- The University of Maine men's ice hockey team (3-5-2, 0-2-0 Hockey East) dropped its series finale with No. 5 Boston College (8-2-1, 4-0-1 HE) in front of a sellout crowd at Alfond Arena on Saturday evening.
Maine goaltender Rob McGovern turned away 31 shots, holding the Eagles to an 0-for-6 showing on the power play. Maine finished 1-for-4 with the man advantage but were outshot in all by the Eagles, 34-30.
Ryan Smith and Dane Gibson each found the back of the net for the Black Bears.
Boston College began the scoring on Ron Greco's second goal of the year, 13:10 into the first period. The Eagles won the draw back to JD Dudek who moved the puck to Connor Moore. Moore's blast from the top of the right face-off circle was tipped in front by Greco and into the Maine net.
Rob McGovern kept Maine in the game early, making 21 saves over the opening 20-minutes.
The Eagles extended their lead, 10:47 into the second period. Chris Brown worked the puck to Austin Cangelosi who found Scott Savage. Savage deposited the puck past McGovern for his second goal of the year.
Maine looked to cut into the Boston College lead at the 16:35 mark of the second period when they believed to shove the puck over the goal line amidst a scrum in front of the Eagles' net. After an official review, it was determined to be no goal.
However, Maine did not lose its composure, instead gathering and finding the back of the net just 1:59 later. Skating on the power play, Cam Brown fired a shot that was turned away by Eagle goaltender Joe Woll. Brown gathered the rebound, skated around the back of the net before finding Smith who clanked the puck off the crossbar and across the goal line.
Boston College regained a two-goal advantage 9:01 into the third period. Casey Fitzgerald controlled the puck near the blueline, hitting Zach Walker with a pass to the right face-off dot. Walker's quick pass through the middle found Mike Booth on the left post for the goal.
Maine answered, once again bringing it within a goal, with 9:42 left in the third period. Blaine Byron's long pass out of the Maine zone hit a streaking Dane Gibson in stride. Gibson carried the puck into the Boston College zone before cashing in on a tough angle wrister, cutting the lead to one.
The Black Bears continued to plug away but were unable to even the score down the stretch, dropping the league contest, 3-2.
Maine is back in action at the Alfond on Friday, Nov. 11 when it hosts UMass Lowell at 7 p.m.