Cangelosi Nets Hat Trick to Lead Boston College Past Maine, 6-1
Senior forward Austin Cangelosi scores hat trick for Eagles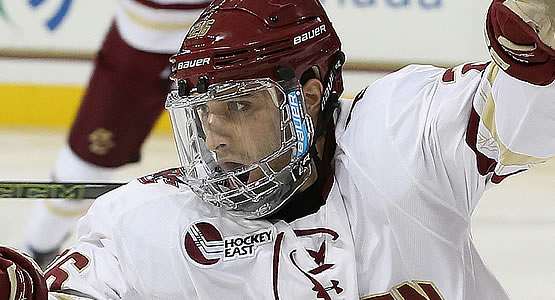 Senior forward Austin Cangelosi scored a hat trick for the Eagles
| | | | | | | |
| --- | --- | --- | --- | --- | --- | --- |
| Prd | Time | Team | Score | Type | Scored By | Assists |
| 1st | 13:04 | MNE | 1-0 | PP | Dane Gibson (1) | Patrick Shea/3, Blaine Byron/3 |
| 1st | 18:25 | BC | 1-1 | PP | Austin Cangelosi (6) | Christopher Brown/6, David Cotton/5 |
| 2nd | 3:01 | BC | 2-1 | SH GW | Austin Cangelosi (7) | Michael Kim/8, Casey Fitzgerald/5 |
| 2nd | 14:19 | BC | 3-1 | EV | Austin Cangelosi (8) | Connor Moore/4, Matthew Gaudreau/6 |
| 3rd | 1:04 | BC | 4-1 | EV | Chris Calnan (2) | Ryan Fitzgerald/5, Jesper Mattila/4 |
| 3rd | 5:32 | BC | 5-1 | PP | David Cotton (3) | Christopher Brown/7, Scott Savage/4 |
| 3rd | 7:07 | BC | 6-1 | EV | Ryan Fitzgerald (4) | Matthew Gaudreau/7, Casey Fitzgerald/6 |
| | | | | |
| --- | --- | --- | --- | --- |
| Scoring | 1st | 2nd | 3rd | Final |
| Boston College | 1 | 2 | 3 | 6 |
| Maine | 1 | 0 | 0 | 1 |
| | | | | |
| --- | --- | --- | --- | --- |
| Shots on Goal | 1st | 2nd | 3rd | SOG |
| Boston College | 12 | 13 | 8 | 33 |
| Maine | 8 | 4 | 11 | 23 |
| | | | |
| --- | --- | --- | --- |
| Team Stats and Records | PP | PIM | SHGF |
| Boston College (7-2-1) | 2/8 | 8/16 | 1 |
| Maine (3-4-2) | 1/8 | 8/16 | 0 |
| | | | | | | |
| --- | --- | --- | --- | --- | --- | --- |
| Boston College Goaltending | MIN | GA | 1 | 2 | 3 | Saves |
| Joseph Woll (W, 5-2-1) | 60:00 | 1 | 7 | 4 | 11 | 22 |
| | | | | | | |
| --- | --- | --- | --- | --- | --- | --- |
| Maine Goaltending | MIN | GA | 1 | 2 | 3 | Saves |
| Matt Morris (L, 0-2-0) | 45:32 | 5 | 11 | 11 | 2 | 24 |
| Stephen Mundinger | 14:28 | 1 | 0 | 0 | 3 | 3 |
PORTLAND, Maine - Maine men's ice hockey dropped game one of the series to no. 5 ranked Boston College 6-1 on Friday night at the Cross Insurance Arena.
Boston College's Austin Cangelosi scored a hat trick on the night, in three straight goals for the Eagles.
Maine falls to 3-4-2 on the year and 0-1-0 in Hockey East, while Boston College improves to 7-2-1 overall and 3-0-1 in conference play. Matt Morris earned the start in goal for the Black Bears and Joe Woll for the Eagles.
Maine earned a power play opportunity 11:08 into the period for a high sticking call. Dane Gibson scored a power play goal assisted by Patrick Shea and Blaine Byron to give the Black Bears a 1-0 lead.
The Black Bears were whistled for their first penalty on the night, on a holding penalty. Austin Cangelosi scored his first goal of the night, a power play goal to tie the game at 1-1.
Boston College outshot Maine 12-8 in the first period.
Three minutes into the second period on a shorthanded opportunity, Cangelosi scored his second of the night to beat Morris and give the Eagles a 2-1 advantage.
With less than six minutes remaining in the period, Cangelosi scored his third of the night and the third consecutive goal in a row, as the Eagles took a 3-1 lead.
Boston College outshot the Black Bears in the second period as well, 13-4.
1:04 into the third period, Chris Calnan gave BC their fourth unanswered goal on an even strength opportunity to open a 4-1 lead.
The Black Bears were whistled for a slashing penalty, 4:41 into the third, giving BC another power play opportunity. The Eagles capitalized and scored their second power play goal on the night from David Cotton. Boston College held a commanding 5-1 lead.
Matt Morris was relieved in goal by Stephen Mundinger. Morris finished with 24 saves on the night.
The Eagles added their sixth unanswered goal by Ryan Fitzgerald, as they took a 6-1 lead.
Austin Cangelosi earned the first star with three points (three goals), Ryan Fitzgerald earned the second star two points (one goal and one assist) and David Cotton earned the third star two points (one goal and one assist).
The Black Bears return to action tomorrow night as they host Boston College at Alfond Arena. Puck drop is at 7:30 p.m.