Saturday, October 22, 2016
Boston College Topples Holy Cross, 6-1
Sophomore defenseman Casey Fitzgerald scores two goals for Eagles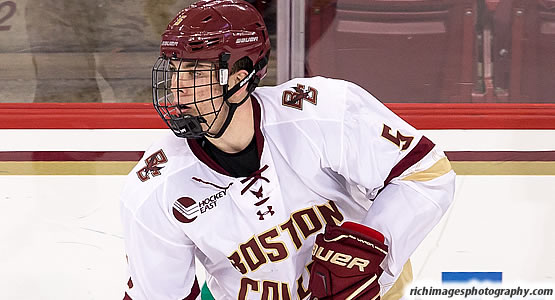 Sophomore defenseman Casey Fitzgerald scored two goals for the Eagles
| | | | | | | |
| --- | --- | --- | --- | --- | --- | --- |
| Prd | Time | Team | Score | Type | Scored By | Assists |
| 1st | 14:33 | BC | 1-0 | EV | Mike Booth (1) | Graham McPhee/1, Zach Walker/2 |
| 1st | 19:57 | BC | 2-0 | EV GW | Casey Fitzgerald (2) | Zach Walker/3, Graham McPhee/2 |
| 2nd | 8:19 | BC | 3-0 | EV | Luke McInnis (1) | David Cotton/3, Mike Booth/2 |
| 2nd | 13:08 | BC | 4-0 | EV | Matthew Gaudreau (2) | Michael Kim/4, Ron Greco/1 |
| 3rd | 3:07 | BC | 5-0 | PP | Chris Calnan (1) | Graham McPhee/3, Jesper Mattila/2 |
| 3rd | 9:05 | BC | 6-0 | EV | Casey Fitzgerald (3) | Matthew Gaudreau/2, Chris Calnan/4 |
| 3rd | 12:25 | HCR | 1-6 | EV | Dalton Skelly (1) | Danny Lopez/5, Spencer Trapp/5 |
| | | | | |
| --- | --- | --- | --- | --- |
| Scoring | 1st | 2nd | 3rd | Final |
| Boston College | 2 | 2 | 2 | 6 |
| Holy Cross | 0 | 0 | 1 | 1 |
| | | | | |
| --- | --- | --- | --- | --- |
| Shots on Goal | 1st | 2nd | 3rd | SOG |
| Boston College | 15 | 7 | 13 | 35 |
| Holy Cross | 5 | 8 | 13 | 26 |
| | | | |
| --- | --- | --- | --- |
| Team Stats and Records | PP | PIM | SHGF |
| Boston College (4-2-0) | 1/3 | 3/6 | 0 |
| Holy Cross (2-1-1) | 0/3 | 3/6 | 0 |
| | | | | | | |
| --- | --- | --- | --- | --- | --- | --- |
| Boston College Goaltending | MIN | GA | 1 | 2 | 3 | Saves |
| Joseph Woll (W, 3-2-0) | 59:33 | 1 | 5 | 8 | 12 | 25 |
| Empty Net | 0:27 | 0 | | | | |
| | | | | | | |
| --- | --- | --- | --- | --- | --- | --- |
| Holy Cross Goaltending | MIN | GA | 1 | 2 | 3 | Saves |
| Paul Berrafato (L, 2-1-1) | 60:00 | 6 | 13 | 5 | 11 | 29 |
WORCESTER, Mass. - Sophomore defenseman Casey Fitzgerald scored twice and freshman forward Graham McPhee added three assists to help Boston College earn a 6-1 win against Holy Cross on Saturday at DCU Center.
SCORE
No. 10 Boston College - 6 / Holy Cross - 1
LOCATION
DCU Center / Worcester, Mass.
RECORDS
No. 10 Boston College - (4-2-0) / Holy Cross - (2-1-1)
BC HIGHLIGHTS & GAME NOTES
- Casey Fitzgerald netted his second goal of the season with 3.2 seconds left in the first period. He followed up with his second tally of the night at 9:05 of the third period, resulting in the game-winning goal. Not only is it Fitzgerald's first-career two-goal performance, but he has now scored BC's game-winning goal in the last two outings. It marks the first time the sophomore defenseman has scored a goal in back-to-back games.
- Freshman winger Graham McPhee found the scoring sheet in his sixth game as an Eagle and did so in multi-point fashion. The Bethesda, Md., native tallied a pair of assists on Saturday against Holy Cross.
- Freshman forward David Walker has now accrued three assists in his last two outings. The Boise, Idaho, native doled out a pair of assists on Saturday night, marking his first career multi-point game.
- Mike Booth scored his first-career goal on Saturday night in Worcester. He also added an assist on Luke McInnis's first-career goal his first multi-point performance as an Eagle.
- Luke McInnis also recorded his first-career point in the form of Boston College's fourth goal on Saturday at the DCU Center.
- Ron Greco notched his first-career point with an assist on Matthew Gaudreau's goal.
- Boston College is now 15-1, all-time, at the DCU Center. Holy Cross was 3-0-0 at the DCU Center heading into Saturday contest. The Crusaders were also undefeated in their first three games, 2-0-1.
GOAL DESCRIPTIONS
FIRST GOAL (1-0 - BC) FIRST PERIOD - Mike Booth - 14:33 - EVEN STRENGTH
- Boston College possessed in Holy Cross's end for almost the full 14:33 of the first period until Mike Booth crossed up HC goaltender Paul Berrafato with a snap shot from the right circle. David Walker broke up an attempted Crusader clear and the puck came out to Graham McPhee on the half wall. McPhee wheeled it around and dished back to Booth who utilized a screen and flung it past Berrafato for the game's first tally.
SECOND GOAL (2-0 - BC) FIRST PERIOD - Casey Fitzgerald - 19:57 - EVEN STRENGTH
- A late faceoff with about 12 seconds left in the first period yielded a fortuitous bounce for Casey Fitzgerald. McPhee tipped it out to Walker and he scooted the puck around the net out to C. Fitzgerald on the goal line extended in the far corner. Fitzgerald had Cangelosi alone on the opposite post and looked to connect for the tap in, but the rubber kicked off a Crusader's skate and into the back of the net with 3.2 seconds in the opening frame to give BC a two-goal cushion through 20 minutes.
THIRD GOAL (3-0 - BC) SECOND PERIOD - Luke McInnis - 8:19 - EVEN STRENGTH
- Hard forechecking gave way to a laser from Luke McInnis midway through the second stanza. Booth induced a turnover as Holy Cross was attempting a clear and David Cotton skated hard at the puck and lunged at it to keep it in the zone. Cotton's pass sliced through the Crusaders' zone and landed on the unattested stick of McInnis just above the right circle. McInnis took three strides and picked his spot with a blistering wrist shot to give Boston College a three-goal edge, 3-0, at 8:19.
FIFTH GOAL (5-0 - BC) THIRD PERIOD - Chris Calnan - 3:07 - POWER PLAY
- The Eagles capitalized on the power play by stuffing a rebound through Berrafato's pads at 3:07. McPhee's hustle paid off as he scrambled it from behind the net and wrapped it around on the crease. The puck jutted out to the other side of the goalmouth and Calnan crashed the net to hammer it home for the 5-0 lead.
SIXTH GOAL (6-0 - BC) THIRD PERIOD - Casey Fitzgerald - 9:05 - EVEN STRENGTH
- Casey Fitzgerald's second strike of the night resulted off of a successful scrum in the corner. Jesper Mattila crashed the boards and jutted the puck out to Gaudreau behind the net. C. Fitzgerald streaked down the slot and accepted Gaudreau's precise past and quickly shoveled it past Berrafato to give the Eagles the six-goal buffer.
SEVENTH GOAL (6-1 - HC) THIRD PERIOD - Dalton Skelly - 12:25 - EVEN STRENGTH
- Holy Cross's Dalton Skelly broke up Joe Woll's shutout bid with 7:35 to go in regulation. Skelly stripped the puck in the netural zone and was alone on the Eagle netminder. Skelly ripped it over Woll's right shoulder up high for the Crusaders lone goal of the night.
BOSTON COLLEGE GAME LEADERS
Points: Graham McPhee (0 - 3 - 3)
Goals: Casey Fitzgerald (2 - 0 - 2)
Assists: Graham McPhee (0 - 3 - 3)
Shots: Scott Savage (7)
Faceoffs Won: Austin Cangelosi (13 - of - 17)
SPECIAL TEAMS
Boston College: 1 - for - 3
Holy Cross: 0 - for - 3 PENALTIES
Boston College: 3 - of - 6
Holy Cross: 3 - of - 6
BOSTON COLLEGE LINES
R. Fitzgerald - White - Dudek
Cotton - Cangelosi - Brown
Gaudreau - Greco - Calnan
McPhee - Booth - Walker
Jes. Mattila - Moore
McInnis - Savage
Kim - C. Fitzgerald
Woll
Edquist
UP NEXT
Boston College opens up conference soon as the Eagles stay on the road and venture to North Andover, Mass., for a Tuesday night battle with Merrimack. Puck drop at Lawler Arena is schedule for 7 p.m.