Saturday, October 8, 2016
Boston College Tops Denver At Ice Breaker Tournament, 3-1
Senior forward Austin Cangelosi scores two goals for Eagles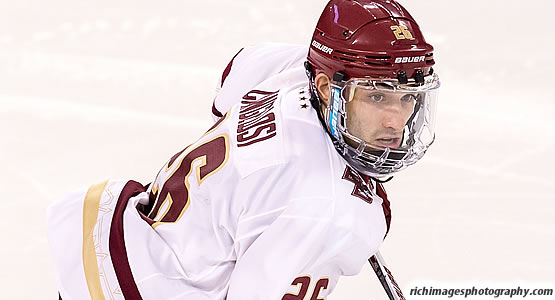 Senior forward Austin Cangelosi scored two goals for the Eagles
| | | | | | | |
| --- | --- | --- | --- | --- | --- | --- |
| Prd | Time | Team | Score | Type | Scored By | Assists |
| 1st | 11:23 | BC | 1-0 | EV | Austin Cangelosi (2) | Luke McInnis/1, Christopher Brown/1 |
| 2nd | 9:44 | DEN | 1-1 | PP | Will Butcher (1) | Dylan Gambrell/1 |
| 2nd | 14:05 | BC | 2-1 | EV GW | David Cotton (1) | Christopher Brown/2, Michael Kim/1 |
| 3rd | 19:37 | BC | 3-1 | EV EN | Austin Cangelosi (3) | Ryan Fitzgerald/1, Michael Kim/2 |
| | | | | |
| --- | --- | --- | --- | --- |
| Scoring | 1st | 2nd | 3rd | Final |
| Boston College | 1 | 1 | 1 | 3 |
| Denver | 0 | 1 | 0 | 1 |
| | | | | |
| --- | --- | --- | --- | --- |
| Shots on Goal | 1st | 2nd | 3rd | SOG |
| Boston College | 8 | 9 | 5 | 22 |
| Denver | 10 | 8 | 23 | 41 |
| | | | |
| --- | --- | --- | --- |
| Team Stats and Records | PP | PIM | SHGF |
| Boston College (1-1-0) | 0/5 | 8/16 | 0 |
| Denver (0-2-0) | 1/8 | 5/10 | 0 |
| | | | | | | |
| --- | --- | --- | --- | --- | --- | --- |
| Boston College Goaltending | MIN | GA | 1 | 2 | 3 | Saves |
| Joseph Woll (W, 1-1-0) | 60:00 | 1 | 10 | 7 | 23 | 40 |
| | | | | | | |
| --- | --- | --- | --- | --- | --- | --- |
| Denver Goaltending | MIN | GA | 1 | 2 | 3 | Saves |
| Evan Cowley (L, 0-1-0) | 59:34 | 2 | 7 | 8 | 4 | 19 |
| Empty Net | 0:26 | 1 | | | | |
DENVER, Colo. - Senior forward Austin Cangelosi scored twice to help Boston College earn a 3-1 win against Denver at the annual Ice Breaker Tournament on Saturday night at Magness Arena.
SCORE
No. 5 Boston College - 3 / No. 3 Denver - 1
LOCATION
Magness Arena / 20th Ice Breaker Tournament / Denver
RECORDS
No. 5 Boston College - (1-1-0) / No. 3 Denver - (0-2-0)
BC HIGHLIGHTS & GAME NOTES
- Austin Cangelosi scored Boston College's first two goals of the season. The Estero, Fla. native netted the Eagles' first regulation tally of the season at 11:23 of the first period. Cangelosi is averaging one goal per game. Cangelosi added the empty netted with 23 seconds left in regulation to account for his fifth-career two-goal performance. He was named to the Ice Breaker All-Tournament Team for his three-goal showing,
- David Cotton scored his first-career goal in Saturday night's contest at Denver. The Parker, Texas native's goal also stood as the game winner.
- Christopher Brown assisted on both goals Saturday night, marking his third-career multi-point performance but his first-career multi-assist outing.
- Michael Kim also offered up a pair of assists, marking his second-career multi-point performance and first two-assist outing.)
- Boston College was outshot 23-5 in the third period and 41-22 overall, but freshman goaltender Joseph Woll turned away 40 Denver shots to earn his first-career victory in the maroon and gold.
GOAL DESCRIPTIONS
FIRST GOAL (1-0 - BC) FIRST PERIOD - Austin Cangelosi - 11:23 - EVEN STRENGTH
- Austin Cangelosi corralled a puck off the boards and broad it into the corner. Cangelosi connected with Luke McInnis in the slot and the freshman was able to get a shot off but Denver's Evan Cowley got in front of it. Cangelosi charged the net and as he was spinning away, shoveled a backhand at the net right on the goal mouth and it slipped through Cowley's legs for a 1-0 BC lead.
SECOND GOAL (1-1 - DU) SECOND PERIOD - Will Butcher - 9:44 - POWER PLAY
- Denver held a lengthy possession through the zone on the power play and cycled up top where Dylan Gambrell connected with Will Butcher at the top of the zone. The Eagles penalty kill attempted to collapse on the play but Butcher got the shot off just in time and duped Joe Woll up high to knot the game up, 1-1.
THIRD GOAL (2-1 - BC) SECOND PERIOD - David Cotton - 14:05 - EVEN STRENGTH
- The Eagles converted on a set play that started off with Michael Kim along the near boards.Christopher Brown rolled off a screen and managed to get a shot off from Kim's pass. The puck bounced out to the slot and with a defender draped all over him, David Cotton managed to slip the puck back through the crease and into the net to reclaim a one-goal lead.
FOURTH GOAL (3-1 - BC) THIRD PERIOD - David - 19:37 - EMPTY NET
- Austin Cangelosi won the draw in the neutral zone back to Michael Kim on the left side. Ryan Fitzgerald sprinted forward, accepted Kim's outlet pass and Cangelosi cut back through the middle. Fitzgerald hit Cangelosi with the dish and he put it away for his second of the night to ice the contest.
BOSTON COLLEGE LEADERS
Points: Austin Cangelosi (2 - 0 - 2) / Christopher Brown (0 - 2 - 2) / Michael Kim (0 - 2 - 2)
Goals: Austin Cangelosi (2 - 0 - 2)
Assists: Christopher Brown (0 - 2 - 2) / Michael Kim (0 - 2 - 2)
Shots: Austin Cangelosi (4) / Julius Mattlia (4)
Faceoffs Won: Austin Cangelosi (15 - of - 25)
SPECIAL TEAMS
Boston College: 0 - for - 5
Denver: 1 - of - 8 PENALTIES
Boston College: 8 - of - 16
Air Force: 5 - of - 10
BOSTON COLLEGE LINES
Gaudreau- White - R. Fitzgerald
Cotton - Cangelosi - Brown
Dudek - Jul. Mattila - Walker
McPhee - Greco - Booth
Campoli - Kim
McInnis - Savage
Jes. Mattila - Moore
Woll
Edquist
Milosz
ALL-TOURNAMENT TEAM
F - Ben Kucera, AFA
F - Austin Cangelosi, BC
F - John Wiitala, OSU
D - Josh Healey, OSU
D - Will Butcher, DU
G - Shane Starrett, AFA (Also Tournament MVP)
UP NEXT
No. 5 Boston College continues its road tour when it journeys to Madison, Wisc. to take on the Badgers for a pair on Friday, Oct. 14 and Sunday, Oct. 16. Sunday's contest will be live on ESPNU from the Kohl Center.